It is worth starting with an old joke. Dad is checking the notebook of the schoolboy son. "Yes, son, you are trying hard ... There are crooked hooks that turn out ..." - "No, Dad, these are not hooks, these are integrals".
Why with a joke? Yes, simply because the only way to describe the level of competence of the modern Ukrainian government. Not the fact that "gone", and the new, "freshly baked."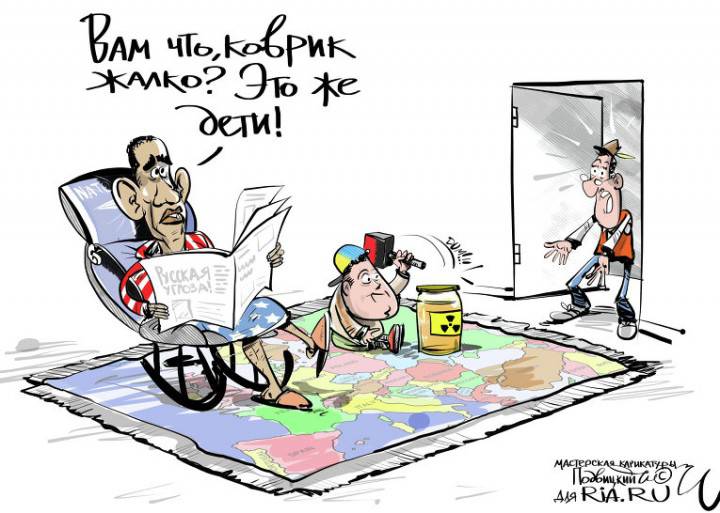 The first "father" was the Ukrainian Minister of Ecology Ostap Semerak. It was he who found the "hole in the budget" through which Ukrainian hryvnias flow into the hated Russia. And this hole is in the field of nuclear energy. Nothing that Semerak is as far from ecology as it is from nuclear energy, but politically savvy. I managed to visit members of the Reform and Order, Batkivshchyna and Popular Front parties. And to participate in the work of the European Integration Committee.
And now - ecology ...
Ukraine has long been "playing with fire" in its nuclear power plants. Everybody knows about it. And playing quite dangerous. Thanks to the Soviet scientists who laid such safety factor in reactors in due time. They keep ... True, leaks, the radioactive background periodically jumps, but ... there are planned repair works.
The fact that the Ukrainian nuclear power plants frankly reeling, Semeraka not confused. Let three units of the South-Ukrainian NPP be stopped, and only one for scheduled maintenance. At the Zaporizhzhya NPP, three out of six are also disabled, and in the capital only one power unit. At the Rovensk NPP there are two blocks out of four. On the overhaul - one.
It is alarming that half of the unscheduled repairs are devoted to work on generator coolers. Very alarming.
Nevertheless, Semerak boldly declares: "Ukraine must create a full-fledged nuclear cycle and reach the world level in dealing with spent nuclear fuel without Russia's participation!"
"This is a matter of national security and economic expediency. I don't see why we have to pay Russia money to bury nuclear fuel, if we can safely do it ourselves."
It is clear that the Minister of Ecology does not necessarily distinguish between "hooks from integrals". Not that profile. The full cycle is what, according to Semerak, will allow Ukraine to save quite well. However, as always, there are nuances.
1. Ukrainian nuclear power plants are "sharpened" for Russian fuel.
2. Russia assumes all work on the disposal and recycling of fuel elements after use.
3. American TVELs of Westinghouse are not quite suitable for use in Soviet (Ukraine does not have its own "VNA"), and, attention, the company does not dispose of TVELs!
Hence the funny situation. Americans are happy to provide their TVELs to Ukrainians. But what will happen to them (TVELs) then - a headache of only Ukrainians. As well as everything that follows the use after loading into the reactor. South Ukraine NPP was "pumped out" in due time after Russian experts loaded the American fuel into the test; who will do it now is difficult to say.
Hence, the hopes and aspirations of the chief ecologist of Ukraine to the radioactive waste repository at Chernobyl. And to hell with it, that there is not the slightest experience in this matter. America will help! The main thing - not a cent "klyatymi neighbors." This is the most important thing.
Ban Semirak doesn't really think about the fact that the bomb is already under Europe. Not a political entity, but purely geographical. And this bomb is real.
By the way, especially for those who are waiting for new Peremog. A new Ukrainian trend has appeared. Since 16 April 2016, Ukraine has been a pioneer in the study of nuclear disasters.
"Ukraine is a pioneer in the research of nuclear catastrophes, so it must use this experience to become a world leader in the engineering and research space in relevant areas. These advantages should be used by the state to create a modern scientific base here in the zone."
The fact that Ukraine has extended the life of its nuclear power plants by 10 years without prior consultation with specialists is not surprising. The fact that they are trying to use American TVELs instead of Russian ones, too. The fact that they are "playing" with NPP capacities is in the same basket. But somewhere worth staying. Until again, not poplohe on a global scale.
It is clear the desire of Ukrainians to become a nuclear power again. It is also clear that no one will allow it. First of all, because the "monkey with a grenade" is dangerous in itself. Today, even these monkeys, after such statements, begin to curse Darwin. Previously, only some of the people refused to believe that they had once evolved from monkeys. Now the monkeys are challenging it. They do not want their ancestors to be dishonored by such ministers of ecology.
To arrange a repository in the center of the country with a population of almost 40 million at the suggestion of the Minister of Ecology is indeed in Ukrainian. As well as to rebuild all the nuclear power plants of Ukraine into bombs (nuclear, note) ticking. For the sake of the political course.
But let me make myself an offer to the new government.
Dear ministers, and deputies of the Rada, if everything in your Chernobyl zone is so good, then prove it to your people and everyone around you. Hold exit meetings of your government and Rada there. Or, at worst, at the Zaporozhye NPP ... Everything is normal there too.
And the second sentence. Once, in the past life, in Soviet times, during the bloody dictator Stalin (1946 year), a compulsory additive in iodine food was introduced in the Ukrainian SSR. Scientists have found that iodine deficiency affects a person's mental development. Maybe you should revive the practice? You have quite a lot of nuclear power plants ... And iodine is not enough ... Even the ministers, as can be seen from their statements, receive less ...