Over the past day, the truce regime in Syria was broken 8 times, fire from opposition groups opened in the provinces of Latakia and Damascus, the website reported
Ministry of Defense of the Russian Federation
.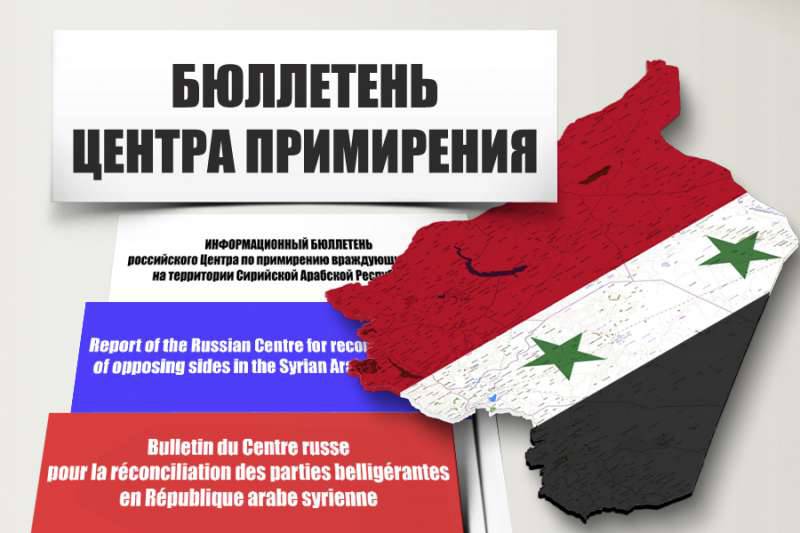 In the provinces of Aleppo, Idlib and Hama, the Jabhat al-Nusra terrorist group does not cease hostilities:
"From the side of the Jabhat al-Nusra terrorists-controlled village of Bab-Ataq in the province of Hama, the village of Scalbiyu ​​was shelled. As a result of the shelling, 1 was killed and 7 civilians were injured.

Armed groups "Jabhat al-Nusra" twice attacked the positions of the Syrian army units near the village of Khandrat in the province of Aleppo. All terrorist attacks by units of the Syrian Arab Republic's armed forces were repelled. "
According to the Reconciliation Center, "in the city of El Qaryatayin, which was liberated from ISIS terrorists, 150 street meters were cleared by repair teams, 1,5 kilometer of power lines were repaired, 1 building was repaired."
The Russian military, together with the Syrian Red Crescent organization, "provided humanitarian assistance to Syrian citizens living in camps of internally displaced persons located in Damsarho and Kirsan of Latakia province," the report said. Refugees delivered 2,5 tons of humanitarian supplies.
One armistice agreement has been concluded with the administration of the settlement. Jabriya in the province of Homs.
According to the information, "the number of settlements that joined the reconciliation process increased to 63."
The number of "armed formations that have declared their commitment to accept and fulfill the conditions for the cessation of hostilities - 50", the report of the Russian Center says.