Press office
President of Ukraine issued a report that Petro Poroshenko discussed with Angela Merkel and Francois Hollande the possible introduction of the OSCE police mission to the territory of Donbass in connection with the increasing number of cases of violation of the cease-fire. During the telephone conversation, according to the press service, "the interlocutors coordinated their positions regarding the introduction of the OSCE police mission."
In addition, it is noted that Poroshenko called on his Western colleagues not to soften the actions of anti-Russian sanctions, since "Russia does not comply with the Minsk agreements".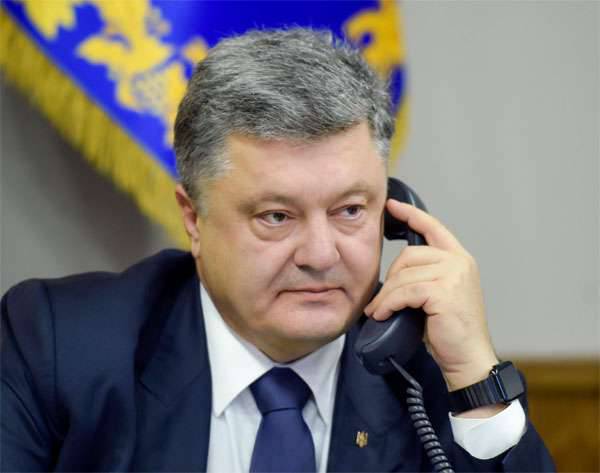 On this occasion yesterday, during a straight line, Vladimir Putin spoke. According to the President of Russia, the Ukrainian side, which itself does not intend to fulfill the Minsk agreements, argues for its inaction on this issue with military operations in the Donbas. At the same time, Kiev itself uses cases of violation of the cease-fire regime in order to delay the implementation of a set of measures. Vladimir Putin said on the eve that, in principle, he personally supports the idea of ​​introducing additional OSCE observers to the Donbass, but there was no talk about the police mission.
In addition to discussing the state of affairs with the Minsk Agreements and Donbas Poroshenko, in a telephone conversation with the President of France and the Chancellor of the Federal Republic of Germany, he discussed the "results of the Dutch referendum". Details on this issue, the press service of the Ukrainian president does not publish.