The legend "The Last of the Sartav Clan" as a model of the Tatars guerilla war against Aksak Temir
After reading a series of articles by Alexander Samsonov, "The Iron Khromets and His Empire," that was not yet finished, I decided to contribute to this topic. He began to dig in different libraries, look for material on this issue, and found an interesting source about the times of the war between Toktamysh and Timur.
History
its origin is rather complicated and does not meet the archaeographic criteria. Also, this source, except for one fixed Russian typewritten text, is no longer known. The typewritten original of this story, which is entitled "The Last of the Sartayev Clan," is kept in Ufa. This source was also published several times, but for the first time, FA was published with comments and textological analysis. Nadrshina in the series "Bashkir folk art." Ufa publishers felt that this story is a work that occupies an intermediate position between folklore and literature. Unfortunately, the informant-narrator by the archeographer-collector is not specified. It is reported that it was translated into Russian in 1935 by the local archaeologist M.I. Kasyanov, but the original was not preserved. (Kasyanov MI. The last of the Sarataev family (historical legend). UC RAS. F. 3; op. 5; unit. 97. 9 l.) And since the legend was written in the thirties in Bashkiria, naturally, the Ufa comrades called it the "Bashkir legend", although the narrator was a Tatar, judging by the language, place of recording and place of events. We see this in the text, where not all words are translated into Russian from the Tatar language. In parentheses, I gave a translation from Tatar into Russian. This legend describes the struggle of one Tatar kind with the invaders Aksak Temir.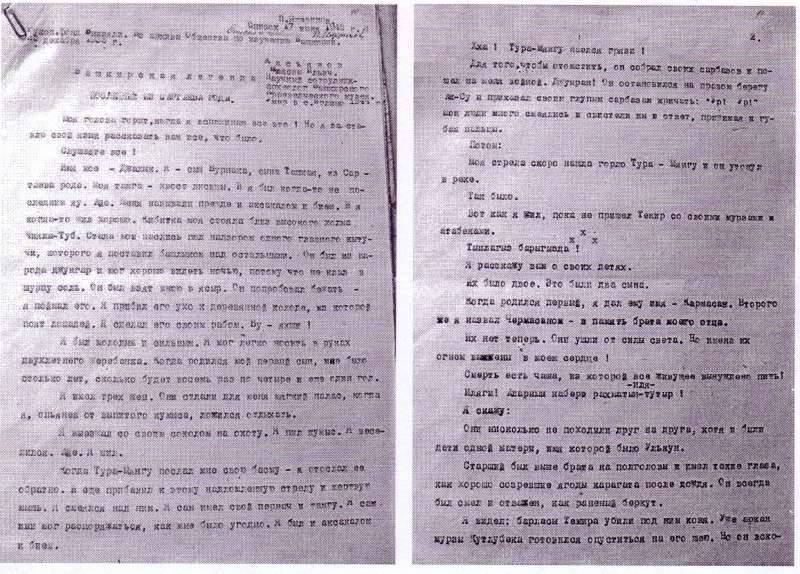 Source fragment
"The last of the Sartayev family"
My head burns when I remember it all! But I will make my language tell you everything that happened. Listen everyone! My name is Dzhalyk. I am the son of Burnak, the son of Tashkai, from the Sartayev race. My tamga - fox tail. And I was once not the last yau (Here - a warrior, professional marching warrior). Aye (yes). They used to call me aksakal (elder of a clan, tribe; senior, respected person. Literal translation: "white-bearded") and biy (head of clan, clan). And I once lived well. My tent stood near Chiyaly-Tub's high hill. My flocks were grazed under the supervision of one chief kytuchi (shepherd), whom I set up a headtop (leader, head over the others) over the others. He was from the Dzungar people and could see well at night because he did not put salt in the shurpa (soup). He was taken by me in Yasyr (captivity). He tried to run - I caught him. I nailed his ear to a wooden deck from which horses are watered. I made him my slave. Boo yahshi (This is good)! I was young and strong. I could easily carry in the hands of a two year old foal. When my first son was born, I was as old as eight times four and one more year (33 years). I had three wives. They gave me a soft palac when, drunk on drunk kumys, I went to rest. I traveled with my falcon to hunt. I drank koumiss. I had fun. Aye I lived. When Tura-Myangu sent me his basma (seal), I sent it back. And he added to this a broken arrow and a dead mouse. I laughed at him. I myself had my first start and tamga (generic sign, label). I myself could dispose of them as I liked. I was both aksakal and biy. Hha! Tura-Myangu ate a lot of mud! In order to take revenge, he gathered his sarbaz and went to war with me. Cumran (gopher)! He stopped on the right bank of the Ak-Su and ordered his stupid sarbaz to shout: "Ur! ur! "My people laughed a lot and whistled back to them, pressing their fingers to their lips.
Later:
My arrow soon found Thura-Myangu's throat, and he drowned in the river. It was. This is how I lived until Temir came with his murzas and atabeks. Tynlagyz barygyzda (listen to everyone)! I will tell you about my children. There were two of them. These were two sons. When the first was born, I gave him the name Karmasan. The second I called Chermasan, in memory of my father's brother. They are not there now. They are gone from the power of light. But their names are burned out in my heart by fire!
Death is the cup from which all living things have to drink!
Ilyagi! Alarnyna kabere rakhmatyn ilya tutyr! (O God, fill their graves with your grace.)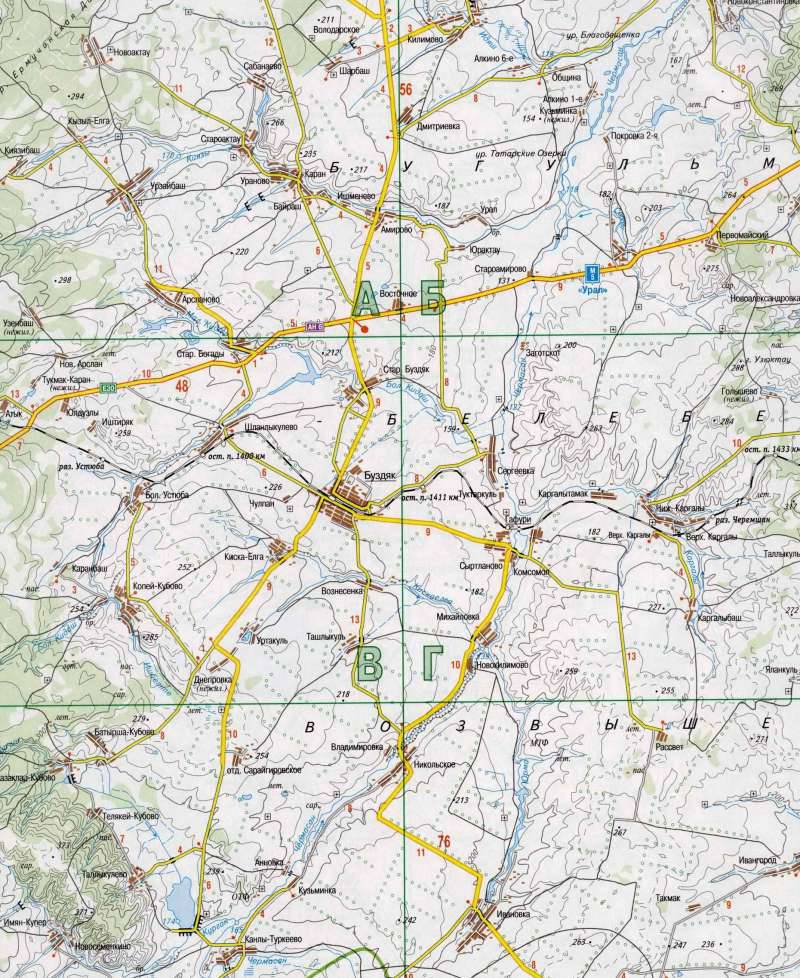 Likely place of the events described in the legend.
I will tell:
They were not at all like each other, although they were the children of one mother, whose name was Ulkun. The elder was taller than his brother by half a head and had such eyes as the well-ripened berries of caragat (currant) after the rain. He is always brave and courageous, like a wounded golden eagle. I saw: Temir's barlasses killed a horse under him. Already the lasso Murza Kutlubek was preparing to descend on his neck. But he jumped up, he grabbed Kutlubek, he jumped down with him from a rock into the water. His Kistyan (mace) was smashed by iron-clad heads of abtabek accurately ripe nuts. For all his life he saw only six misses of his arrow. He was a jigger.
Another - Chermasan.
Hey, agaylyarim! (Oh, my brothers!) Have you ever seen a young nadrechnuy mummy? She stands up straight because she is slim. Aye And if it shakes with the wind, it swings gently. She is always beautiful. Shulai (soo). That was my Chermasan too. He delighted my ears with his songs, he knew how to play kurai well. He was both a singer and a brave yau. And it was good. I loved him. I loved them both. They were my children, they were glorious batyri, their names remained forever. I, Khuday! Send thy mercy upon them!
Listen to:
Aksakal Kara-Abyz had a daughter who eclipsed even the summer moon with her beauty. Her hair was much blacker than a kuzgun (raven) wing. But her complexion was no more yellow than fresh kurt made from sheep's milk. And when she looked, the heat glowed in her eyes. Hur-kyzy! (Gury!) Her name was Aybike. She did not paint her eyebrows and nails in black and red. She was young and beautiful.
And so:
I saw her; I said to my son Karmasan: "Ulym (my son)! Your brother is still young. And you know that on the other side of Ak-Su there lives the aksakal Kara-Abyz. He has kyz (daughter) - Aybike. Born by a woman, she is looking for a woman to give herself to her kind! "I said these words to Karmasan And he understood me. He did not say "belmeyme" (I do not know). He did not say "I do not want either." He was my son. And I sent Kara-Abyz three herds of sheep and the floor of a herd of mares. I gave my wife Karmasana. And I made a big thuy (wedding). My guests drank the ball (honey), drank koumiss. They sang different songs until the habarchi (messenger) appeared. I, Khuday! Sabyrlyk bir! (Oh my God! Give patience!) My thoughts are confused, like wet hair in the tail of a lousy horse. But I will be patient, I will speak to the end.
So:
We sat, we drank a ball, we drank koumiss, we feasted. All was good. It is evening. When the songs died down, I heard: somewhere chimes of the mares sounded milky and green chikyrtya (grasshoppers) popped in the grass. I wake up. I went. Everything was calm, as needed. I looked at the sky: there were no clouds. Gida-Yulduz (seven stars, the constellation of the Great Bear) gleamed in the sky, which is so much like an overturned scoop for koumiss. All its stars were burning like expensive asyl-tash (precious stone), which Circassian masters so skillfully set in the handles of canines (sword). Aye, everything was calm around, but I was waiting for something, I was afraid of something. And here he appeared: the first haborchi. I remember: under him was a tired aygyr (horse, stallion). From the sides he fled the bitterly smelling foam to the ground. That's what the habarchi said. He told me: - Tyura! I am going from Barakov aimak, which lies near a large syrta (ridge) Dzhabyk-Karagay (the name of the ridge). I brought the news. Abau (exclamation)! Khan Temir - may his eyes go blind! - comes here from the midday side. He leads with him a lot of sarbaz (warrior, fighter (pers.)) And barlas (temir tribe). Aye There are as many of them as there can be bad flies in a dry hot summer. And with him his murza and atabeki. They come here through the mountains. Their green bayraks (banners) are already visible on this side of the Djaik (r. Yaik). These are the messages I heard from him. And I did not make a fire in my eyes, I was not angry with this poor habarche. I did not order him to cut off his tongue and hang around his neck for his thin news. Yuk ?! (No ?!) I brought him into my tent, I fed him. He was my guest. I did well. Hole! Khabarchi brought no false news. So it was. They came. It happened at that time, when it ceases to have a familyless kakuk (cuckoo) in the urman (in the forest). Attlyar (Dogs)! They were dark and moved like darkness. There were a lot of them. My dzhungar slave - let his name be smelly! - ran to them to show a ford through Ak-Su. Then they took leather tursuki (leather bags), they filled them with air, they tied them to their saddles, one on each side. They crossed Ak-Su. I saw their creaking arbas for the first time for the nearest tube, which is to the right of Chiyala-Tub. They were three arrows away from me, but I saw their faces. I understood: They brought death and slavery. (I knew): Their horses and camels will drink and pollute our water, will trample our steppes. I left. I prayed to Saint Hussein Bek from the land of Turkestan, but he did not hear me. I turned to Kadir al-Islam, but he did not appear to protect our tents. We were alone. Then I stood up, then I exclaimed: "Ulyum dushmanga" (Death to the enemy)!
I saw before me Karmasana and Chermasan. They both breathed hotly. Their eyes said: Alga (Forward)! And we went. We sent far to midnight from the place of Chiyala-Tub our tents and drove away the herds. We clicked on all the men who could have owned a buzdykan (a Tatar mace with thorns) and canine. We made alai (detachment). There were not so many of us as barlasov Temir, but each of us was a brave yau. Min blyam (I know): In each of our hearts, courage and hatred boiled. We went to protect our forests, to protect our steppes. We did not want slavery. And when the Baskam Temir came to us and demanded from us "land and water" - I did not let him go back. Not. I ordered him to smear with honey and put in an anthill. Ha! How he squealed then! Precisely kuchuk (puppy), when they hit him with a stick! And how we fought! More than once I broke my Sungya (spear) on strong shields of abathek. I made them gnaw the ground and scratch it with their nails. I tried the sharpness of my saber about heads and yuzbashi (centurion) and temniki and simple sarbazov. Temir himself - let him bite his snake! - heard the whistle of my arrow. Ax-gai! I knew that such determination and a sure blow from the left shoulder! I saw Karmasan: with his bare hands he tore the Bekhter (iron armor) of Turgut-Bey, as if it were a dilapidated kummyak (shirt) made of camel's hair. Aye His hand was harder and stronger than elk hoof. His fists were clenched just to choke. He forced many batiri to die. Chermasan! He was with me, I saw: his sword fluttered briskly among the enemy blades. His horse often reared up to bite the enemy's face ... We fought. We were all hardy, we were brave, we were yau. We sang songs about us. But we were few and we were retreating. Not! Not! We did not run! I'll tell you: When a wound is in the stomach or chest, it is death. Be it a horse or a warrior. Karmasan and Chermasan !! Why should I say that you died! Know: I have made people a good memory of you. Your names remain forever! There, beyond Ak-Su, two Yelgis (Rivers) flow, which meander like a silver inscription from Al-Quran above the threshold of the Gaziyev Mosque. They had no names then, we didn't name them. And so I gave your names, I buried you there! Balalarim (Children)! May the Prophet's mercy be over you!
And then:
I left. I have revenged for you! Aye I did not take anyone to Yasyr (captivity). I just killed. The groans of the defeated enemy are pleasant to the warrior. Pleas for mercy - amuse his heart. Who can say that this is not so !? But I covered my ears with the fingers of hatred and in my eyes I wore only revenge and fire. Yes Yes! I did not take anyone to Yasyr, I just killed. I pulled out all my eyes, I put salt in there, I buried it in the ground. And it was good. For this, my enemies called me: "Yulbasar" (robber). Ay-gai! How I revenged! Know everything: it was me and Tyatygach who swam across the dark night of Dim in the spring flood and killed Ulukaya! He lay by the fire, surrounded by his batyrs. But our hands were strong enough at that time to make them die. And there were five times more than us. We were only two and night. Ha! How we had fun then! We killed them all, we cut off their ears and threw them into the hot ashes of the fire. We were winners.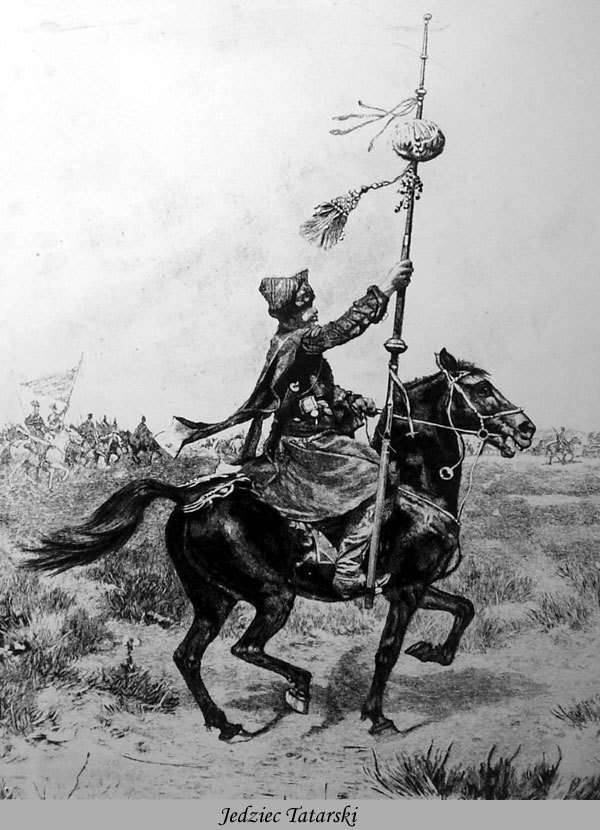 Tatar horse warrior
I remember:
I met Tugay Bey. He went somewhere alone, only accompanied by a young jura (slave). Kagar (Curse)! He still dared to shout to me thin words, poisonous, like the root of an aksyrgak (Chemerits). And I did what I had to do. I drove my horse. I overtook him. I cut off his head! ... And then, - belygyz, kyshylyarim! - I sent this head to Temir himself, - let the fire burn him! - who was called "Aksak" for his lame leg. That's what I did. I took revenge. My enemies feared me more than the urku (hare-hare) Karagush (vulture). They turned my back to me even before I had time to wave my buzdyhan. Even at the mere mention of my name, they began to tremble, as silly little foals tremble when they hear the voice of a wolf. Haha They called me: Yulbasar! Kurkaklar (Cowards) !? Unclean base (underground) you grave! The fate of the Barca born in the year is like a spring wind, changing as a woman who is warm and cold. This is true. But I will say: only the one who tasted bitter and sweet learns. Here: the road of my destiny led me, finally, to the sunset, and I do not need anything. For me, everything went. I lost my tent, lost my herds, lost everything. Now I am a stray dog ​​picking up gnawed bones. I am like a badger who has lost its hole. I am wandering now from Kosh to Kosh (Hearth) and warming myself near someone else's fire. They give me only one lamb shoulder for someone else's boiler. I also wear someone else's robe and go to bed sleeping on someone else's kiiz (Felt). Mynom ber nameh yes yuk (I have nothing)! I am a bighush (owl). Where are my friends, whose hands once lay in my hands!? They are not. Where is Batyr Sarym? Where is Tiatahach? Where is Hani-Uglan? They left. Their eyes have long flowed into the ground. I am alone. I am the last of the Sartayev race ... But know: I was not the last one! They used to call me aksakal and biy! Aye And now I'm old. I will die. Bulsun Shulay (Let it be so).
Taking into account that the territory of the Chermasan and Karmasan river basins is not too far from the territory of the Kondurcine battle of Toktamysh Khan with Aksak Temir in 1391, the described events may have occurred after the specified battle between the local Turkish-Tatar tribes and the punitive units of the Temir army, who scattered for the purpose of intelligence and plunder. The rumor quickly rolls across the steppe, and the people quickly learned about the invaders next to Yayik.
Thus, we see that every person who lived in these places at that time considered it his duty to protect his land, regardless of anything and not sparing his life. And about any long-term occupation could be no question. The victories of the Iron Chrome were hard.