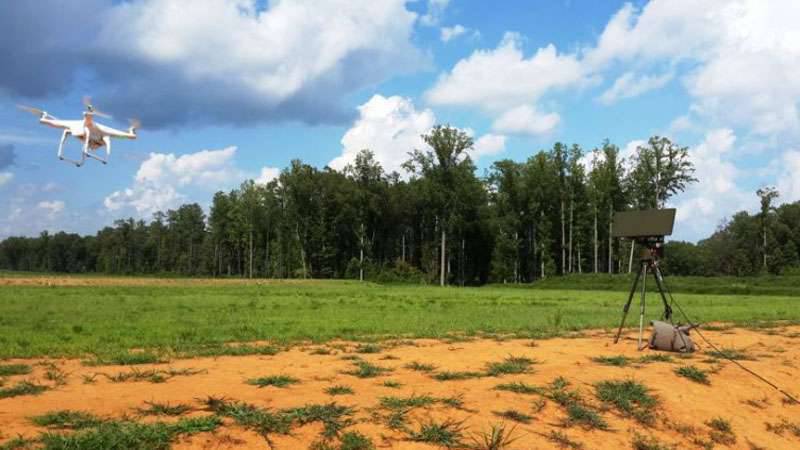 IAI ELTA Systems modified its 3-D radars to detect subtle, low-flying, low-speed airborne targets.
Today, drones are a real threat to civilian and military targets. Consider developing systems designed to protect against both the most primitive and the most sophisticated threats.
Unmanned aerial vehicles (UAVs) were once exclusively the prerogative of military and government structures, initially providing them with the means of observation, reconnaissance and information gathering, and later shock capabilities. However, with the proliferation of technology of unmanned aerial vehicles (UAVs), cheap and highly effective systems have become available to numerous non-state players.
Currently, in the store you can buy not only aircraft of aircraft and helicopter circuits, equipped with GPS-based autopilot, but also on-board equipment, which offers operators a high-quality image, in many models, even infrared. In addition, these devices can also carry a rudimentary combat load. A number of paramilitary groups gained access to UAVs, which are often in no way inferior to those deployed by modern armed forces.
Today, governments and the military need to deploy effective countermeasures against a number of threats, ranging from "lone shooter", highly organized terrorist attacks to de facto militarized capabilities — not least shock.
Despite the fact that the UAV countering technologies are emerging, the sequence of stages of this process is clearly defined: to detect, identify and destroy. The first two elements in this chain at the moment are mostly worked out by improving existing technologies, although, by the way, there are specific solutions in this area.
When detecting and identifying UAVs, the main focus is on using a combination of radar and optoelectronic systems, and here the main problem — especially for small-sized UAVs — is due to their small effective reflection area (EPO), minimal thermal signatures, and often low airspeed. In addition, the situation is complicated by the typical conditions of combat use of such systems, which often fly at low altitudes and in built-up areas, which creates problems associated with interference from ground targets.
Saab is trying to solve the problems associated with the opposition of the UAV, by expanding the capabilities of the radar of his family Giraffe. Head of Defense Electronic Systems, Klas Trulsson said that most of Saab's work in this area is based on its experience in building missile systems, artillery shells and mortar ammunition. This is due to the fact that small-sized UAVs have a number of similar physical and operational qualities; the latter include, for example, flying at low altitudes.
Saab's target detection technology, ELSS (Enhanced Low, Slow and Small), was integrated into its Giraffe AMB radar, although it applies to all members of the Giraffe family. Trulsson said the radar was tested in the role of a UAV control system during extended production tests, on Black Dart exercises in 2013 conducted by the United States Air Defense and Missile Defense Organization JIAMDO, as well as in the British tests of Bristow in 2013 and 2015 .
ELSS technology allows you to add to the radar mode of parallel signal processing just like the intercept mode of missiles, artillery shells and mortar ammunition, operating in parallel with the inherent system of detection and tracking. According to Saab, it combines detection and identification, featuring a multi-positive tracking system and spectral purity, which allows you to distinguish small, slow-moving objects.
The operational concept of the ELSS functionality, verified by Saab, provides that the Giraffe radar detects and conducts an initial classification of the target, and those that are defined as BLAH, are then transmitted to the optical sensor, with which the operator performs their further analysis.
Trulsson said that during the tests of Bristow 2015, conducted at test sites in Scotland for six days, the radar with the ELSS functionality was able to detect and track more than 100 complex air targets with EPOs up to 0,001 m2 flying at low speeds in a complex space. At the same time, in its standard modes, the system provided full-fledged traditional aerial surveillance. Target recognition algorithms are able to distinguish drones, birds, other moving objects, and also to distinguish movements in the air from, for example, ground-based road traffic.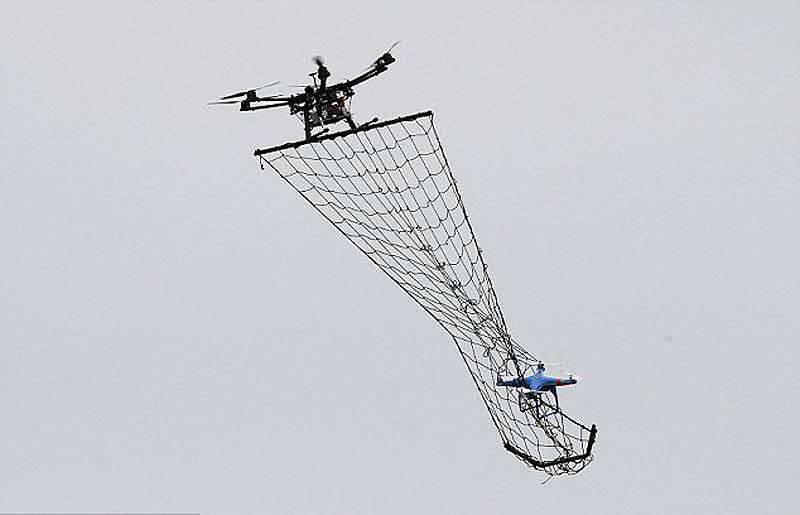 Also a kind of struggle ... The UAV created by Malou Tech specialists caught a quadrocopter Phantom 2 into their networks
Cooperation
ELSS will also be part of the Saab Giraffe family of products. The Giraffe 4A is a multifunctional radar that is distinguished by a digital, active phased-array antenna (AFAR) with electronic beam control operating in the S-band. One multipath 3-D radar, which uses gallium-nitride technology, combines the capabilities of surveillance, air defense, detection and warning, and weapon guidance.
Trulsson explained that "in order for the system to be useful for operators, a high level of guaranteed automatic detection and classification of UAV threats is necessary", adding that with algorithms (classification) of target recognition alone, the ELSS function is able to correctly classify only 80% of detected targets .
Regarding testing, Bristow 2015 Trulsson said that Saab worked with Selex to integrate an infrared camera. Here, the radar and the IR camera complemented each other well, since, although the IR camera is not optimized for monitoring multiple tracks, it provides a comprehensive identification and verification of targets that were previously selected by the radar component.
Several companies offer their integrated solutions to combat the threat of UAVs, including Airbus Defense and Space (DS), Israel Aerospace Industries (IAI) and the British consortium consisting of Blighter Surveillance Systems, Chess Dynamics and Enterprise Control Systems.
"The initial impetus for our entry into this market was the events in South Korea in 2014, when several North Korean UAVs made an emergency landing in South Korea. Everyone immediately wanted to immediately check all their sensors and see what they could do to detect these relatively small UAVs, "said Mark Redford, executive director of Blighter Surveillance Systems.
The A400 Ku-band electronic scanning radar from the Blighter Surveillance Systems is one of the components of the British consortium's AUDS (Anti-UAV Defense System) anti-UAV system. It was originally designed to provide ground surveillance capabilities. Frequency modulated Doppler radar for continuous radiation provides coverage of 180 ° in azimuth and 10 ° or 20 ° in elevation, depending on the configuration. It has a maximum range of 8 km and can detect targets with EPO less than 0,01 m 2. Multiple tracks can be captured and accompanied at the same time.
"Airspace surveillance radars have been optimized, as a rule, for long ranges and the detection of very large and visible targets. The events in South Korea clearly showed that all these available and technologically sophisticated technologies are not able to see small-sized drones, because often these days they are made of plastic or foam with a very small amount of metal and these are just incredibly small goals, "said Redford.
"Our radars use electronic scanning and the Doppler effect in combination," Redford explained. - Electronic scanning allows us to suppress all background noise. Obviously, if you are in the desert, you have little background and almost any radar will do its job, but since most of these threats are in urban areas or near important infrastructure, where there are large buildings and many man-made objects, you have a lot of reflection. signals, a huge number of them, and I would advise you to use electron scanning radars to reliably suppress ground-based interference so that you can see these tiny targets. In addition, Doppler technology is needed to detect very slow motion. "
Redford also noted that in order to optimize the radar for detecting UAVs, small changes were required. The most obvious here is that the system is usually installed on a tower and sent to the ground, from which a significant amount of interference is reflected back. Installing the system closer to the ground and directing it upward allowed us to remove some of the problems with background noise.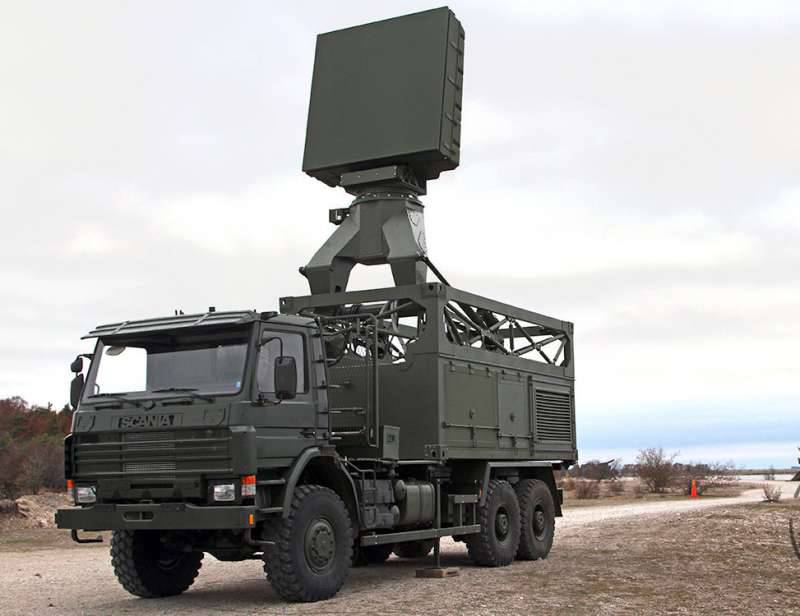 Giraffe 4A Radar will have Saab ELSS functionality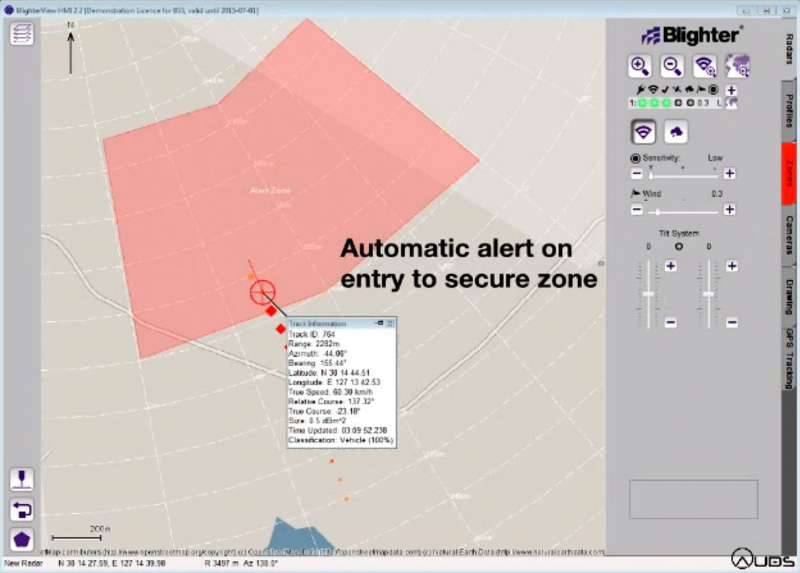 Man-machine interface for the radar company Blighter, part of the system AUDS
The Doppler radar with continuous radiation with frequency modulation operates in the electronic scanning mode and provides coverage in azimuth 180 ° and in elevation 10 ° or 20 °, depending on the configuration. It operates in the Ku range and has a maximum range of 8 km, it can determine the effective reflection area of ​​up to 0,01 m 2 size. At the same time, the system can capture several targets for tracking.
Survey-search system Hawkeye from Chess Dynamics is installed in one unit with a radio-frequency silencer and consists of a high-resolution optical-electronic camera and a cooled medium-wave thermal imager. The first one has a horizontal field of view from 0,22 ° to 58 °, and a thermal imager from 0,6 ° to 36 °. The system uses a digital tracking device Vision4ce, providing continuous tracking in azimuth. The system is able to continuously pan in azimuth and tilt from -20 ° to 60 ° at a speed of 30 ° per second, accompanying targets at a distance of about 4 km.
"As soon as we captured the target with an optical-electronic system, we would detect it with a conventional color daytime camera, as well as a highly sensitive thermal imaging camera," said Redford. - It gives two separate signatures, visual, which allows the operator to identify the target, and thermal, when the imager allows you to see hot spots, such as engines and battery packs; that is, we have two channels of visualization of the system, and in both of them we conduct video tracking. "
During the tests, the system demonstrated the ability to detect, track and neutralize targets in just 15 seconds. The neutralization range is 2,5 km with almost instantaneous impact on the target.
AUDS drones control system developed by a British consortium
A key feature of the system is the ability of the RF silencer to tune in to certain data transmission channels with the exact level of exposure required. For example, a silencer can be used to silence a GPS signal received by a UAV or a radio monitoring and control channel. There is also the potential for introducing an interception capability into the system, which will allow the AUDS operator to "practically" take over control of the UAV. The work of the silencer is not only to "knock down" the device, it can be used simply to violate the functionality of the UAV in order to force its operator to withdraw its device from the zone.
IAI ELTA Systems has adapted its 3-D radar with AFAR for detecting low-flying, low-flying and low-speed airborne targets. The Drone Guard system uses ELM-2026D, ELM-2026B and ELM-2026BF radars for short-range (10 km), medium (15 km) and long-range (20 km) detection, respectively. In the Drone Guard system, radar stations and optical-electronic sensors are combined, to which, if desired, an actuating element can be added.
"The AFAR-type radar is very small, weighs a little and therefore we adapted it as a standard unit for our systems," said Boaz Natan, the head of sales service at IAI ELTA. "This rotating three-dimensional radar has electronic scanning in elevation, which is very important for detecting small objects. Together with the radar, we have two options for mounting optical-electronic systems. Either we install the optronics on the radar itself and it rotates with the radar, or we set it on a separate basis and, while working, we transfer it to the target. In the first case, the radar is actually a tracking system in scanning mode with a very high speed, which will continuously monitor all targets in the zone. When a suspicious object is detected, it automatically takes a picture of the zone with a camera installed on the radar, that is, the operator sees the target on the radar and has a snapshot at the same time, that is, he can perform the most important task of identifying the target. If you want to work at long ranges or have something special, then we can install the opto-optical system on a separate basis, and then the operator will be able to direct this system to the target for approaching, day or night. "
Nathan believes that the accuracy of the used radar system will be a key characteristic that will help operators in its successful development. "The big problem that needs to be addressed for radar is the likelihood of detection and false positives, because we are talking about a noisy area full of people and this is the main reason why we need a highly advanced radar."
"First of all, it must be a three-dimensional radar, since you must be able to distinguish targets on the ground and in the air. A two-dimensional radar will not work properly, since any moving car or person can be taken as a target. Secondly, it should have a low false alarm rate. You do not need a system with too many false positives, especially in a noisy space. We believe that we have a great advantage because the Drone Guard technology is purely military; This is a very advanced radar, despite its small size. "
The company Airbus DS in the development of new systems to combat UAVs also uses technologies proven in other applications. Here you can give two examples: radar with AFAR SPEXER 500 and IR camera Z: NightOwl.
SPEXER 500 is designed for use in tasks such as camp defense, perimeter security and protection of key national infrastructure. It was designed to detect and track ground and low-flying targets in areas with limited line of sight. The Z: NightOwl long-range infrared camera is designed to monitor the border, coastline and critical objects.
The head of the sales department at Airbus DS, Minrad Edel, said that for the systems, not too many hardware modifications are necessary to adapt them for the tasks of combatting the UAVs; here, much of the work is focused on software and the integration of various components. "We take the components as they are and the computer with special control software, which also includes the UAV database, and as for the equipment itself or hardware, there are no changes here." Speaking about the differences between possible targets and false positives, Edel noticed that there are two methods that the company takes into account. "The first one is mainly applicable for large distances, according to it patterns with the flight profile of the target are compared, and the second is that when the target flies, we look closer at the Doppler radar and identify it, since the bird usually does not have a propeller."
Edel said the main problem was to automate and ensure low false signals. "At the moment we have a person in the process and I think that we cannot do without it yet. However, we want to automate the systems as much as possible, since operators want systems that need the minimum number of people. They are waiting for a system that raises only real alarm, and then the operator will see what is flying there. They want less false signals and do not want the operator to sit in front of the 24 system an hour a day. This is what we need to get, that is, automate the system as much as possible and reduce the number of false positives. "
According to the LOCUST project, one launcher will be launched before the 30 UAV in quick succession, which will form an autonomous "flock"
Threat set
Much attention in the analysis of methods to counter the threat of UAVs is paid to the fight with small aircraft, often here the quadcopter Phantom made by the Chinese company DJI is used as an example. And this is true - one can cite numerous cases in which small-sized UAVs brought a lot of trouble to the security services. The most notable incident occurred in January 2015, when a quadrocopter landed on the lawn of the White House. Many times the illegal use of small-sized UAVs led to the disruption of sporting events, the disruption of airports, not to mention the disruption of the political congress, which was attended by German Chancellor Angela Merkel.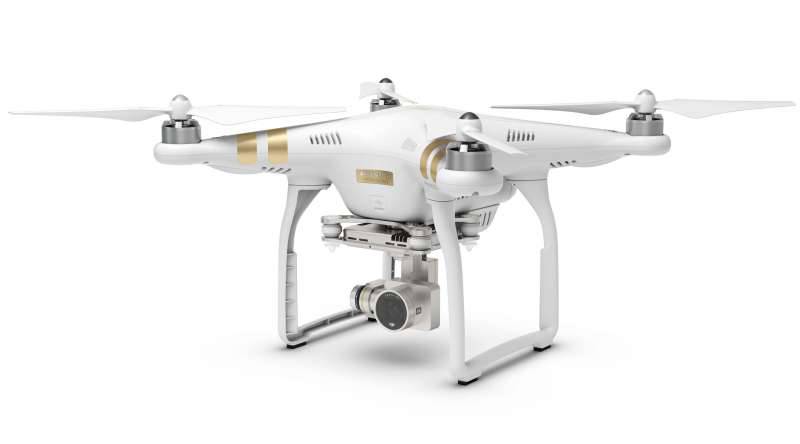 Such a quadcopter disturbed the security of the White House. In the photo Phantom of the Chinese company DJI
The world will still witness a serious incident caused by these systems, since the simplicity with which small-sized UAVs can be used for unseemly purposes means that this seems to be only a matter of time. There is nothing difficult in that without any experience to launch a drone in the way of a large aircraft or equip it with a small amount of explosives or a poisonous substance.
If we are talking about combating the threat of UAVs, the greatest difficulties arise when the aircraft to be neutralized is a small platform that is easy to hide and launch without any aids. There is no simple solution to this problem except for enhancing the protection of those objects and those events that are considered risky.
Perhaps due to a wide discussion on the possible use of UAVs against civilian infrastructure and civilians, little attention is paid - at least publicly - to the need to combat UAVs at the operational-tactical level.
A number of non-state groups use drones for intelligence purposes. For example, the Israeli military for many years struggling with aircraft launched by Hezbollah. Most of them are relatively complex platforms that are either of Iranian origin, or made with significant assistance from this country.
Even more alarming is the emergence of such groups, such as the Islamic State, acting as operators of small systems that can provide them with essential tactical information. The armed forces, trying to contain these and other rebel groups in different parts of the world, are aware of the fact that the enemy can be monitored for their actions, and in this case the effectiveness of military operations is threatened. This can lead to the need to equip units operating on the ground with their own mobile systems, at least to detect small-sized UAVs, not to mention neutralizing them.
Although the UAVs were used in traditional bilateral warfare and earlier, for example, Georgia lost several Hermes 450 drones in a conflict with Russia in 2008, this happened sporadically and often the UAVs dealt with conventional or specialized anti-aircraft systems. Currently, unmanned aerial vehicles are regularly used in interstate clashes — more likely for information gathering and target designation than for shock operations. Far and deep to dig here is not necessary, an example of such tactics can serve as the recent military clashes between Armenia and Azerbaijan.
Military operations in Ukraine are an interesting practical example of hybrid warfare, when state and non-state groups regularly collide with each other. There were many cases of loss of small UAVs that performed reconnaissance missions in favor of units supporting the Ukrainian government. Here, UAV jamming systems played their role, almost certainly delivered or serviced by the Russian military. Also in Ukraine there were cases of jamming of UAVs flying and performing tasks under the auspices of the OSCE. In order to continue to perform their duties, Schiebel S-100 Camcopter drones belonging to this organization were equipped with countermeasures.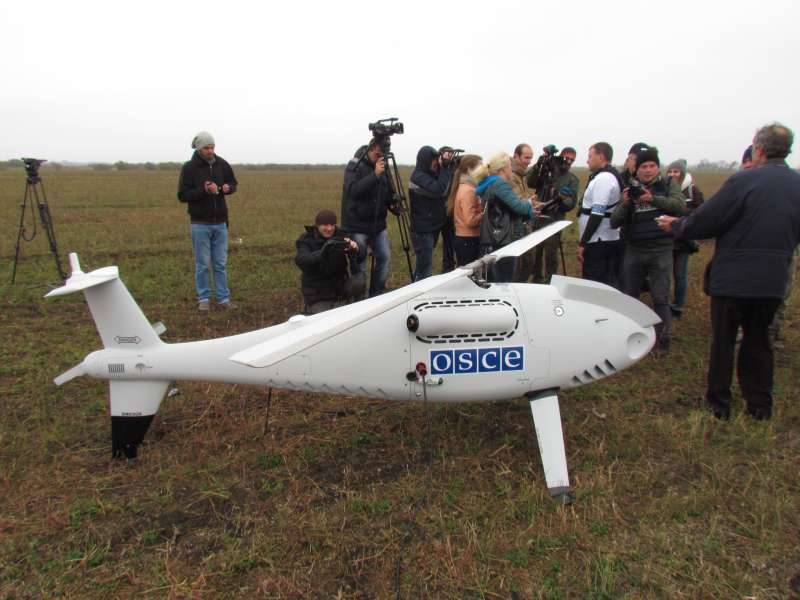 UAV S-100 Camcopter serves in UkraineTo be continued