Aviation
the plant of the city of Ulan-Ude is preparing for testing another prototype of the Mi-171A2 helicopter - the latest representative of the Mi-171 family of helicopters. This is the fifth prototype of the Mi-171A2 helicopter. Tests, according to the press service of the Russian Helicopters concern, will make it possible to bring the state of a rotorcraft to a state of airworthiness. The next step should be the stage of the certification test program.
It is noted that the first and second prototypes have already passed the necessary tests in November 2014 and October 2015, respectively. An experimental laboratory based on the Mi-8 / 17 was also involved in the tests. Prototypes with numbers 3 and 4 did not pass flight tests, since they are bench tests.
The press service reports that the fifth prototype of the Mi-171А2 installs the main rotor and tail rotor blades, as well as equip the cabin of the helicopter and the cockpit.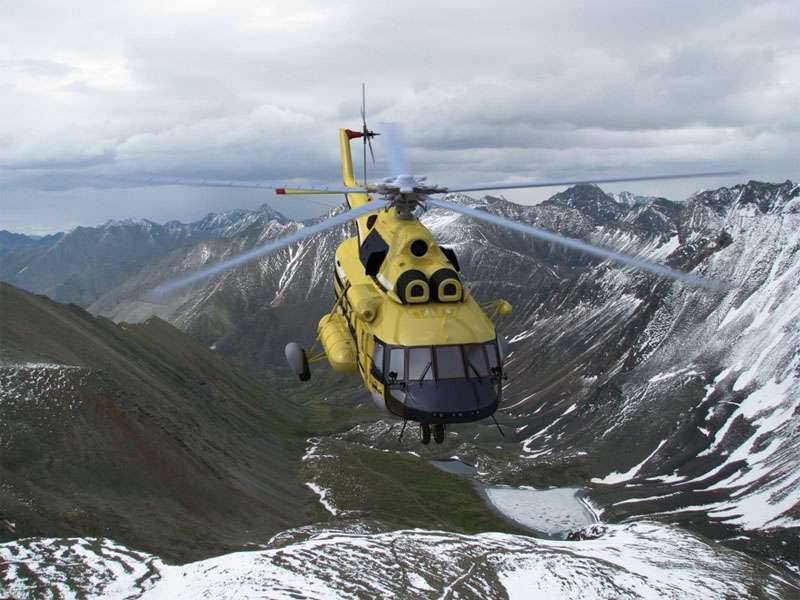 Certification of the medium multipurpose helicopter Mi-171А2 should take place in the first quarter of the year 2017.
From the materials of the concern "Helicopters of Russia":
The Mi-171А2 is the newest member of the Mi-8 / 17 helicopter family that embodies the best features of these world-famous cars. The helicopter is equipped with an integrated digital flight-navigation complex onboard equipment KBO-17 ("glass cabin"), which allows you to operate the machine without the presence of an engineer on board, thereby reducing the number of crew members to two people.

A thorough modernization of the commercially available Mi-8 / 17 type helicopters has undergone a carrier system. The Mi-171А2 has received a carrier and an X-shaped tail rotor made of composite materials, as well as an improved skew machine and a sleeve for the carrier mechanism. The innovations allowed improving helicopter controllability, reducing the total mass of the carrier system and increasing the rotor thrust by 700 kg. In addition, the performance of cruising and maximum speed increased by 20%, as well as increased flight range.