In the town of Dayr El-Fardis (Homs province), about 150-ti residents of which lay
weapon
, Russian humanitarian aid delivered, correspondent reports from the scene
RIA News
.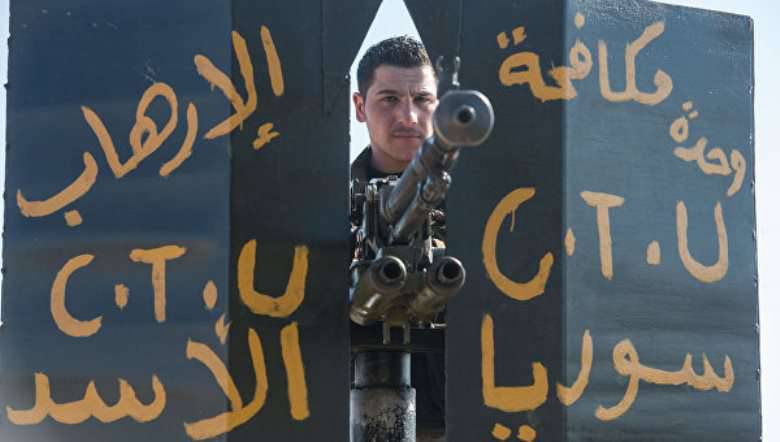 Protection of the convoy that delivered humanitarian aid
"As part of the national reconciliation process, more than a ton of bread, baked from Russian flour, was delivered to the bakery factory in the city of Hama by Russian soldiers in Dair El-Fardis. More than 2 tons of humanitarian aid were also delivered to local residents, including kits with sweet gifts for children, bags of flour, fish and canned meat, sugar and sets of convenience foods, "the message reads.
A representative of the local administration, Gani Dabul, said that the settlement had been controlled by terrorists for more than 3 years, who were supported by some of the residents.
"This village was not under state control, it was the militants who controlled it. We have to admit that many of them behaved correctly, because they themselves were residents of our village. They did not destroy anything here, as it did in other places, "said Daboul.
Farmer Abdel Almunim confirmed the fact that part of the local residents had gone over to the side of the militants, however, he stressed that "the main threat came from visiting terrorists who were engaged in robbery, looting and extortion in the village".
"I had a bus, and once, returning from the market where I was selling my crop, we were ambushed by the militants, they took my nephew along with the bus. After some time, he was released, taking in return all our earnings - about 200 thousand lire, "he said.
"Most of the local residents who joined the terrorists were drawn into illegal gangs against their will, and immediately after the liberation of the settlement, these people surrendered their weapons," said Almunim.
"I acquired a weapon for self-defense. When the army came here and offered to join the reconciliation process, I handed over the weapon. It didn't take long - the whole process lasted just 10 minutes, "said another resident of the village of Radi Al-Ahmad, who currently works at a bakery.
The locality was liberated 3 a month ago, and so far almost all residents who have previously left their homes have returned to it.
According to Sergey Ivanov, a representative of the Russian Center for Reconciliation, "the front line runs from here two kilometers away, and seven kilometers away is the settlement of Al-Rastan, where the same peaceful people still live under the pressure of gangsters".
He noted that elders from El Rastan were present at the humanitarian action, and when they returned, they would tell about what they had seen in Deir El-Fardiz.
"In the localities occupied by terrorists, there are militants of Dzhebhat an-Nusra, as well as many local ones who want to surrender their weapons, but they lack the necessary incentive. Thanks to this humanitarian action, the elders, I am sure, will let them know that in order to return to a peaceful life, it is necessary, first of all, to return to their families and give up their weapons, "stressed Ivanov.