Uzbekistan's maneuvers lead him further away from Russia
Uzbekistan, like other countries of Central Asia, did not get the best part of the Soviet army after the collapse of the USSR. The country received a limited number of vehicles, mostly obsolete.
Due to the extreme closeness of Uzbekistan, it is rather difficult to judge the state of its Armed Forces. In particular, there is no data on purchases of new equipment (except for Russian BTR-80 and American armored vehicles Oshkosh, Cougar and MaxxRo), while the existing ones became outdated over the past years even more, and the country does not have its own production. Very contradictory information about the level of training of personnel. Apparently, it is quite high only in special units (air assault, SBR and special purpose brigades).
Tashkent is pursuing a so-called multi-vector foreign policy, as a result of which it has very difficult relations with Russia, the USA and all the countries of Central Asia without exception. Cooperation with China is developing quite successfully, but this has not yet affected the military sphere.
On the wing got only aircraft factory

Ground forces are divided into five military districts. The North-Western Military District, with its headquarters in Nukus, includes one motorized rifle brigade, which is also stationed here. The South-Western Military District (Karshi) has 3 (Navoi), 7 (Kokayty, Termez), 21 (Hairabad), 22 (Sherabad), 25 (Karshi), MSCR, and another such in Bukhara, as well as the 23 artillery and 80 artillery brigade, stationed in Angora. Central Military District (Dzhizak): The 13 I Artillery Brigade (Kattakurgan) and the reserve MSS in Samarkand. East VO (Fergana): 17-I airborne assault (Fergana), 37 and 34-I reserve motorized rifle (both Andijan), 18-I artillery (Fergana) brigade. Tashkent IN: 4-I SBR, 15-I airborne assault (cropped), motorized rifle and artillery brigades. All are stationed in Chirchik. In addition, there are 15-i engineering and special purpose squad "Shield".
Tank
the fleet consists of about 70 T-72, 80 T-80BV, 100 T-64, 179 extremely obsolete T-62. A few hundred T-64s are in storage in an unfit state. It is armed with 19 BRMs (13 BRDM-2, 6 BRM-1K), up to 580 BMP and BMD (120 BMD-1, 9 BMD-2, up to 180 BMP-1, 270 BMP-2), about 700 armored personnel carriers and armored vehicles ( up to 70 BTR-D, 24 BTR-60, 36 BTR-70, up to 290 BTR-80, 159 M-ATV "Oshkosh", 50 "Cougar", MachxRro and RG-33 each). In addition, up to 600 BMP-1/2 and BTR-60/70 are stored in non-operational condition. Of all this technology, only the BTR-80 and the unarmed American armored vehicles of four types, which are more likely vehicles than military vehicles, are quite modern. They have very low combat qualities (over the past year, the Yemeni Howsites destroyed up to 80 Saudi and Emirate Oshkoshi, and the Iraqi army lost at least 40 Kugars). That is why the Americans give out these cars in unlimited quantities to everyone in a row, as a rule, for free.
Artillery toilets 140, 54 2B9, 18 2C1, 17 PM-2, 3 M-48), 2 MLRS (7 BM-700 "Grad", 540 BM-30 "Hurricane"). There are ATGM "Baby" and "Bassoon", 36 VET MT-1. Troops air defense has 54 air defense missile system "Strela-20", 140 MANPADS "Strela-2", 36 ZSU-210-120 "Shilka". All this technique is very outdated.
Air Force and Air Defense include the 60 th air (Karshi-Khanabad) and 12 th anti-aircraft missile brigades, 65 th (Bukhara) and 66 th (Chirchik) helicopter regiments. Armed formally there is a Su-21 bomber and X-NUMX reconnaissance aircraft Su-24MR, 11 attack aircraft (24 Su-50, 20 Su-25M, including 30 UM), 17 fighters (X-NNXX Su-NNXX fighter-NiNXX). on 6 UB of those and others). However, currently only a few units of Su-70 and Su-31 (in total no more than 27) are in service, all the others are in storage, the majority are in a state of disrepair. Transport aircraft: 39 An-29, from 6 to 25 An-27, 10 An-13, from 26 to 10 Il-26 (and no less 12 in storage), one by one "Boing-1" and "Boing-24" The 3 is the newest Spanish C-10W. 76 An-2, one Tu-757 and one Tu-767 are stored. Training aircraft: Czechoslovak X-NUMX L-2 (still 295 in storage). There are 10 combat helicopters Mi-2 (even before 134 is in storage). Multipurpose and transport helicopters: 154 – 5 Mi-39, 9 Mi-29, 24 Mi-14, 52 Mi-64 are also in storage.
Ground-based air defense is equipped with obsolete C-75 and C-125 and C-200 air defense systems, which, apparently, have completely lost their combat capability.
The only significant enterprise of the defense industry in Uzbekistan was the Tashkent aircraft factory, which produced IL-76 transport. However, by now he has ceased to exist. Equipment and personnel transported to Ulyanovsk.

Very big but yesterday
Uzbekistan was among the founders of the CSTO in 1992, left the organization in 1999, returned to 2006 in the second, left again in 2012. By the number of such maneuvers, Tashkent is a post-Soviet champion, and they are explained precisely by the aforementioned "multi-vector". Nevertheless, the main direction of Uzbek politics is obvious: as far as possible from Russia.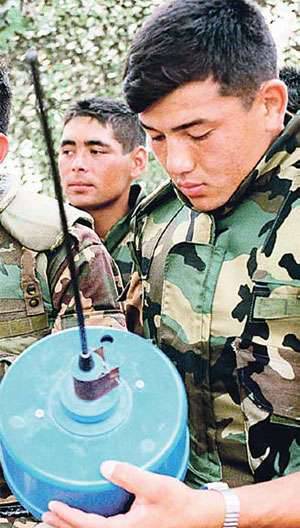 The reason for the last withdrawal of Tashkent from the CSTO was the creation of the CRRF, in relation to which it took a frankly hostile position. The official explanation was that Tashkent does not agree with the strategic plans of the CSTO in the Afghan area (what exactly is meant, not specified), as well as with the strengthening of military cooperation in the bloc. The second is especially significant: Uzbekistan did not suit exactly what the CSTO is being built for. Tashkent has never accepted at least formal participation in joint exercises, while actually not concealing what it considers its allies its main opponents: Kyrgyzstan, Tajikistan and in a slightly more veiled form Kazakhstan. The Uzbek president was especially hostile to the idea of ​​creating a Russian military base in southern Kyrgyzstan.
Relations between the countries of Central Asia remain extremely tense. On the one hand, the Tajiks in Uzbekistan dream of returning Bukhara and Samarkand to the "Greater Tajikistan". On the other hand, Uzbeks in Tajikistan and Kirgizia are such a solid "national minority" that in some places they became long ago a significant majority (which manifested itself, for example, during the Osh events in 2010). It is this given the huge superiority of Uzbekistan over its neighbors in terms of population and economic potential and causes those who are concerned about their own independence. The most explosive Fergana Valley. There is extremely high population density, very high unemployment, an extremely low standard of living. And the borders of Kazakhstan, Uzbekistan, Kyrgyzstan, and Tajikistan converge. It is in the Fergana Valley that the positions of radical Islam are very strong, from here you can easily and quickly blow up the entire region.
Uzbekistan ranks first among the former Soviet republics of Central Asia in terms of the number of personnel of the Armed Forces, but today this criterion is by no means primary for determining military power. Much more important is the level of combat and moral-psychological preparation, the quantity and quality of military equipment. Tashkent has big problems with all this.
The Uzbek army today has an overwhelming superiority over the Tajik, a significant one over the Kyrgyz. On the other hand, it is noticeably inferior to the Armed Forces of Kazakhstan. Recently, the Uzbeks have been bypassing in terms of their potential the Turkmen army, whose arsenal began to be rapidly updated due to its huge oil and gas revenues. So, the transition of Uzbekistan from second to third place in the region in terms of military power can already be considered a fait accompli.
There are big doubts that Tashkent will be able to seriously oppose the possible aggression of the radical Islamists from Afghanistan. The fight against guerrilla and sabotage-terrorist formations is the most difficult task even for armies that are better-quality than the Uzbek one. In addition, there is not the slightest confidence that the personnel of the Armed Forces of Uzbekistan are resistant to the propaganda of Islamists. In this regard, it may be worth even be glad that the national army's weapons have hardly been updated since its inception: the Taliban will get less quality equipment or, God forbid, supporters of the "Islamic Caliphate".