"Dzhebhat an-Nusra" continues provocations in the south-west of the province of Aleppo, over the past week more than 80 civilians died from shelling, reports
RIA News
the message of the head of the Russian Center for Reconciliation in Syria, Sergei Kuralenko.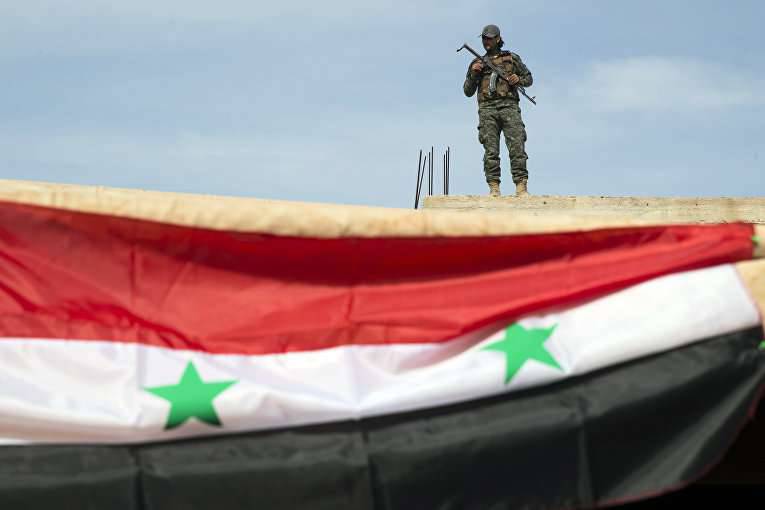 "From April 3 to the present, the Jebhat al-Nusra terrorist groups continue to attack government positions in the southwestern part of Aleppo province. Government forces in repelling the offensive destroyed more than 250 terrorists, two
tank
and other equipment, "said the head of the Center.
"As a result of attacks from militants" Dzhebhat an-Nusra "for the past week in Aleppo killed 82 civilians, injured 266 civilians", - he said.
According to him, the group "managed to establish complete control over the groups that had previously identified themselves as opposition, which were stationed south and west of Aleppo."
"Despite the measures taken to cease fire, in the northern part of the province of Latakia and in the south of the province of Idlib, attacks of the Dzhebhat al-Nusra units continue to attack the positions of the Syrian army. So, 10 on April 2016, the detachments of "Dzhebhat an-Nusra" launched an offensive in the settlement. Zaytundzhik - n. Kellaz, "said Kuralenko.
"In the evening of the same day after the artillery preparation, the armed formations of Jebhat al-Nusra launched an offensive in the direction of Tel Wasef, Herbet al-Arus. Units of government troops with the support of artillery repelled the attack, they also inflicted
aviation
strikes, "he added.
Touching on the topic of reconciliation, the general noted that this process is developing most successfully in the province of Damascus.
"The most successful process of reconciliation of the warring parties is in the provinces of Damascus and Homs. During the week, agreements were reached on reconciliation with representatives of four settlements. Commanders of two groups of moderate opposition operating in the provinces of Aleppo and Damascus joined the cessation of hostilities, "he said.
Negotiations with the leaders of the armed forces on the conclusion of a truce continue.
"The number of localities that joined the reconciliation process increased to 61, and the militias who declared their commitment to accept and fulfill the conditions for the cessation of hostilities, to 47," Kuralenko said.