The Russian Ministry of Defense publishes information that once again the positions of government troops and the people's militia of the Syrian Arab Republic in the province of Latakia were subjected to artillery shelling from Turkey. The fire was carried out from the Turkish settlement of Metishli.
Press office
the main defense department of Russia cites a statement by the representative of the Defense Ministry of the Russian Federation:
Once again, the territory of Syria came under fire from the Turkish armed forces. From 8.30 to 9.20 10 on April 2016, Turkish artillery bombarded positions of government forces in the province of Latakia from the area of ​​the settlement of Metishli. In 13.00 from the same firing positions artillery attack was made on the settlement of Gebelli.
Against this background, there was evidence that the supply of militants to the terrorist group Dzhebhat al-Nusra, which has recently been engaged in the concentration of forces in the Aleppo area, continues to be carried out from the territory of Turkey.
From the statement of Lieutenant General Sergei Rudsky:
According to the information we have, about 8 thousands of Dzhebhat an-Nusra militants are already concentrated south-west of Aleppo, and up to fifteen hundred people north of the city.

Only during the day in the settlements of Tell-Hadia and Banes arrived gangs totaling up to 200 militants. Two militant detachments of more than 100 men, armed with one tank and 22 of off-road vehicles with heavy machine-guns mounted on them, arrived from the town of Al-Khalifa in the village of Muhaym-Khandrat.

We appealed to colleagues from the USA through various channels with a request to stop such actions, as they are a destabilizing factor.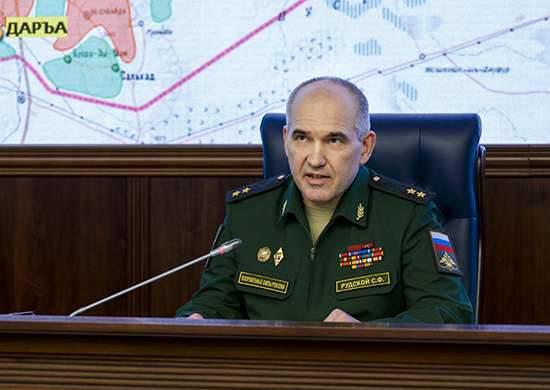 The reason for appealing to the Americans was that the supply to Turkey of militants "Dzhebhat al-Nusra" is conducted through those areas that are controlled by representatives of the so-called "moderate Syrian opposition", which Washington is actively taking care of.