Who would have thought ... Militants from the nationalist battalion "Azov" in their free time from shelling residential buildings and torture prisoners are engaged in the development of military equipment. The fact that the representatives of Azov prepared a "draft
tank
", Reports the chief editor of the Ukrainian portal
Defense Express
Sergey Zgurets. According to Zgurts, the Azov engineering group (and there is such a ...) presented the development of the "Ukrainian TIREX tank".
Sergey Zgurts statement:
As you know, the fighting in the ATO zone pushed the Defense Ministry leadership to the need for an urgent solution to the task of further upgrading the T-64 tank and creating a heavy infantry fighting vehicle. These landmarks are marked as part of the state order for the 2016 year. Tank "Tireks" is a deep modernization of the T-64 tank in order to create a combat vehicle with capabilities, layout and equipment that will meet the requirements of both modern conflicts and future combat operations and methods of using heavy armored vehicles both in the offensive and in defense.
According to the developers, "Tirex" will exceed in its characteristics "Oplot" and "Bulat".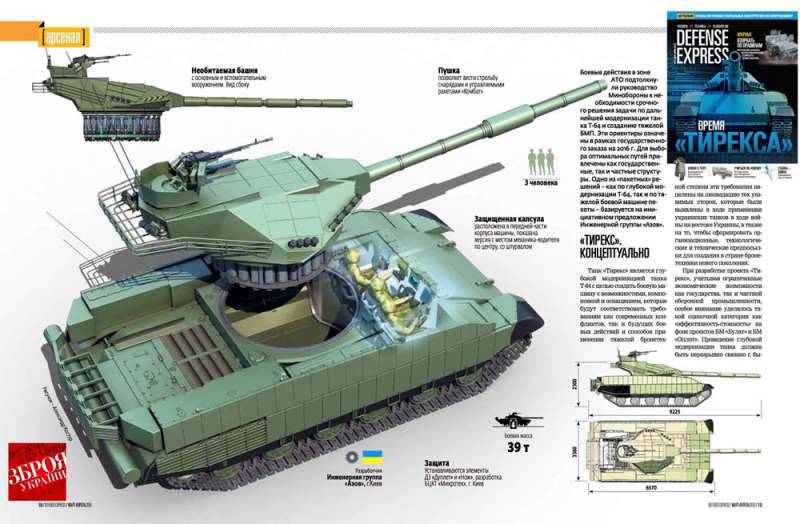 From the characteristics and features of "Tireks: mass - 39 tons, uninhabited tower, the gun allows you to fire shells and guided missiles" Combat ". As a protection, the elements of the DZ "Duplet" and "Knife" developed by the BCT "Microtech" (Kiev) should be installed. The total length of the "perspective" tank 9225 mm, width 3560 mm, height (with the tower) - 2500 mm.
Considering the fate of such Ukrainian developments, the "promising tank" may well be called not "Tirex", but "Tyrex" in the sense that the development can again allow "tyrit" budget funds for loud cries about protection from the "Kremlin aggression".
PS It is reported that the engineering group "Azov" submitted to the Ministry of Defense of Ukraine also a project of a heavy BMP - "Azovochka".