The company Kronstadt Technologies (part of the Kronstadt Group) will equip the patrol ships of the 22160 project being built for the Russian Navy at Zelenodolsk Shipyard with unique complexes of technical equipment, reports
press office
enterprises.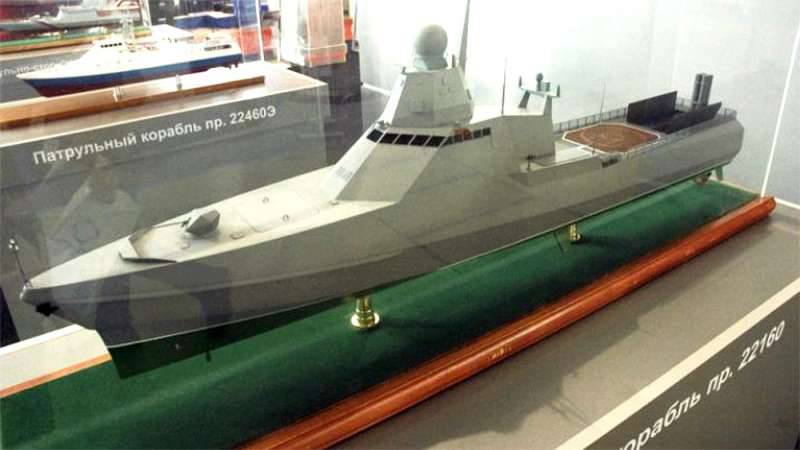 "Kronstadt Technologies" company is the developer of a unique set of integrated bridge system, which will be delivered to the shipyard for installation on the first and second ship hulls. The integrated bridge system is a ship complex of navigation, lighting, control and communication equipment used by the crew in an automated way, "the release says.
According to the information, "the complex includes equipment for measuring, testing and navigation, communication, radio and television equipment for in-ship and external communications, means for providing radar, radio navigation and remote control, as well as an electronic cartographic complex."
"The integrated bridge system unites all controls and is designed to improve the quality and efficiency of organizing control of the ship, its combat and technical means, to ensure the ship's alert No. XXUMX," the report says.
"Russian developer of integrated solutions for the Naval
Fleet
- Kronstadt Group - has extensive experience and a set of key competencies to create both unique and serial, letter-based solutions for equipping ships and special-purpose ships. At the same time, a number of large projects are being implemented simultaneously, in compliance with all contract terms, which confirms the multitasking and high production potential of our enterprise, "the press service of the head of the military-technical direction of the Group, Ilya Brilliantov, quotes.
A total of 6 patrol ships of this project will be built. The lead ship, which should arrive in the Navy by the end of 2016 of the year, was laid in February of 2014 of the year, the second and third hull - in the summer of 2015 and at the beginning of 2016 of the year, respectively.
Company Help:
"The 22160 project ships are designed to protect territorial waters, as well as escort ships and vessels during sea crossings, to patrol the exclusive economic zone in the open and closed seas; suppressing smuggling and piracy, searching for and assisting victims of sea catastrophes, and carrying out environmental monitoring of the environment. The state program of Russia involves the construction of six ships, which will be included in each of the four fleets, up to 2019 of the year. "