Another country that decided that the walls on the borders should be higher, and the number of border guards - significantly more, turned out to be Bulgaria. Bulgarian Prime Minister Boyko Borisov said that it is necessary to allocate additional funds from the state budget for the protection of parts of the border with Turkey, Serbia, Macedonia and Greece. Borisov made such a statement during a visit to the Novo Selo proving ground, where the Bulgarian-American military exercise "2016 retaliatory strike" started. To whom is Bulgaria going to strike back, and who struck at Bulgaria? - Boyko Borisov did not tell.
TASS
cites the statement of the Bulgarian Prime Minister:
We made a decision and sent additional 300 troops to guard the border. The total length of our border with Greece and Turkey is about 1000 kilometers, and not everywhere we can build a fence. Previously, we sent additional 150 troops to the border and allocated 100 million levs (about 50 million euros).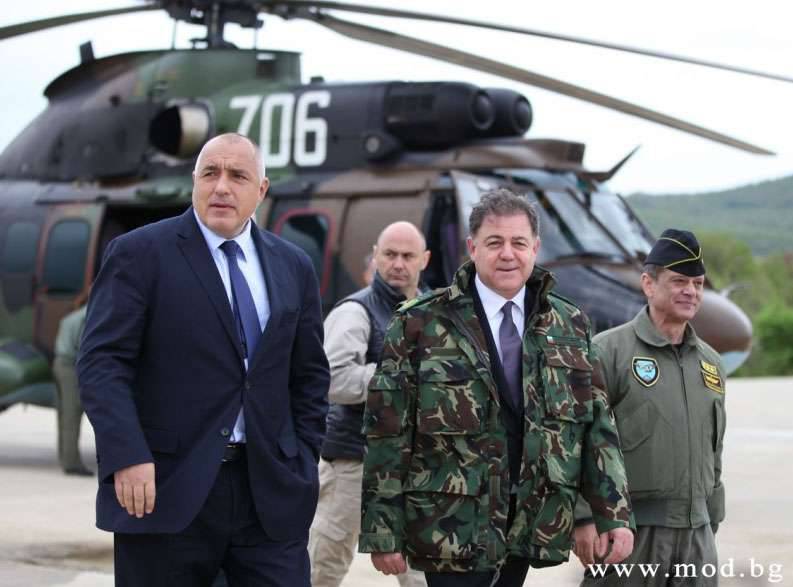 Borisov said that all those illegal immigrants who enter Bulgaria from Turkey or Greece are still being detained by border guards, "even if they leave the country".
The tactical exercise "Counter Strike 2016" is attended by about 750 military personnel of the Armed Forces of Bulgaria and the United States. The Bulgarian side is represented by soldiers from the 38th motorized rifle battalion of the second mechanized brigade, special operations forces, as well as
tank
a platoon of the training center and specialists of the troops of the Russian Chemical Forces. The Bulgarian unit is commanded by the Colonel of the Armed Forces of Bulgaria Tikhomir Dimchev.
More than 100 units of military equipment are involved in the exercises. The US Army is represented by as many 35 soldiers and officers and 8 units of military equipment.
According to Bulgarian Defense Minister Nikolai Nenchev, "the Bulgarian military has already received high marks from American colleagues."
Boyko Borisov (quote
MO of Bulgaria
):
I am convinced that we will show our American partners the best of the glorious traditions of the Bulgarian army.
It is strange that the Turkish military contingent is not represented in the exercises, and it was Turkey that could tell a lot about the glorious traditions of the Bulgarian army.