OJSC Minsk Wheel Tractor Plant (VOLAT) presented to journalists the first prototype of the MZKT-741351 + 999421 + 83721 auto train created for the UAE Defense Ministry, the blog reports
bmpd
with reference to the press service of the company.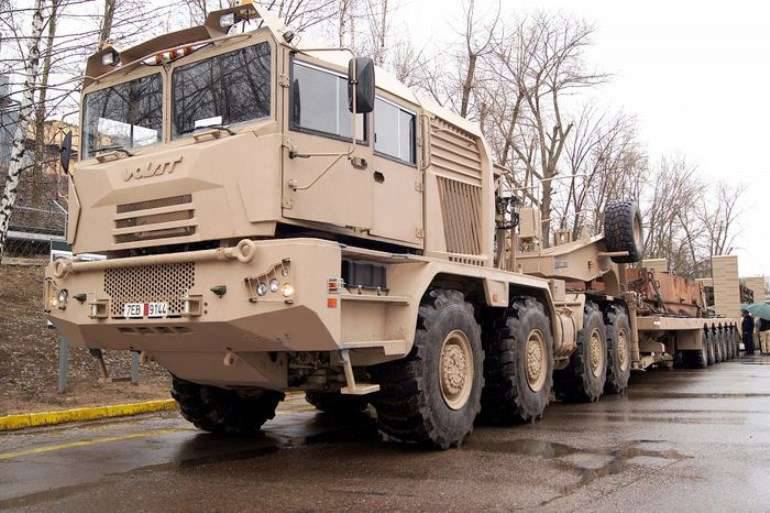 "The road train (MZKT-741351 truck tractor, MZKT-999421 six-axle semi-trailer and MZKT-837211 six-axle trailer) was specially designed for the needs of the UAE armed forces and is able to meet the needs of the most demanding customers. When developing a new superheavy trailer, Volat specialists used the latest design ideas and engineering solutions. All this made it possible to ensure the highest level of quality and reliability along with high payload and maneuverability. Currently, work is underway to set up the prototype and prepare it for the test run ",
says release.
The initial tests will be held in Belarus, and the full complex of tests will be held in the UAE at the end of this year.
It is reported that "the road train can transport up to 3 tracked and wheeled combat vehicles (armored personnel carriers, infantry fighting vehicles, G6 Howitzer) or 20 / 40-foot containers weighing up to 130 tons, equipped with an onboard information system, a pressure monitoring system and a central tire inflation system." The total mass of the complex is about 210 t.
"The MZKT-741351 truck tractor is equipped with a CAT С18 engine, an ALLISON transmission with electronic control, as well as a dual hydraulic drum winch (developed by 25 tons per drum), the power of a six-cylinder engine with turbocharging and intermediate cooling 597 kW (812 hp) ). New technologies have been used to transfer engine power to the wheels, "the press service said.