The Ministry of Defense of the Russian Federation issued a contract for the construction of the 2-x units of the sea transport of weapons (MTV) of the 20360М project to the Rybinsk Shipbuilding Plant Vympel, reports the blog
bmpd
with reference to the press service of the enterprise.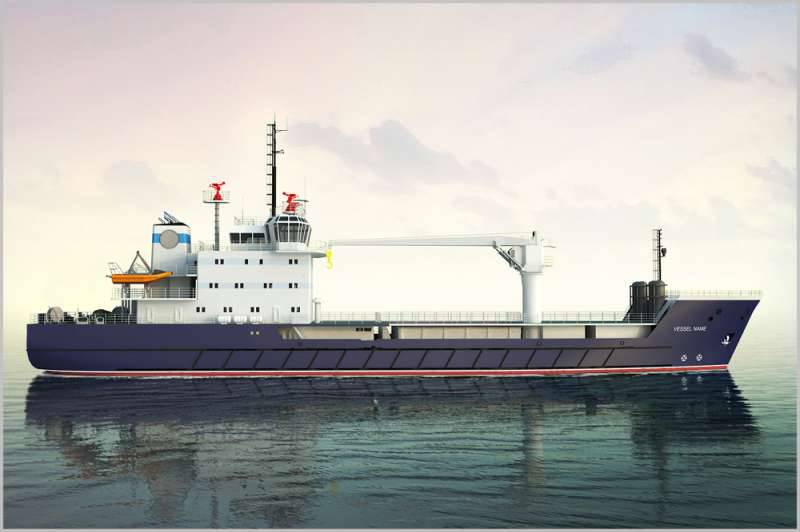 Project image of sea transport armament project 20360M

"The type of vessel to be built by Vimpel is a sea-going armament transport vessel with ice reinforcements for the hull, double bottom and double sides, with a bow thruster, two cargo holds, a platform for the carriage of goods in containers, with a crane of 20 tonnes and a bow helicopter landing pad ",
says release.
It is reported that the purpose of the MTV is "receiving from the moorings and transfer to the ships of special cargo in the basing points and in the open roads."
According to the press service, "two MTV units to which serial numbers 01551 and 01552 are assigned should be delivered to the customer in 2019 and 2020, respectively." It is assumed that "the lead vessel will serve in the Black Sea
navy
the second in the Baltic. "
It is noted that "Vympel" has not yet built such large ships (length 77 m, width 15,8), therefore the creation of a sea transport of weapons is an ambitious new task that the enterprise's team has to solve. "
Help bmpd:
"At the end of November 2015 of the year, Vympel CVD concluded an agreement with the Vympel Design Bureau (Nizhny Novgorod) for the supply of documentation for the construction of weapons vehicles based on the 20360 project. The agreement was signed as part of the state contract between Vympel and the Ministry of Defense of the Russian Federation, which, in turn, was concluded pursuant to the decision of the Ministry of Defense of 3 August 2015 of the year No.235 / 1 / 1 / 9654 "On updating the technical design and construction of the modernized technical requirements of the Ministry of Defense of the Russian Federation for sea transport of weapons of the 20360 project ". The finalized project is assigned an index 20380M. The cost of the works was estimated at 309,5 million rubles. "