JSC "Shipyard" Vympel "" (Rybinsk) has signed a contract with the Ministry of Defense of the Russian Federation for the completion of the modernization of 2-x missile boats of the project 12421 "Lightning", the blog
bmpd
with reference to the press service of the enterprise.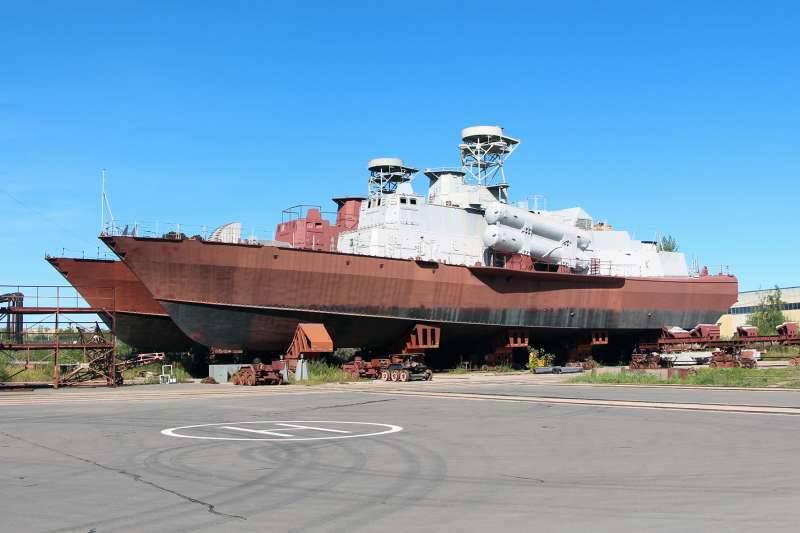 The unfinished 12421 project missile boats of the Vimpel Shipyard JSC, with 01301 (in the foreground) and 01302 production numbers, now supposed to be completed for the Russian Navy under the 12418 project. Rybinsk.
"The boats will be equipped with modern means of navigation and communications, weapons," the release says. "The architecture of the ship will change, the habitability will improve."
The adjustment of the project under the requirements of the military will hold CB "Almaz" (St. Petersburg).
"The upgraded missile boat with serial number 01301 Vympel is to be delivered to the customer by November 25, 2018. He will serve in the Black Sea
navy
. Lightning with serial number 01302 will become part of the Caspian Flotilla. Its deadline is November 2019, "the press service said.
Reference bmpd: "We are talking about two missile boats, originally laid out in 1991-1992 years at the Vympel shipyard under the 12421 export project (01301 and 01302 production numbers) with the Mosquito anti-ship missile system. Both boats were supposed to be exported, but the customers for them were never found, and since the middle of the 1990-s both boats in the unfinished form (they did not descend into the water) have been settling at the factory. They will be finished in the version of the 12418 project with the equipment of the Uran anti-ship missile system. "