As is known, any negotiations at the highest interstate level have two dimensions: open and closed. In the case of Ukrainian foreign policy, they both boil down to unpretentious requests. First request - give us weapons and preferably cheap. Second, give money for the survival of a young democracy. Kiev is trying to make such requests to all countries with which Russia has difficult relations. So a visit to Japan after Turkey looks quite logical. If the Turks were able to allocate $ 10 million and some military equipment, then the Japanese were expected to receive much more substantial infusions. Moreover, earlier it was promised no less than $ 300 million. President Poroshenko, whose political positions weaken every month, it was important to demonstrate that he has at least some support and authority in the world
.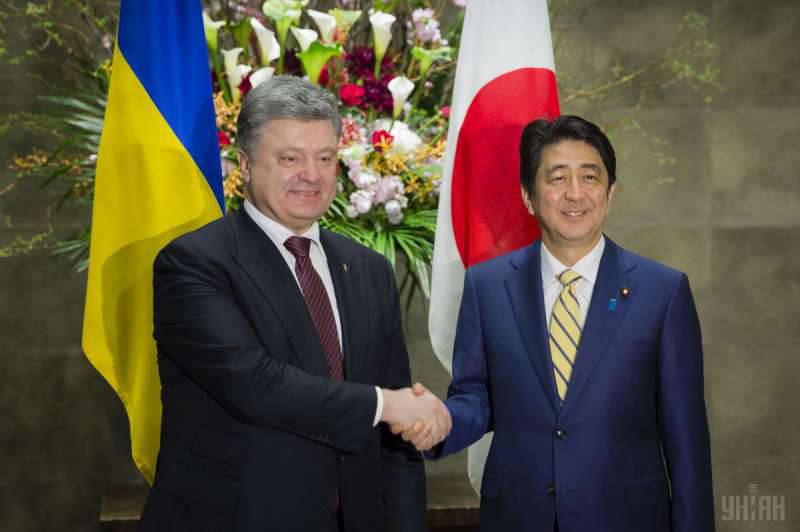 During the negotiations, the Ukrainian side got into some rather embarrassing situations, but the result of the visit itself was the main embarrassment. The Japanese promised to allocate $ 1.8 billion, but only in the case of "continuing reforms." For the Ukrainian leader, whose head is five minutes from the chopping block, this condition does not even look fantastic, but frankly mocking. In essence, Prime Minister Abe found a plausible reason to refuse to further finance Poroshenko's Panamanian assets, where, undoubtedly, all past infusions of the Square's sponsors had flowed. So far, Japanese politicians have allocated a symbolic amount in 13.8 "for the restoration of Donbass" and are making rather vague statements regarding the simplification of the visa regime between the countries.
Dropping propriety, it can be stated that the dialogue took place in an atmosphere of extreme cynicism, even by the standards of big politics. One side saw the other only as a money bag, while the other viewed the partner only as a one-time torpedo, which can be launched into the southwestern underbelly of Russia.
Does Japan have weapons that Ukraine needs? In general, yes, there are in the right amount. The question is who will pay for this holiday, although under certain circumstances Tokyo can provide Kiev with some systems for symbolic money, as the Americans and Europeans did. First of all, Ukrainians can count on a part of about 1200
tanks
Type-74, which gradually write off the Self-Defense Forces as obsolete. The problem is that, unlike the Polish, Hungarian and Romanian modifications of the T-72, which, according to some information, were delivered to Nezalezhnaya in small batches in 2014-2015, the Type-74 is a completely different machine, which crews need to be retrained accordingly. And this time is considerable.
Another class of weapons where the two sides could find a common language is the old destroyers, which in reality are a cross between a frigate and a corvette, the Hatsuyuki, which are also being withdrawn from the Japanese armed forces since 2010. For the Land of the Rising Sun, such ships have long been the day before yesterday. Some of them have been transferred to training vessels, another part - after dismantling of missile weapons, it is planned to transfer them to the Coast Guard. Three or four such ships under certain circumstances could go to Odessa. For the Navy, this would be a real gift, especially since the Ukrainian Corvette project ordered to live long under Yanukovych. Of
aviation
the Japanese could offer used anti-submarine Orions, which are also intended to be decommissioned, as well as a number of simpler patrol aircraft.
Speaking seriously, Ukraine can hardly count on any substantial military assistance from Tokyo. Rather, these weapons will get the Philippines or Vietnam. For the Japanese, the former Soviet republic is nothing more than a game of indirect action strategy against Russia. Regardless of whether Kiev will be able to create a sane military machine or will completely lose control over its own territory, plunging it into chaos, Russia will have to spend enormous resources on this trend, which will have to be removed from other sectors. For Tokyo, this is enough. To play on the pitch, which Americans, British and Germans long ago staked out for themselves, Abe's office, for all its adventurousness, certainly will not. The Asian strategy is an expectation when the adversary will make a critical number of mistakes, in order to finish it with an accurate strike. Russia, which is now torn between an attempt to protect vulnerable external territories and crumbling internal stability, is becoming an obvious goal of applying such a strategy.
According to the final results, the next trip of Peter Alekseevich was very similar to his previous trips. Many big words were said about common threats and values, all sorts of symbolic gestures were made, such as inviting Japanese Emperor Akihito to visit Ukraine, but the total practical exhaust turned out to be hardly noticeable. Tokyo does not believe in tears, especially tears of political bankruptcy from the other side of the continent.