The manufacturers of the Ukrainian armored vehicle Dozor-B decided to justify themselves after the publication of materials that cracks were found on the body of Dozorov. Recall that materials about the appearance of cracks in the armor of two brainchildren of the Ukrainian defense industry appeared some time after the Defense Ministry announced its readiness to purchase 10 new armored vehicles that had passed state tests "already in March" of the current year.
The photo shows that the length of the crack on the Dozor-B armor is such that there is not enough 30-centimeter ruler to measure it: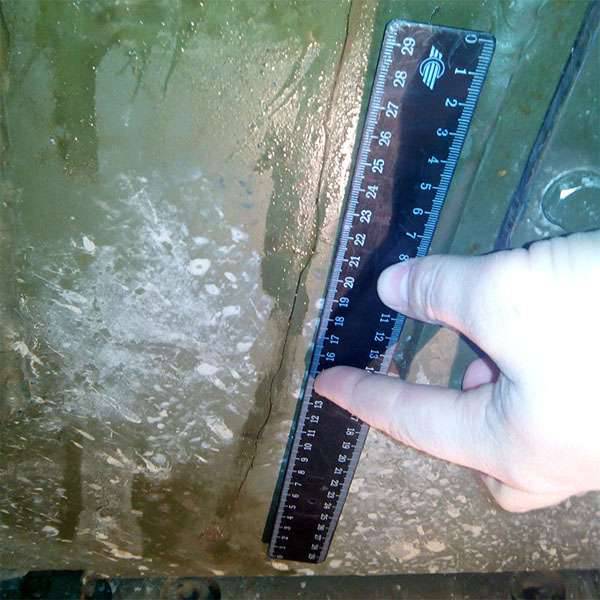 On the
Online
Ukroboronprom appeared official comments. And in these comments are found attempts to justify the marriage in the production of armored vehicles. One of such attempts belongs to the chief engineer of the Lviv armored plant (it was at this plant that Dozory-B was made) Igor Churilov. According to him, there were problems with welds, since "the difficulty was the task of mastering the welding of bronestali."
It turns out that Lviv welders were not even familiar with this kind of technology, but they were already instructed to carry out work on welding armor plates for Dozorov-B.
Churilov:
Here thermal conditions are very important, the metal is cracked. These tests we passed firmly, and now the technology is mastered.
And representatives of the Ukroboronprom declare that the process of creating "Dozorov-B" took place in "record time". This, apparently, must be considered the main reason for the fact that the "newest" Ukrainian armored vehicles are splitting at the seams, without passing the 200 km from the factory to the military unit.
From the statement of the head of the Kharkiv Morozov Design Bureau Yakov Mormilo:
Work is in full swing, because these armored cars are our independence.
The photo above illustrates this "independence."