The press service of the Naval Forces of Ukraine spread the message that an inter-fleet training session was held with the Turkey in the Black Sea. From the Ukrainian side, the frigate Hetman Sahaidachny took part in the training events. The Turkish side was represented by the ships TCG Salihreis and TCG Bartin, which previously arrived at the port of Odessa.
The representative of the press service of the Ukrainian Navy reports that Ukrainian and Turkish ships practiced interaction as part of a tactical formation of combat units
fleet
in accordance with NATO naval standards.
It is reported that the total length of the stay of Turkish ships in the territorial waters of Ukraine will be at least two weeks.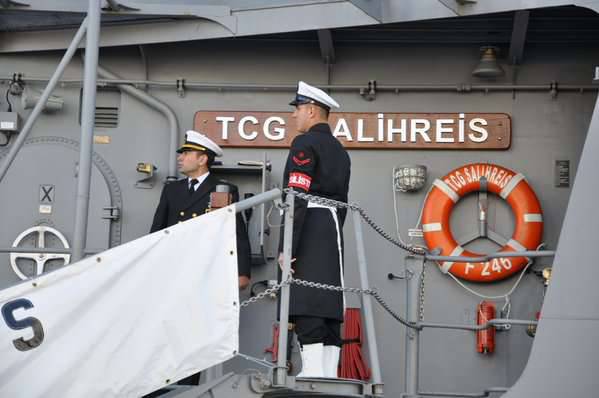 For reference: the Turkish multi-purpose frigate F-246 TCG Salihreis was built in 1997 in Germany by the Hamburg company "Blohm + Voss". Its name was in honor of the Ottoman Admiral Salih Reis. Represents the Barbaros ship class.
Key Features: Displacement 3380 tons. Length 118 m, width about 15 m, draft 4,3 m.
The power plant: two gas turbines of the CODOG / General Electric LM2500 brand, power 60 thousand hp; two diesel engines of the MTU 20V 1163 brand, hp 13060 power; 2 screw.
Speed: 32 knot on a gas turbine, 22 knot on a diesel engine. 4100 nautical miles is the cruising range at an average speed of 18 knots.
Crew - 180 man.
Armament: 2 × Mk141 Launcher for 8 × RGM-84 Harpoon; installation of vertical launch Mk41 Mod 8 VLS for 16 guided missiles RIM-162 ESSM Sea Sparrow PDMS (SAM). In addition: 127-mm Mark 45 artillery; anti-aircraft missile system, XXUMUM torpedo tubes Mark2.
On board can carry a helicopter.