The amphibious all-terrain vehicle Burlak, created according to the concept of the BTR-60 for the conquest of the North Pole, was tested with honor in the circumpolar Urals and the Kara Sea, reports
Rossiyskaya Gazeta
with reference to the press service of the BunkerMedia communication group of the Auto Transarctic Expedition.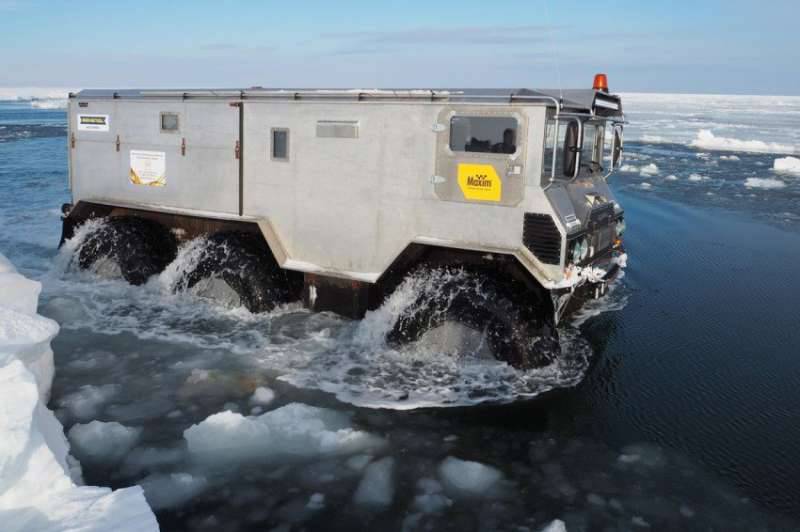 "For 2800 kilometers of a car, the car did not receive any serious breakdowns and overcame the test route a week ahead of schedule," the report says.
"The start of the test route was Ivdel, from where 16 of March Burlak advanced to the Kara Sea. The path should have been covered in 31 day, but the expedition members finished the route on 5 days earlier, "said the press secretary Maria Pukhova.
"Despite the record amount of snow in the mountains, about 4-5 meters, the car showed excellent throughput. "Burlak" climbed the mountain at an angle of inclination around 30 degrees, went down by traverse. At an altitude of more than 1800 meters, the air is discharged, but the engine worked without failures, "she said.
"From Inta to Vorkuta, Burlak rode through winter roads and tundra. Thanks to low-pressure tires with a diameter of 1,75 meters, it was possible to reach speeds up to 40 km / h on winter roads, and about 15 km / h on roads around the Arctic Circle. 25 March, the car reached the Kara Sea, breaking more than 1500 km, "added Puhova.
"On the Baydaratskaya Bay, a group of testers checked how thick the ice would be with the 4-ton Burlak. The minimum ice thickness was 40 centimeters; at the ice rushing point, the expedition members tested the ability of the machine to keep afloat, maneuver and go ashore, evaluate how rubber reacts to salt water. On ice and water, the all-terrain vehicle overcame about 120 km and drove ashore at the mouth of the river Hohoraytos, "the press service reported.
One of the creators of the all-terrain vehicle, Alexey Makarov, commented on the results of the tests: "Testing under polar conditions showed that the car was designed correctly, only minor modifications are required. For example, you need to think over the protection for the ridge screw and improve the ergonomics: change the height of the door handles, move the connectors for charging portable radios. Everyday conditions were organized by everyone: it was warm and comfortable to sleep, food was prepared on gas burners, every day they received 30 liters of hot water from the snow, suitable for domestic use and drinking. "
Help newspaper:
"Burlak" is a six-wheeled amphibious vehicle designed according to the concept of the BTR-60. ATV length - 6,6 meters, width - 2,9 meters, height - 3,2 meters, outer diameter of the wheels - 1,75 meters. Machine weight - about 4 tons. The all-terrain vehicle keeps on water and successfully maneuvers between ice floes. The specially warmed body retains heat well; from living conditions, the Burlak owners have four beds, a kitchen with gas burners for cooking, a wash basin and a shower. "