Attention! Attention! Full Achtung for right-and-krivopashchitnikov all planet. Nadia Savchenko from today declares another dry (this is when not a drop and not a crumb ...) hunger strike. About this in her rather lengthy statement addressed to the head of the PKU of the SIZO-3 prisoner, the "heroine" herself said, regarding which the verdict of the court had recently entered into force. To begin with, it is worth recalling that Savchenko was convicted of murdering Russian journalists Igor Kornelyuk and Anton Voloshin, as well as illegally crossing the border of the Russian Federation, and on the basis of this sentence should be spent in a penal colony about 20 and a half years stay in jail) and pay a fine in the amount of 30 thousand rubles.
Now the reader's attention is given to the very sentimental statement by Ms. Savchenko, in which she, calling herself a deputy of the Verkhovna Rada and a member of the PACE (entered the role), threatens to starve "dry".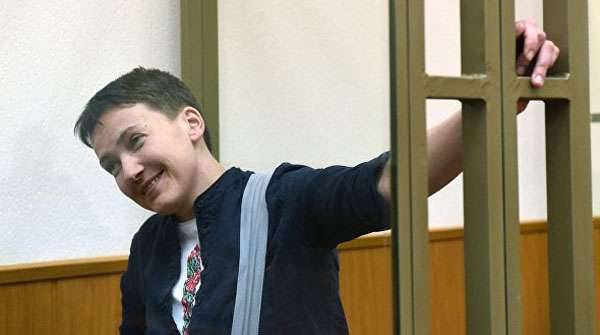 A copy of the statement in his microblog on Twitter was published by one of N. Savchenko's lawyers, Mr. Feigin (the language of the letter, which is remarkable, "occupational-aggressor", I mean Russian) (spelling, style and punctuation of the letter are preserved):
I, Savchenko, Nadezhda Viktorovna, a Ukrainian, a citizen of Ukraine, a people's deputy of the Verkhovna Rada of Ukraine, a PACE delegate, were abducted by Russian special services from the territory of Ukraine and forcibly, against my will, transported to the Russian Federation, illegally detained in Russian prisons are not guilty of anything (well, - just like that Rafik from the notorious humorist - author's note) and I do not recognize the sentence of the Russian court.

For the actions of the Russian authorities against me and against Ukraine, I declare an unstrict dry hunger strike since April 6, 2016. I demand the immediate return of me to Ukraine!
Already interesting, isn't it ... She, you see, demands ...
Further (spelling, style and punctuation of the letter are preserved):
I forbid me to transfer anywhere except Ukraine! I demand to carry out transporting only in the presence of representatives of the Ukrainian side, Consuls of Ukraine in Rostov or my lawyers, Feigin MZ, Polozova N.N. and Novikov IS!

I prohibit examining me, observing and taking any analyzes to doctors of the SIZO and in general to any doctors of the Russian Federation! I demand an immediate examination of me by doctors from Ukraine or Europe!
To paraphrase a phrase from a famous movie: "In which ward do we have doctors from Ukraine and Europe?"
Further, from the statement (spelling, style and punctuation of the letter are preserved):
I forbid me to forcibly take out a dry hunger strike and move somewhere out of the cell, except to return to Ukraine!
Any use of physical force or moral-psychological pressure on me will be regarded as torture and resist!
I prohibit isolating me and demand to allow my relatives to visit me for a short-term visit: mother Savchenko Maria Ivanovna, sister Savchenko Vera Viktorovna, my assistant deputy Mezentsev Oleg Vitaliyevich, as well as Consuls of Ukraine, my lawyers and representatives of Russian and international PLCs.
It seems that the "dry hunger strike" is already such a Nadina Fenya ...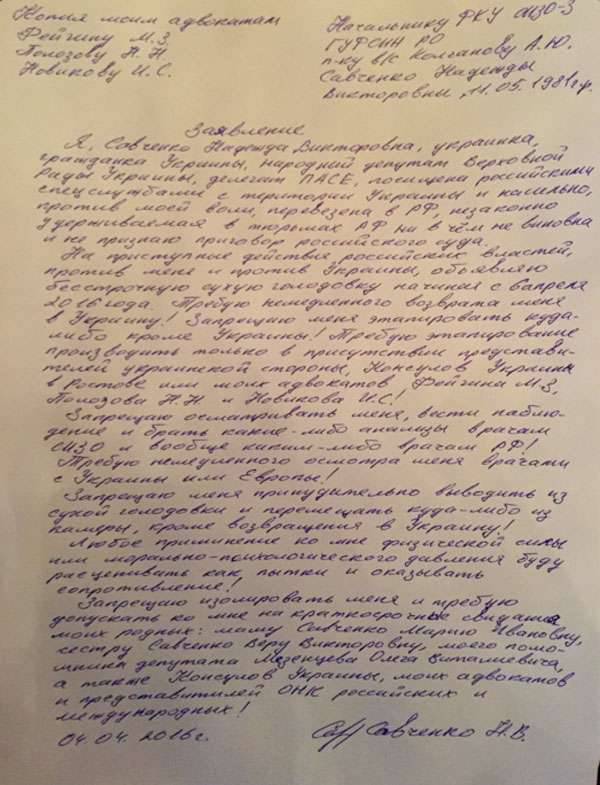 And this is a comment from Mr. Feigin:
Unfortunately, Vera did not manage, after Polozov and me, to dissuade Nadya from a dry hunger strike. 6 April she starts!
April 6 immediately after a hearty breakfast begins to starve and closer to dinner (well, like all past times) ends? ..
From the statement we can draw several conclusions. One of them: Nadia stunningly got used to the role of "deputy of parliament." They constantly demand something from Russia, and this one there too ... "I don't want to be a serf peasant, I want to be a head noblewoman." If Nadia did not create an additional headache for the head of the SIZO-3 of the Rostov Region, then the lieutenant colonel must have read the Nadino statement for a long time and laughed at the "demand" and "prohibit" attacks.
Second conclusion: Nadya has no idea what a dry hunger strike is. She seriously announces that she will "resist during" this hunger strike. Apparently, Nadya employees of the detention center have never been shown photos of those persons who really followed the dry hunger strike ... What resistance, Nadia, would they? Scratch themselves off the floor if they were really hungry. Heroine ... PACE delegate ...
By the way, Nadia is aware of the fact that her "colleagues" in the Verkhovna Rada are demanding (literally stomping their feet) on breaking diplomatic relations with Russia. They are about a break, and the "PACE delegate" is about some Ukrainian consuls ... And what about the consuls after a hypothetical Kiev decision may not be, Nadia Savchenko did not think about it?
Well, God bless her, with this kind of dry hunger strike and with a statement from Savchenko. Much more interesting is what will be decided about the fate of the killer of Russian journalists. After all, after the sentence imposed on the militant of the Ukrainian terrorist battalion "Aydar", she now has three main options. The first is sending to the place of serving the punishment (to the colony), the second is extradition to Ukraine, the third is the exchange for someone (as the most discussed example of the last time is to Alexander Alexandrov and Yevgeny Yerofeyev). And the first Nadya does not warm at all. Sew quilted jackets - how can you? She is a delegate, you know, Pace! ..
Importantly, Savchenko and her lawyers have not filed any appeals against the verdict (which means that the verdict has entered into force), clearly hoping that the decision on it will be made faster. On this basis, it can be assumed that in the near future, Ukrainian "justice" will be delivered with sentences against Yerofeyev and Aleksandrov. After all, if Kiev expects Savchenko to barter, then the process will be possible only after the sentencing by the Ukrainian court. And the fact that the exchange is most likely, the other day said the official representative of the RF IC Vladimir Markin. From his remarks to the journalists of the publication "Evening Chelyabinsk":
Of course, justice requires that all the 22 of the year be served, but if it helps to pull out good and honest people from Kiev dungeons, then you can go for an exchange.
Markin made such a judgment on April 1, but one can hardly assume that the exchange statement was a joke ...
And in the camp of Petr Poroshenko, it must be, is not at all a joke. He - Pyotr Alekseevich - would have been much calmer if Nadezhda Viktorovna Savchenko had died in a Russian detention center "as a result of a dry hunger strike." After all, the extra political competitors to continue the experiments on Ukraine, and even the most serious baggage of political ambitions, Don Pedro is clearly useless ... And so - there would be an eternal symbol of "struggle" and "famine", whose name could be called streets and Ukrainian detention centers ...
And after all, not only Don Pedro with two hands for Nadina's dry hunger strike with a fatal outcome, but also the leader of the Nadina party, Yulia Tymoshenko. For Ms. Tymoshenko to get Mrs. Savchenko "home", which she needed exclusively for recruiting political dividends only as a prisoner in a Russian prison, is not at all the option she relied on. A competitor, and even with radicalism, worse than Julina, Yulia will definitely not be happy.
So both Pyotr Alekseevich and Yulia Vladimirovna keep the cams for the head of the pre-trial detention center-3 to still give Nadinka the opportunity to become hungry to his will. Perhaps, they think, and the young lady will tidy up ... But only if the lieutenant colonel was a monster? ..