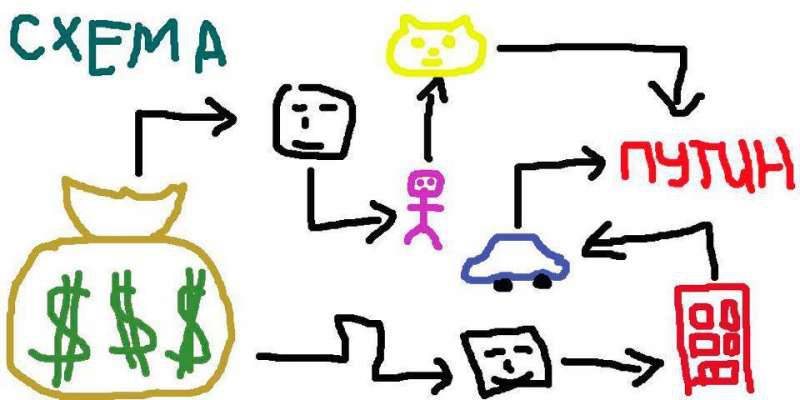 400 journalists 10 have worked on this "scheme" for years.
The chronology of events regarding the "sensational dirt on Putin" is approximately the following:
1. First came Kerry, brought the "demo version" in the case. Said "if the damned Ruske does not give us a parish of Krymsk, we will publish it and even more."
2. The Kremlin looked, neighing and said, "Tafai! Tafay!
3. Offended Kerry left.
4. Sands went to the people and said, "Wait, there will be a circus soon."
5. At first, frankly crazy was launched.
история
about "Bayevsky and Putin's Women", but this nonsense did not contain a single proof - no photos (although no, a photo of some left-hand lady is there, but no one even tried to prove her connection with Putin), no documents, nothing. Did not work.
6. After that day, one Drew Sullivan, a great fighter against corruption in Russia and Serbia (why he does not fight it in his native USA, is unclear - perhaps "scary heroes") threatened to publish some sensation about Putin, which "will turn the world".
7. And finally, a series of "sensations" about some cellists, "Putin's friends", footballer Messi (suddenly!), Ukrainian Poroshenko, and Georgian Ivanishvili are issued.
In general, another loud zilch. Because, for example, in a large article about the cellist Roldugin a lot of text was written, but only one screen of dubious quality is given, and the screen of a document that proves nothing.
In the best traditions of "Hollywood," a poor cellist and ceremonial who devoted his whole life to music and almost rode the old "Zhiguli" is called the "Keeper" (Tony Stark and Hulk may rejoice in their recruiting) and supposedly throws billions of dollars in them (citizen Koreiko nervously smokes in the calidore).
For authenticity, there is a bit of real dirt on the useless American puppets of Petro Poroshenko and Bidzina Ivanishvili. Mixed, and the resulting thin broth is issued for a thick rich soup.
Guys, if you want, I will give you (cheaply) a couple of lessons on how to collect dirt. For a couple of hours, using exclusively open sources, I will show how multi-billion dollar budgets are spent and sawed in the USA for "promising weapons", which in fact turn out to be empty in a beautiful wrapper. And I will prove involvement in these corruption schemes of the top of the Pentagon and the US State Department, as well as some of the current presidential candidates (those who like to bark during public speeches). And I will have much more evidence.
In general, I try not to meddle in the internal affairs of other states, but I am ready to make an exception for you. Well, so how do you want?
So, in 48 hours, "sensational facts" (which are actually known to everyone) about corruption in the United States, and "the world will never be the same"!