Today blog
chervonec_001
He published another brief summary of the situation in Donetsk and its suburbs from the Mage military officer.
The report says:
"Over the past few days, shelling has fallen sharply. There are shelling of course, but not of the intensity that was last week. I wrote in previous reports that the Armed Forces of Ukraine or their curators moved the schedule of attacks and attempts to probe the line of defense of the militia from the weekend on Monday and Tuesday.
But at 17 and 18 hours, to which the residents of Donetsk were already accustomed, the shelling did not start, even as it is strange, I thought that I was mistaken in my predictions. But it turned out - no!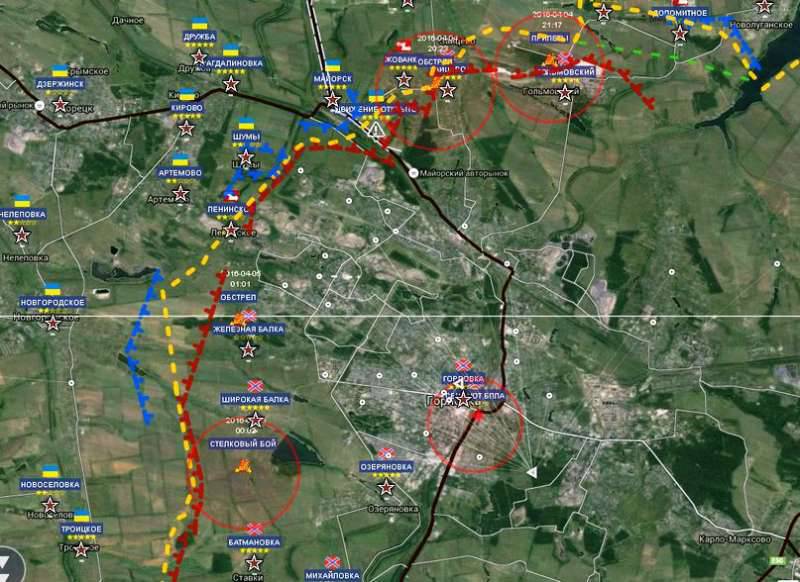 From 21: 00 boomed the whole front, starting from Shyrokino and ending with the northern suburbs of Gorlovka, the villages of Zaitsevo and Golmovsky. As usual, machine guns begin to water the horizon, AGS and grenade launchers work. If the militia responds, then they are trying to suppress snipers and vocational punitive. 82-mm mortars almost immediately work on the firing points of the militia, but 120 minutes after 30 begin to send gifts. In general, the APU cherish 120-mm mortars, now try not to get carried away and often change positions, since the big losses were in the autumn and winter.
Specifically, 2-mortar 120-mm worked on the ATP with 21: 00 to 21: 40, then with 22: 00 resumed shelling. With 22: 30 two more mortars were connected. Approximately the same scenario was on the YaBP (Yasinovatsky checkpoint), Shirokoy and, in an hour, Iron Beam, as well as in the area of ​​the settlements of Zaitsevo and Golmovsky. In addition to shelling, battles began in some areas.
The enemy's snipers have become a big problem, a little bit of everyone there - both in the APU and the National Guard. Some other detached companies of snipers to 20-30 people, again, mercenaries. In general, in all divisions of the enemy a sharp increase in snipers. Therefore, in our motorized infantry companies, they also returned to regular snipers.
A lot of videos appeared with the military personnel of the Armed Forces. They mainly go artillery, MLRS, vehicles for personnel, medicine, and kitchens. Light armored vehicles are less frequent,
tanks
For a long time not visible, they were thrown all winter.
People call and tell with emotion that in Slavyansk, Kramatorsk, Konstantinovka, Artemovsk, Krasnoarmeisk the roads are full of equipment. With railway The platforms of the equipment are unloaded and flow disperses along the roads, being distributed along the whole front. People also report that if before the equipment and the material part was old stuff, like a large army of "Makhnovists", now the equipment is in the best condition.
This Soviet equipment apparently comes from Eastern Europe, a lot of it still remains in the armed forces of Romania, Poland, Bulgaria and other countries. "