Works on repairing a large anti-submarine ship Marshal Shaposhnikov at the Dalzavod ship repair center (CSD, Vladivostok) have finally entered the active phase, the blog reports
bmpd
.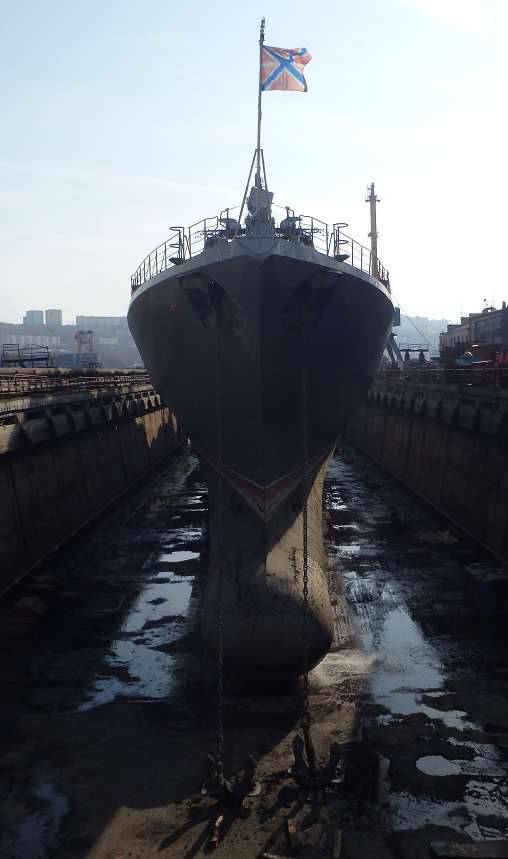 Large anti-submarine ship of the Pacific fleet "Marshal Shaposhnikov" of project 1155 in the dry dock of JSC "Center for ship repair" Dalzavod ". Vladivostok, March 2016
The state contract for the repair of the ship was concluded on 1 on April 2015.
According to the procurement site, 31 July 2015. CSD entered into an agreement with the machine-building design bureau on the supply of a "set of two 3С-24 products worth 47 million rubles".
"According to the well-known data, 3-24 (aka KT-184) is the launcher of the Uran ship 3K24 missile system with X-35 anti-ship missiles (3М24). The production time of the units is defined in 18 months. Previously, plans to install "Uranium" on the BOD project 1155 were not reported, "- the article says.
In addition, in May last year, the CSD signed an agreement with OAO Izumrud on the delivery of the product MP-123-02 / 3 - the universal control system of the ship's artillery "Bagheera". Cost of LMS - 165,3 mln. Rub.
According to the information, "the MP-123-02 / 3 system is designed to control the firing of naval anti-aircraft artillery caliber 30-100 mm and unguided reactive
weapons
122, 140 mm caliber on aerial targets, including anti-ship and anti-radar missiles, during a ship's self-defense against airborne attack, on sea and coastal targets to provide fire support of the landing force and destruction of coastal targets in the depth of defense under conditions of active and passive radar and optical electronic interference. "