The President of the Republic of Armenia, Serzh Sargsyan, stated that in the event of further aggravation of the situation in Nagorno-Karabakh, the authorities of the country will decide to recognize the independence of the Nagorno-Karabakh Republic. The Armenian president made such a statement during the reception of the diplomatic representatives of the OSCE countries. Information Agency
TASS
quotes Sargsyan's statement:
As a party to the 1994 ceasefire agreement, Armenia will continue to fulfill its responsibilities to ensure the safety of the people of Nagorno-Karabakh. Further exacerbation of hostilities can lead to unpredictable and irreversible consequences, up to a large-scale war. This, naturally, will have an impact on security and stability not only in the South Caucasus, but also in the European region. If hostilities continue and gain wide scope, Armenia will recognize the independence of Nagorno-Karabakh.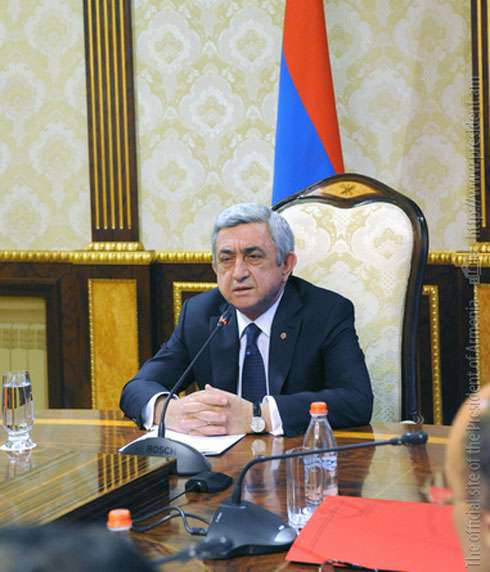 Recall that in the NKR the third day the fighting continues, in which the following types of weapons are involved: armored vehicles, artillery,
aviation
mortars. More than 30 people died on both sides. This is official data.
At the same time, the Azerbaijani authorities stated that the Azerbaijani soldiers unilaterally cease armed clashes and start "settling in the liberated territories". We are talking about several heights in the Nagorno-Karabakh Republic, the capture of which by the Azerbaijani army is refuted by the soldiers of the army of the Nagorno-Karabakh Republic. Since yesterday, volunteers have been mobilized in the unrecognized republic of Transcaucasia.