The military personnel of the Airborne Forces of the Russian Federation and the Collective Rapid Reaction Forces of the CSTO will parachute under the arctic conditions. Landing will be carried out during April as part of a humanitarian search and rescue expedition. This is reported by the Office of the press service and information of the main defense department of the country.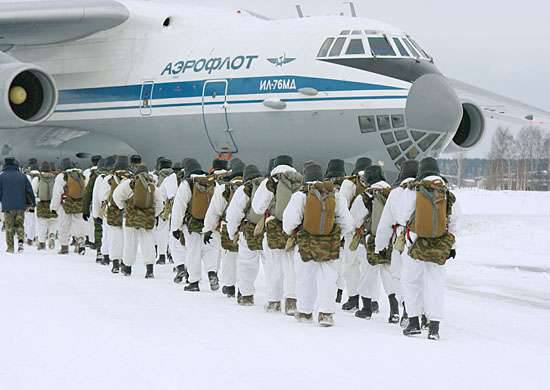 From the message of the press service of the Ministry of Defense of the Russian Federation:
The landing will be carried out in extreme conditions in conjunction with the military transport
aviation
Aerospace Forces (VKS) of Russia and the Expeditionary Center of the Russian Geographical Society.
Against this background, in the Barents Sea, exercises of the diverse forces of the North
fleet
. The main goal of the exercises is to develop skills for protecting surface ships from conditional enemy submarines. The following forces of the Federation Council of the Russian Federation take part in the exercise: Kondopoga BDK, Iceberg and Rassvet MRCs, Snezhnogorsk and Yunga small anti-submarine ships, and also a killer vessel (auxiliary vessel for carrying out underwater cargo operations) KIL-31 .
From the press service of the Federation Council of the Russian Federation:
According to the teachings, these surface forces imitated the detachment, which was tasked to reach the designated area for the landing, while ensuring reliable anti-submarine protection by a group of anti-submarine ships.