For the first time, Norway will send 2 vessels instead of one to monitor Russian submarines, the second will be the new reconnaissance ship Marjata IV, which this spring will replenish the composition of the Norwegian
fleet
transmits
RIA News
the message of the newspaper Svenska Dagbladet (SvD).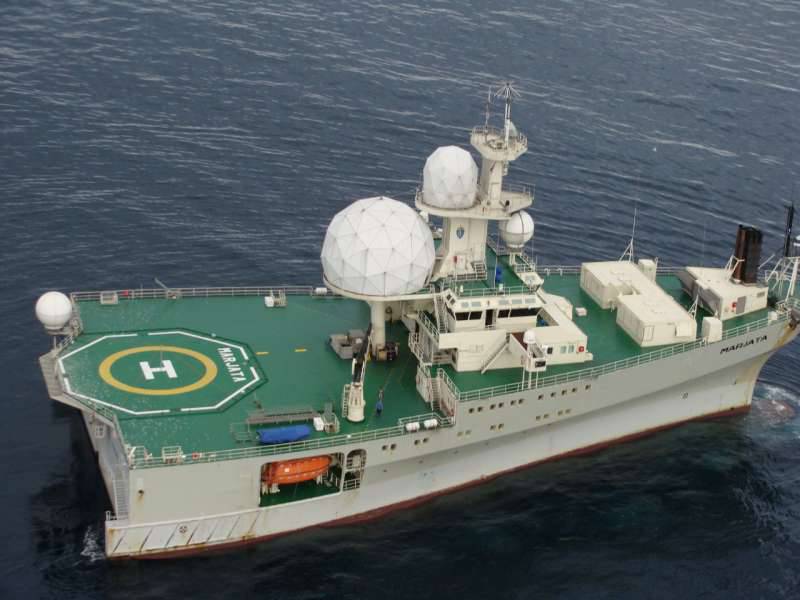 Marjata reconnaissance ship.
The "New Norwegian Super Ship" is a continuation of the Marjata project. Since 1960, vessels of this type have been engaged in reconnaissance activities in the area of ​​the Barents and Norwegian Seas. Marjata is usually located near the Russian border, "the newspaper notes.
According to the report, "the new modification significantly exceeds the size of its predecessor: the length of the Marjata IV is 126 meters, the width is 23,5 meters." The installation of equipment on the ship was carried out by the Americans at the base of the US Navy Chitham. The project turned out to be very expensive, and is estimated at $ 149 million.
Marjata IV is to be transferred to the Norwegian Navy this spring; its port will be the port of Kirkenes.
"For Norway, as a member of NATO, it is important to conduct intelligence activities in the northern seas and to monitor Russian submarines, which are sent to the Arctic waters from bases on the Kola Peninsula," the newspaper writes.
According to the military historian Lars Güllendal, who is quoted by the SvD, the update of the Norwegian Navy indicates that the Government of the country and the leadership of NATO see Russia as a strong rival.
"Russia has conducted a large-scale armament program. Now new systems need to be tested. When an individual country reaches a certain level, the rest are interested in observing what is happening. All this is interconnected. With the help of electronic intelligence, you can analyze what the enemy is doing and get an idea of ​​it, "said Güllendal.