For the first time in Syria, the combat use of Russian Ka-52 "Alligator" helicopters was observed. We are talking about helicopters that were delivered to the SAR about two weeks ago. If you believe the information sources, then these rotary-wing machines operating in the Syrian Arab Republic, are now three.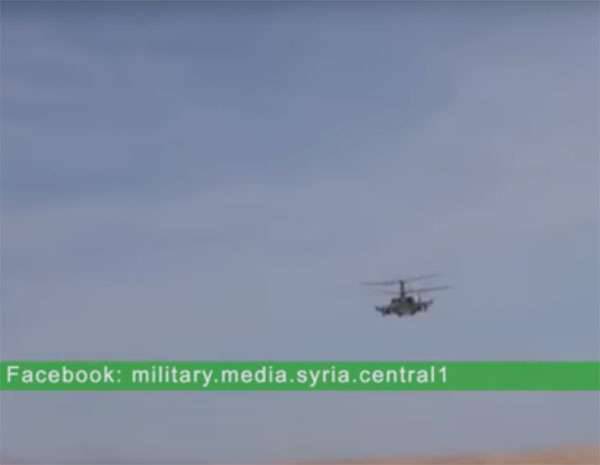 The Ka-52 helicopters were deployed to support the Syrian government army from the air in the area of ​​the settlements of Palmyra and El Qaryatane. Christian El Qaryatayn freed from militants LIH on the eve.
It is reported that this video was made precisely in the area of ​​El-Karyatayn, held igilovtsami from August last year.
Earlier there was information that Russian helicopters Mi-28H were also used in Syria, which provided assistance to Syrian troops in the Palmyra region.
Ka-52 helicopter gunships of the Russian Aerospace Forces launched a series of strikes against the accumulation of manpower of ISIS militants and their off-road vehicles equipped with heavy machine guns and anti-aircraft installations.
The helicopter is armed with air-to-ground and air-to-air guided missiles. In addition, the Ka-52 uses unguided rockets and small arms and cannon weapons.