Greetings to you, dear, dear friends! Everything. Patriots of Russia, patriots of Ukraine, types from the sect "A woman Yaga against", members of the numerous public organization "Sentry! Everything is gone, boss!" - all of you have become necessary to me. You. Those who love, criticize, hate. You are the people!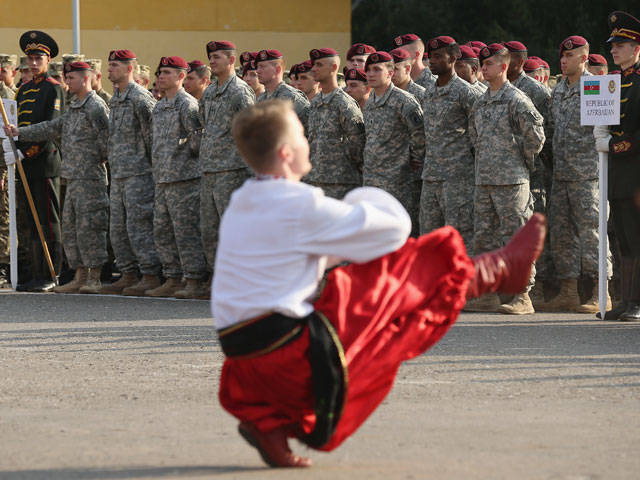 Something I was unwell ... No, not some kind of infection. My legs hurt, my head just breaks and my belly breaks. And the soul is good. There are no such infections. I just celebrated two holidays. Span for two whole days. The first is Fool's Day. But about the second then. How is your humorist says - surprise will be!
Hello to you, dear, from Tarakanushki. On borsch calling. In our, Ukrainian, duly cooked. Yummy unimaginable. And do not be surprised, greetings from Vyshivanka. Though he is a fool, but ours. Good actually a cockroach, but really likes to climb into their own business and watch TV. He and I embroidered dragged. Heartily.
Militia also arrived. A whole jar of the one who remembers, I liked the stew rolled. From all as a gift. We arrived, however, a little bit. Restless there with them. In the trenches and the posts hurried. And you, too, said hello. Read your comments. Argue with you there ...
And the "profile cockroaches" of which they didn't train. And for borscht, and for the table in general. Deputies and ministerial, we are not starving. And that means we. More precisely, they are "profile". Well, hello to you too.
In short, I had here a total gathering of our cockroach family on occasion. And the feast was th th. That's why he was unwell ... The next day. You would mix the vodka, vodka, alcohol, Moldovan wine. But for intimate conversation the most it. Even the voice of the silent is cut through.
Well, we certainly freaked out enough in our own country. Something, but to break in their own courtyard, we learned. Why? Unclear. We build at others, and we break houses. Is there such a mentality ...
The militiamen say that they are waiting for either a new tank or a new armored vehicle. "Dung" is called. She was sent for testing to them. Or they will send. They laughed so hard that the snack jumped up. Like, a purely Ukrainian version. Schaub boulo. Everything is there in duplicate. On normal, not Ukrainian
tanks
one tower. We have two! There any kind of dynamic protection is adapted. They say the shells bounce off. And we have two layers! That means, not only bounced, but also flew back. The principle of a tennis racket. The militia say that their intelligence has already posted information about the latest development of our designers on the network. Not those who once created tanks, but the correct, politically literate. The tank is called "Azovets-2". Who cares, find. Scary car.
Successfully we are struggling with corruption. You have no idea how this monster devours officials. Just some kind of pestilence. Like a normal person. On the Independence spoke beautifully. He tore his shirt on his chest so that he could push Ukraine to Europe.
With Ukraine is not yet possible. But the place itself got warm. So what? The chair was infected with a terrible, incurable virus! He just sat down, and his hands were already stuffing other people's money into their pockets. Money is someone else's, and his pockets. Native, I must say bluntly, pockets.
Only in Kiev last year such "infected" were fired around 400. And in the country? Vaughn even the main railroad worker became infected. Also recently fired. This is not some kind of Ebola. It will be more terrible.
Ours from the Ministry of Interior also amused. Opened eyes to all. Remember, dear readers, how did you laugh at our new cops from the American film? But we actually thought that they would have fun catching criminals just like there.
No, well, the first part is quite successful. Our American girls will give a hundred points of beauty. And this, the place where the badge hangs at the police, ours is more expressive. Natural product of the Ukrainian land. But with the criminals ... The discrepancy came out. Either they did not watch the movie, or they forgot. Well, not afraid, and all. Guns and machine guns frighten our beauties and our beauties. And the car was not enough at all. For some reason they are fighting in the capable hands of crime fighters.
What would the Russians do? Or are there any Americans? Would organize advanced training courses. Returned professionals who were fired. Frankly speaking, they would return the police to the police. Primitive thinking. Stone Age.
The main thing is not to return the professionals and to revive the real fight against crime. What to fight with it, if we have criminals in the national heroes go. The main thing is to explain why instead of peremoga another zrada was drawn. And it is desirable to explain in the European example. That the TV was a real European, who put everything in the right places.
Our minister found another minister to make just such a "talking head". The "head" was the Finnish Interior Minister Petteri Orpo.
So that it becomes clear to you that it has become clear to us, a little bit about the speech of this specialist in internal affairs. Theses are as follows.
1. The reform of the Ministry of Interior in Finland began immediately after the 2 of World War II.
2. The reform process is so much liked by Finnish law enforcement officers that they continue to pump money out of the budget for reforms to this day.
3. Over the past 6 years, the Finns have carried out 3 (!) Interior Ministry reforms.
4. The Finnish Ministry of the Interior will be happy to assist the Ukrainian Ministry of Internal Affairs in the same practice of reform.
So, Avakov secured a share in the cut of the Ukrainian budget for many years.
We read here in your press about Russia's refusal of discounts for Ukraine on gas. Ours from Naftogaz explained. It was not you who refused us! That we refused! In both. Europeans will sell your gas to us cheaper. Already sold and still will be! And what, what it turns out more expensive? This is bullshit. The main thing is that we are ready for negotiations ... Well, sell for less ... There is no money at all ...
And your Gazprom has completely lost its conscience. How are we going to block the pipe now? How to steal gas? This is such a mnogohodovochka from Putin, another dirty trick. Money from the Europeans regularly receives and secured transit. Well, sell cheaper ...
In general, Russia does not put us at all. It's a shame. Satellites fly away for free. No, well, can you imagine? Airplanes we banned. Left only litaky. And the satellites? Sits, then a Ukrainian. On the Chumaysk glance. In his garden, by the way, is sitting. And there bam ... Moskalsky satellite spoils the whole picture.
Damn this picture. Millions of years before us and there will be millions. But the satellite is flying for free! Zrada? And then! Russia is a rich country, even if it pays with American dollars. Our space will not give to persecute!
On the whole, it is necessary to restore order with these "flying zrads." Russian birds fly through us fly to the south. And again for free. Well there, ducks or geese. You can hunt them ... And every little thing? Pay Russia! Here and there, here and a couple of million in the Ukrainian budget.
I'm not talking about any cyclones, anticyclones ... And the clouds? We have work to restore order more ... Why are there ... I also have a proposal. Here came a man to visit us. Is breathing? Breathes And what is he breathing? That's right, our Ukrainian oxygen and other impurities. Let him pay! And the rain? And the snow? And hail? And the illegal use of Ukrainian winds in wind power stations in the Crimea?
Okay. Talk about what and how we had a lot. I will write further. And today it is necessary to uncover the intrigue. Why we sang, why Ukrainian hopak was next to the Russian trepak. And vodka next to the gorilka. Yes, and why I did not let Russia go into the lead. And then attentive readers will say, Tarakan darkens again.
So, how many Russia sent humanitarian convoys to the Donbass? For those who have forgotten or not following, even 50 pieces! Not tens of thousands, hundreds of thousands of Donetsk citizens speak with gratitude about the help of the Russians. Old Donetsk and poor survive including with your help.
Handsomely. Widely, in Russian. Noble.
I bow to you Russia and you Russian people!
I'm certainly not Russia. I'm a cockroach. And to be honest, did not know the fact. But, it so happened, enlightened.
My friends gathered for a reason. They were going to celebrate a small, but our victory. Those notes that you read today are anniversary. Fifties!
Since that time, they tried to beat me with a sneaker (editor, I remember), and "take it up a little" and "pull the nerve out" with insults. But ... Readers asked, readers demanded, readers, most importantly, read and talked to me. And how could I not answer? "It's not his upbringing," as one of the characters in the film "The Meeting Place cannot be changed."
So, dear Russians, 50 on 50 ... Draw!
And I want to finish the same as last time. My cockroach is very asking. Roared from the last song with all eyes. Woman. Emotions. Today the song is old. Folk. Like it or not, but I also had Cossacks in my family. The song, which in modern Ukraine sounds like a kind of prophecy. Replace the name of the country, and everything goes.
See you next time! Yes the following notes. Peace to you in your home! Successes in work and defense of their country! And we will return to you anyway. Though fools, but relatives. As for me Vyshivanok. Your
Tarakan Okoloradsky