For everything in this life you have to pay. For any product, for any act, for any opinion. Even for spitting in the direction of a neighbor. And in the latter case - it will hurt to pay. Unless, of course, the neighbor is not a coward and is not a "physically weak hlyupik." This is an axiom that everyone knows. Most simply believe in the word, and especially the "stubborn" understand through a broken nose or a sore ass.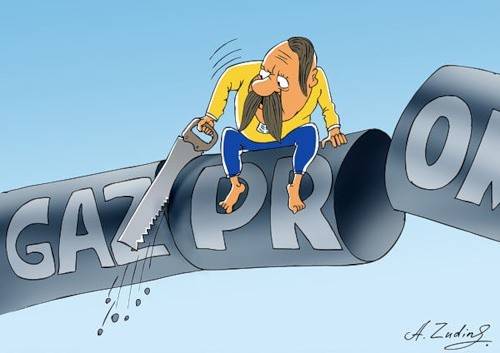 Today is Fool's Day! Nothing offensive about it. Remember our tales. Ivan, though a fool, and his wife Vasilisa the Beautiful. Well, in a pinch, Wise. And those, like normal, were left with a nose. We agreed on a bird in the hands, got a sparrow ...
But, alas, most fools have no luck. Most pay for stupidity. That is exactly what happened to the Ukrainian fools.
1 April ended the action of the "winter package", agreed by Ukraine, Russia and the European Union on gas supplies to Ukraine. The discounts offered by Russia ordered a long life. Those 17,77 American "rubles" that we gave to the "brotherly country" will now go where it should be. In the Russian budget.
For almost two months, the Ukrainian oil industry in every way hinted about the negotiations. It seems we don't need to, but Russia without such a buyer ... And every time we received a simple and clear answer. Are your president and prime minister talking about everywhere? The fact that Ukraine has completely abandoned the procurement! So what to talk about? You do not buy, we do not sell. Just talk? It seems like the sale of sand on Mars? And why should we? We need to work.
Russia estimated its goods at 212 $ per thousand cubic meters. Ukraine also bought, according to Yatsenyuk, for "around 200". Everyone laughed. In addition to the Ukrainians. They believed! One of the richest oil producing countries in Europe, Slovakia can afford to sell gas cheaper than Russia.
Belief in European gas for Ukraine could not be shaken by any arguments. That is the difference between faith and knowledge. I believe - and no nails! And for some reason the Russians didn't really try to "shake". Believe is your right.
But time is ticking. The term of the agreement ends. Yes, and reports on the work must be given. At least for those who may give another loan. Quarter is over. Report published.
Yatsenyuk: "In January, we bought European gas at a price of around 200 $." Demchishin: "Somewhere less than 170 $ - this is the base price in hubs, and with transport you get a little less than 200 ...". This is what the "Moses" of the campaign in Europe "fed" on Ukrainians.
And here is what the Ministry of Economic Development has published. The price of gas purchased in Europe in January was 231 $! The ministry, by the way, is not Russian or European. His, Ukrainian.
Well, economists are square, remember arithmetic! I'm not asking for higher mathematics. He himself is not strong. But I know arithmetic. How many there, it turns out, the dollars you paid for stupidity? Not yours. You are smart. For the stupidity of Europeans and Russians. That we do not understand your desire to throw a lump of dirt in our direction.
I will help to save a couple of your working days. Yes, and textbooks on arithmetic you probably have the same as for
stories
. Who knows what counts ... For every thousand cubic meters Ukraine paid "extra" 19 $. And then we read how much we bought in January. 900 million cubic meters.
Total: more than 17 million dollars you had extra. There is nowhere to go. And only for January 2016. But in dollars is not so formidable. But in your hryvnia beautifully obtained. Even writing about such an unnecessary "denyuzhku" for Ukraine is scary. Grandmothers retired Maidan organize.
I will not say that, having learned the situation, the people of Ukraine will demand an answer from the authorities. Will not require. Faith ... she is. No evidence required. But about the fact that stop whining about the economic collapse - I will. And about the war, which supposedly "eats" the lion's share of the budget, I will not keep silent either. Each fact and occasion - his Pavlik Morozov.
Should at least some ordinary worldly wisdom awaken in Ukrainians. Money through love. Even those that seem just to give. This "just so" harvested for grandchildren and great-grandchildren. Today? Today your mothers and fathers are dying. Dying of hunger. Fight for discounted products in "Auchan" your mother! A package of products from customers take away your children!
Jump - lost the Crimea. Skok - war in the east. Jump - no space. Dap - no
fleet
. Sparrows. What jumped on?
Worldwide Fool's Day is a fun holiday. Fools are probably the smartest of us. They are not afraid to be fools one day a year. But for Ukraine, April Fools' Day, alas, is becoming a national holiday. Happy national degeneration. Maybe enough to build the opposite? Maybe better than everyone? Build, build new houses, factories, factories, holiday homes. To build is to give people the prospect of life.