Previous article:
Suiciders vigil: directions for the development of anti-ship ammunition. Part of 1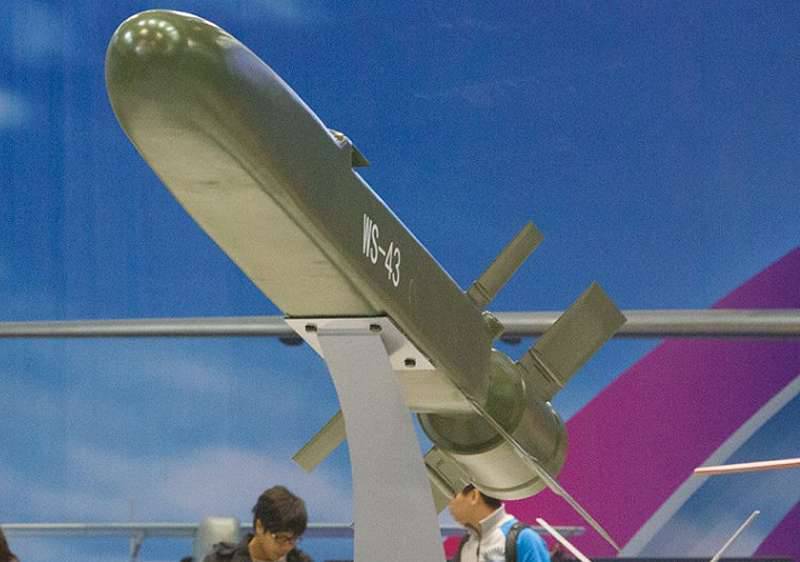 WS-43 Chinese Warp Ammunition
Key players
Nevertheless, the high-precision capabilities of anti-ship ammunition (BB) have increased so much that it is possible to speak with confidence about their good prospects. A number of key suppliers, mostly from Israel and the United States, continue to develop in the field of BB, mostly funded from their own research funds, with the goal of receiving one-time orders for developing and supplying or presenting their solutions for future larger programs.
It is quite possible that the Israeli company IAI was the first to enter the market of modern BB with its Harpy development. The portable autonomous system launched from the launch canister, equipped with a passive homing head at the source of electromagnetic radiation, is optimized for suppressing enemy air defenses. The device Harpy, developed by the missile division of the company IAI, weighs 160 kg together with high-explosive fragmentation warhead weighing 15 kg. The wingspan is three meters, the range of action presumably exceeds 500 km, and the duration of 6 screening hours. According to reports, the main operators of this system are China, India, South Korea, Turkey and the Israeli army.
In October, 2005 was presented by MBDA in conjunction with the rocket unit of the Israeli company IAI, a modification of Harpy. She was selected as one of the finalists of the British program demonstrating the capabilities of antiquating ammunition, which has evolved into the now-closed IFPA program.
In 2009, IAI introduced Harop, a Harpy-equipped opto-electronic homing head, designed to hit high-priority, fast-moving targets with a critical lifetime. According to the company, the Harop system has basically the same characteristics as Harpy, with the exception of some differences. The round fuselage and the Harpy deltoid wing were replaced by a fuselage with a more complex profile and a deltoid wing with external planes having a reduced leading edge sweep.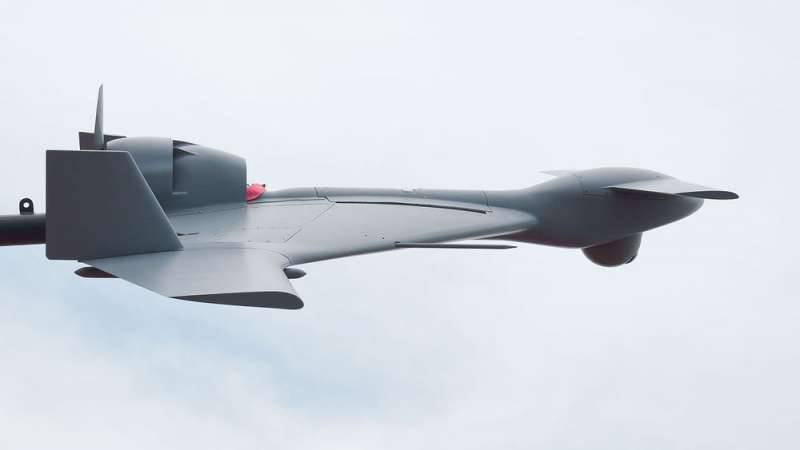 Harop Barrage Ammunition
Harop can be launched from various transport platforms, including sea and land launchers. It can also be launched from aerial platforms in the direction of the intended target area. This BB can be launched from any angle, including horizontal or vertical trajectories.
It is assumed that Harop is equipped with an IAI Tamam MiniPOP / POP200 optical-electronic station and satellite communications. The Harop unmanned vehicle is equipped with a rotary-piston engine that drives the pusher propeller, which allows it to develop a cruising speed of 100 nodes (185 km / h) and have a maximum range of more than 500 km. However, the communication channel allows the operator to control the device within the line of sight at distances of only up to 150 km.
Fire Shadow, created by MBDA
At the airshow in Paris in 2015, the executive vice president of the rocket and space division of IAI, Boaz Levy, said that IAI is in the "advanced design stage" of a light sedative system based on Harop technology. Levy said that the new BB with an 2-3 loitering time of the hour will be launched from the launch canister. The new system will be about five times smaller than the current Harop machine, it will be equipped with a stabilized MicroPOP station (10 cm, 1 kg) manufactured by IAI Tamam Division and will be able to deliver a high-explosive fragmentation warhead kg (also about a fifth 3- kg Harop system warheads).
In its current modification, the new BB cannot be restored to its original state after the activation of the warhead, although recovery is possible in the case of an inert warhead. However, Levy confirmed that IAI is currently working "on future opportunities" that will allow the user to restore the BB with an activated warhead. The new ammunition will be able to be launched from land, sea and air platforms.
Levy said that a customer assessment of the prototype is expected in the middle of the 2016 year, and that the results of this initiative will enable the development of a promising family of lighter amusing ammunition.
Levy also confirmed that the rocket and space system division is developing a new version of Harpy. Harpy NG has exactly the same configuration as the current Harpy opto-head system, to which only a radio frequency homing head has been added.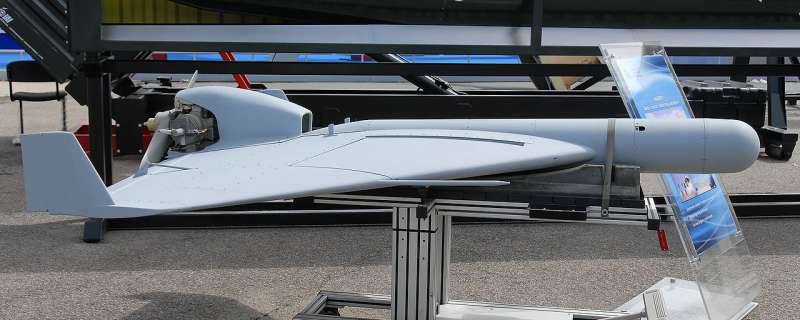 Harpy Barrage Ammunition
Another Israeli company UVision invades the BB with a family of new dual-mode (information gathering and loitering) systems for air, land and sea platforms. Hero's line of locking systems, which has a unique cruciform configuration, originating from UVision's previous Wasp, includes seven possible options: three tactical and four longer ranges. At the moment, developed and qualified two options, Hero 30 and Hero 400, which are a further development of the previous high-precision munition Blade Arrow.
All variants have very low acoustic and thermal signs of visibility, can be used either as BB, or as reconnaissance parachute. The latter are equipped with a stabilized optical-electronic kit also Israeli development.
The Hero 30 portable tactical system (formerly Wasp) with an electric motor, with a maximum flight duration of 30 minutes and a range of 5-40 km with a mass of 3 kg, has a warhead weighing 0,5 kg. The larger Hero 400 with a longer range weighs 25 kg, including a warhead weighing 8 kg, it is equipped with a gasoline engine; the flight duration of the device is 4 hours, and the maximum radius of action in line of sight is 150 km. BB Hero 30 is designed to act against enemy manpower, while Hero 400 can fight
tanks
and other armored and protected means.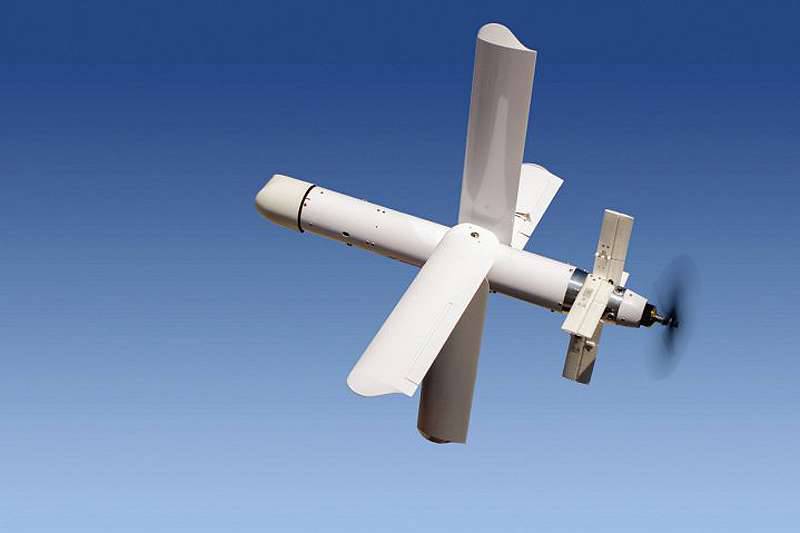 Hero 30 Barrage Ammunition
The third short-range, tactical BB Hero 120 container launch, is in the final stages of development. Hero 120 is equipped with an electric motor, has a warhead weighing 3,5 kg and is designed to work on armored vehicles and fortified structures.
Four more options are at the design stage: Hero 70 (short range, with electric motor, 45 flight minutes); Hero 250 (with a large radius of action, 15 km in direct line of sight, three hours of flight, a gasoline engine); Hero 900 (long-range, 250 km in line of sight, seven hours of flight, combat part 20 kg); and Hero 1250 with the range and duration of the flight that are not yet open, but whose characteristics are consultant to UVision Yair Doubester described as "comparable to the characteristics of the Harop system".
The third and largest in the Hero series of short-range and dual-purpose platforms (information gathering / BB) developed by Uvision is the Hero 120 12,5 kg system designed to combat nearby armored / reinforced targets. Equipped with a 4,5 kg warhead and a stabilized Micro-STAMP Controp optoelectronic station, the Hero 120 system has an increased flight duration of 60 minutes and a communication channel operating within line of sight to 60 km.
Dubester said that all Hero systems are equipped with a ground-to-air communication channel and a video image transmission channel to the operator console. Targets can be selected manually or via pre-programmed GPS coordinates. While hero blocking systems can fly autonomously, human participation in the control loop allows you to select / deselect a target, as well as immediately interrupt the execution of the task. All variants are designed to be launched from the ground (launch canister or launcher; Hero 30 was shown in Paris on the UGL-30 variant of a remotely controlled TOMCAR machine modified for the UVision system), from an offshore platform (launcher or launcher) or with another aerial platform, possibly from a drone or helicopter.
Textron offers its BattleHawk Squad-Level solution for future LMAMS requirements.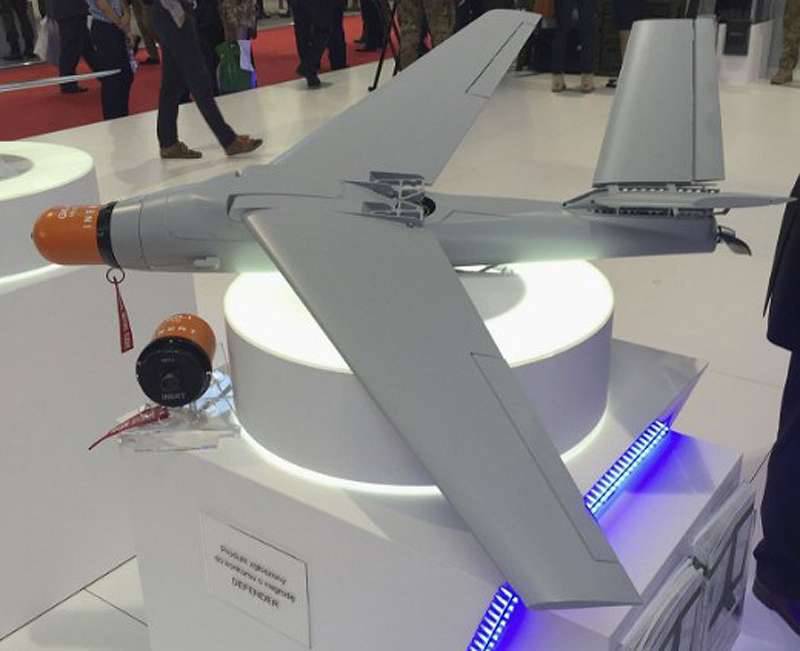 Multi-purpose Warmate micro drone WB Electronics
UVision expects to submit a modified version of its Hero 30 system in the near future in order to meet the latest requirements of the LMAMS program. Dubester confirmed that the company in this competition will cooperate with the United States, but refused to name the company.
The Israeli company Aeronautics also entered the sphere of loot ammunition (BB), having developed its Orbiter 1K (Kingfisher). This locking system is based on its Orbiter 2 mini-UAV with an electric motor. The new and previous systems have a common ejection launcher, a ground station / user interface and an IEEE standard S- or C-band digital data channel, which allows you to get a range from 50 km to 100 km.
Orbiter 1K barrage ammunition is equipped with an avionics kit with an automatic flight control system, which provides flight in manual mode or along pre-programmed intermediate coordinates. The Orbiter 1K is designed to destroy a set of tactical targets: manpower and lightly armored targets, both stationary and moving. The onboard weight of 2,5 kg includes a Controp STAMP optoelectronic / infrared camera and a high-explosive fragmentation warhead that "delivers special tungsten balls". The system has a task termination mode, which provides for the option of returning using a combination of a parachute and an airbag.
It is clear that the Israeli company Rafael Advanced Defense Systems, competing for the British IFPA program with its loitering BLADE (Battlefield Loitering Artillery Direct Effect) munitions, which is based on the modified Sparrow M UAV designed and produced by the Israeli company EMIT, has some interest in this area, but they refuse to discuss their current activities.
In the United States, with a pronounced interest in a large BB in the framework of the LMAMS program, much attention was paid to the development of a small-sized, with a reduced radius of action, tactical locking system.
While BB Switchblade, created by AeroVironment, is the only system of the LMAMS program, which is armed with dismounted infantry of the American army, this system was evaluated by other branches of the army for other tasks. The Combat Research and Improvement Laboratory and the Naval Corps Naval Research Center of the US Marine Corps evaluated the combat forms of using Switchblade barrage ammunition, including a test launch of the V-22 Osprey tiltrotor system at the Ground Forces Combat Command Center and
aviation
in California, while the U.S. Navy launched the Switchblade on surface targets from a submarine at periscope depth.
AeroVironment declined to discuss the details of Switchblade development, but it is clear that they are considering new versions of Switchblade to meet the requirements of the next version of LMAMS.
In order to fulfill the requirements for high-impact exposure, Lockheed Martin Missiles and Fire Control developed a family of lethal BBs with a simple name Terminator. This family consists of the original twin-screw airframe Terminator, which has an excellent maximum speed and maneuverability, as well as a new launch system from the tube guide Terminator-in-Tube (TNT), which increased the ease of carrying and deployment.
The basic twin-screw Terminator model of a ground launch (in development from the 2010 of the year) has an take-off weight together with a warhead less than 2,72 kg; the flight duration is about 15 minutes when flying at a cruising speed of 97 km / h, while the speed on the final part of the trajectory exceeds 161 km / h. In the nose of the installed day / night camera resolution 10 megapixels. The system can accept various warheads, including fragmentation and thermobaric variants. Lockheed Martin also used 3-D printing technology in the manufacture of the Terminator, some of the airframe parts are made of 12PA nylon powder.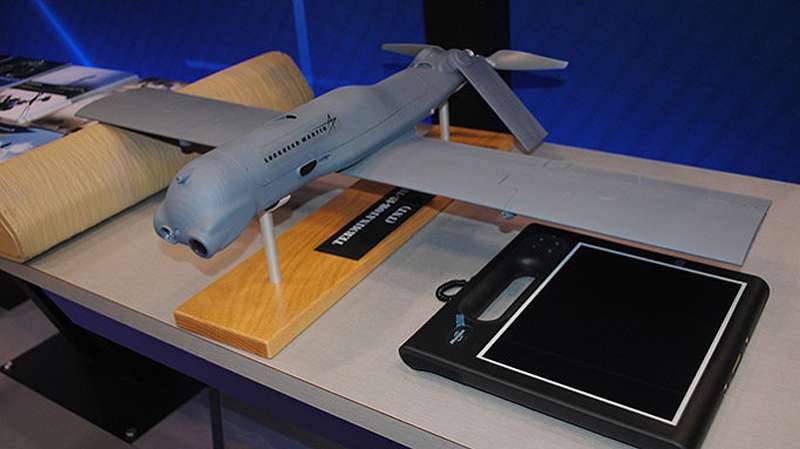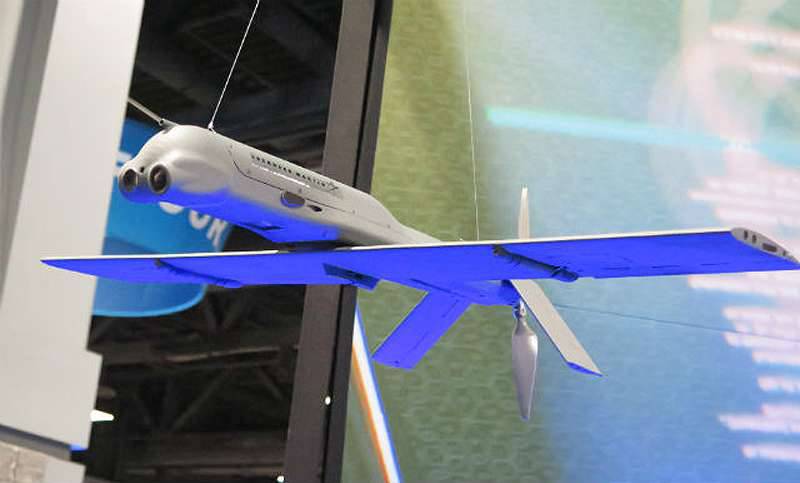 Lockheed Martin Missiles and Fire Control Barracating Terminator Ammunition
The new TNT version, first shown at AUSA 2015, is more streamlined. It is distinguished by a rear mounted screw, folding inverted V-tail and wings for launching from a tube guide, as well as an improved sensor set in the bow. Lockheed Martin refuses to discuss the features of each Terminator option, but state that they are "working on a new TNT option for the expected LMAMS program. Therefore, we pay great attention to the mass, lethality, range, flight duration and other requirements put forward by the American army. " The company added that "if there is a need for more lethality, longer flight time, additional options for the homing head, etc., we are ready to adapt the Terminator to perform the tasks. Existing technologies can be incorporated into the existing system, or the entire system can be expanded in size. "
Likewise, Textron is offering its anti-battle ammunition BattleHawk Squad-Level for future LMAMS requirements.
BattleHawk's lightweight, portable tube launch system weighing less than 4,49 kg and 45,7 cm long (55,9 cm in the launch tube) is a combination of Textron 40-mm high-explosive fragmentation grenades and a Prioria Robotics mini-UAV.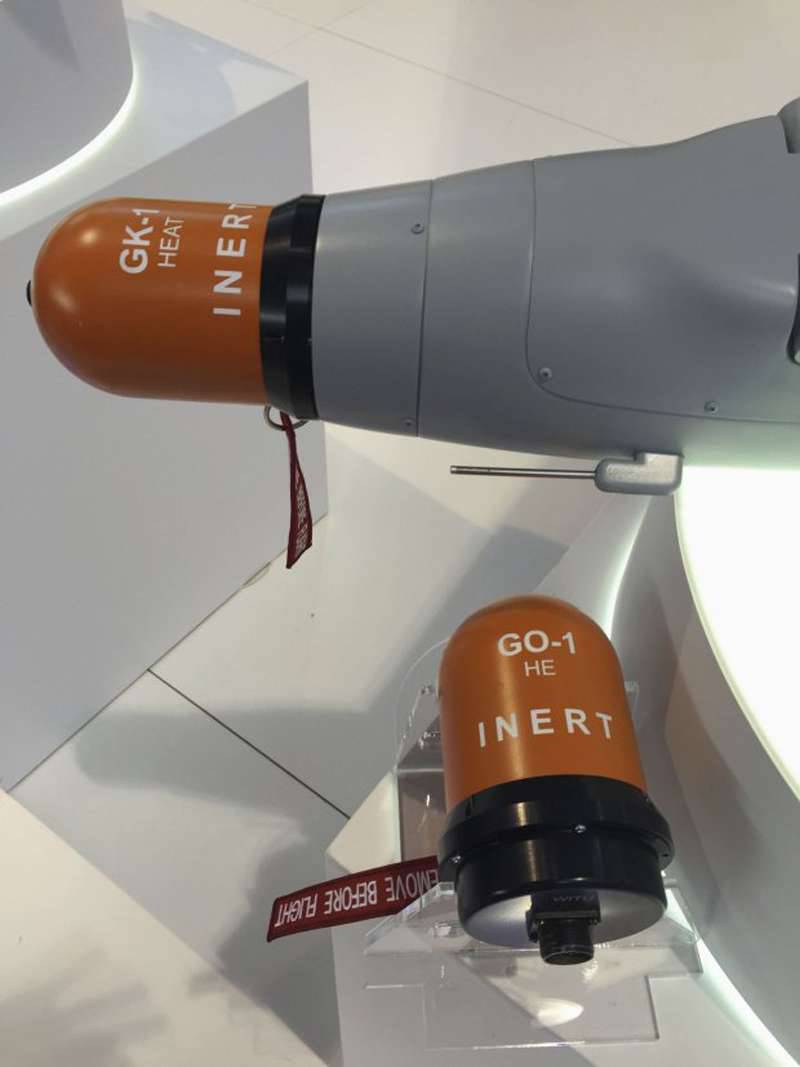 Interchangeable warheads GK-1 and GO-1 for Warmate reconnaissance micro-UAV
This electrically powered system was first shown in 2011 under the designation T-RAM (Tactical Remote Aerial Munition), after which, already as BattleHawk, it received high-resolution cameras and the ability to track moving targets while aiming at the end of the trajectory. In its current configuration, BattleHawk has a flight duration of more than 30 minutes, a range of more than 5 km, and a dive speed to target of 100 knots. Don Willbum, head of business development at Textron Systems Weapon & Sensor Systems, said the company is "interested in developing the BattleHawk, in a variety of form factors, but when you start building larger aircraft, it all stops at squad-level loitering ammunition," although it is and is the main focus of the company in this area.
Polish company WB Electronics has developed a dual-use platform (air reconnaissance / BB) with interchangeable payload. WB Electronics for the first time showed the concept of its Warmate system at the MSPO 2014 defense exhibition held in Poland.
Warmate is described as a "micro" class military drone with launch from a launch canister (folding wings), which is carried in a shoulder pack and launched from the ground or from a vehicle.
With a maximum take-off weight of 4 kg, the Warmate can accept three payload options with a common interface. For percussion tasks are intended cumulative warhead GK-1 (for such purposes as light vehicles) and high-explosive fragmentation warhead GO-1 (to fight manpower). Developed by WB Electronics in cooperation with the Polish Military Weapons Institute, both combat units are equipped with built-in opto-cameras. For surveillance, detection, identification, WB Electronics has created a GS-9 species-specific optical-electronic station, which is stabilized along two axes. The payload option is selected based on the type of task being performed. The company WB Electronics says that in the role of locking ammunition, the Warmate airborne apparatus is a one-time solution, but in the reconnaissance version, equipped with the GS-9 optical-electronic station, it can be returned due to deep stalling.
In the current configuration, the Warmate system consists of the Warmate aircraft itself, a launch container, three interchangeable payloads, a lightweight (2,5 kg) enhanced control console (Warmate software also from WB Electronics) and a ground data processing terminal with an automatic tracking antenna. To start from vehicles, the management console or data processing terminal is integrated into the existing machine architecture.
Warmate has a range of direct line of sight 10 km and working heights from 3,5 to 200 meters, the maximum flight duration 30 minutes. When performing reconnaissance tasks, the system can fly independently at pre-programmed points, and, as a patrol ammunition, fly in semi-autonomous or manual modes.
The new projects manager at WB Electronics said that Warmate could also be launched from another drone, although it was not yet tested in this role.
Comment
Few people doubt that locking ammunition is excellent for combat missions, when immediate, high-precision impact is needed outside the line of sight, especially at the tactical level, but the transition to the system software level is too slow. The LMAMS program is proof that needs exist, at least on the part of end users, but even this program is subject to the vagaries of funding priorities. Meanwhile, the industry continues to develop and improve systems with its research funds, but for how long?
Materials used:
www.lockheedmartin.com
www.mbda-systems.com
www.iai.co.il
www.avinc.com
www.uvisionuav.com
www.aeronautics-sys.com
www.rafael.co.il
www.textron.com
www.wb.com.pl
www.wikipedia.org
en.wikipedia.org