Disturbing
news
come from Nagorno-Karabakh. With new force in the region, fighting broke out between the parties to the protracted conflict. The press service of the main military department of the unrecognized Nagorno-Karabakh Republic reports that Azerbaijani forces on the night of April 2 took offensive actions in several directions at once (southern, southeastern and northeastern).
Interfax
referring to sources in the NKR Ministry of Defense reports that the Azerbaijani army used artillery and
Aviation
. A source in the Armenian Ministry of Defense reports that one of the helicopters of the Azerbaijani Air Force was shot down. Baku denies the information about the downed helicopter.
From a note by the press secretary of the Armenian Ministry of Defense on Facebook Artsrun Hovhannisyan:
Azerbaijan launched an open attack, along the entire length of the border with Nagorno-Karabakh, there are fights.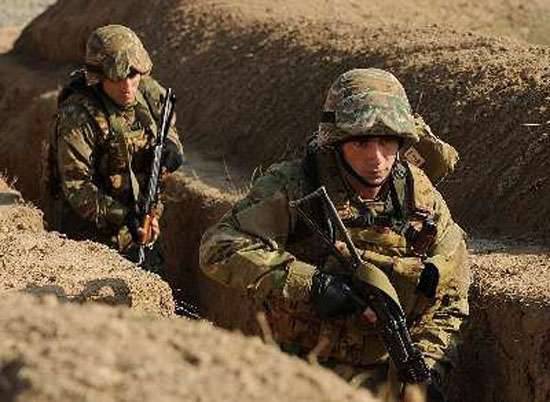 Armenian sources write that the Azerbaijani soldiers made an attempt to strike also those military units that are in the rear.
Intensive armed clashes in the Nagorno-Karabakh region are also reported by the Azerbaijani media, citing the country's main military department. The Azerbaijani Defense Ministry reports that battles are taking place in the Tartar and Agdam directions. During the battle used mortars, artillery and small
weapon
. At the same time, it is reported that the Armenian troops are launching artillery strikes on the frontline Azerbaijani settlements. There are victims and destruction.
From the message on the official website
MO of Azerbaijan
:
On the night of April 2, Armenian troops carried out a number of sabotage operations in the frontline zone. Fire was opened from various types of weapons, including rocket launchers and mortars. We put at risk the lives of people inhabiting the border villages. To prevent the intensification of military operations from the Armenian side, the command of the army of Azerbaijan assessed the situation, and on the basis of this, an immediate response was given.
The exact death toll at this time is not reported.
As you can see, the messages about who actually provoked another round of armed conflict, differ exactly in the opposite direction. It remains to hope that reason will prevail, and the authorities of both Armenia and Azerbaijan will stop the fighting, which can lead to disastrous consequences for the entire region.