The Ukrainian president, who is on a visit to the United States, once again called on the West to help Ukraine with arms supplies. According to Poroshenko, he is glad that the US authorities and "Ukrainian friends" in this state "are giving Ukraine their shoulders." From the statement Poroshenko:
It is a great pleasure for me to be in the Capitol and to see so many friends of Ukraine here!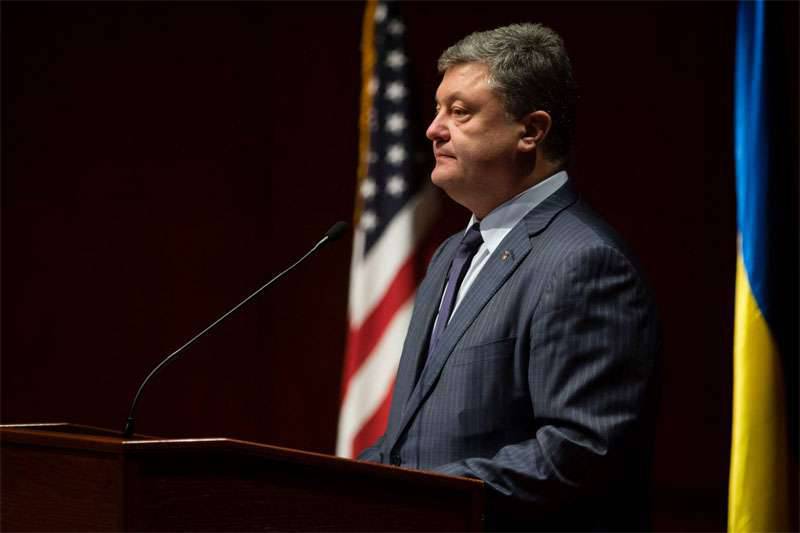 At the same time, Poroshenko complained that the West does not provide Ukraine with "sufficient military support," meaning arms supplies.
Poroshenko:
It is time to revise this position. (...) Until a stable peace in the Donbas is established and Ukrainian sovereignty over the Crimea is restored - sanctions against the Russian Federation should be renewed. We hope that the US and the EU will support the Savchenko-Sentsov list, which will impose sanctions against those involved in the fabrication cases against the Ukrainians.
After that, the Ukrainian president said that sanctions against Russia should even be tightened, otherwise "Russia will not change its attitude to the world order."
Poroshenko decided to add political points to Ukrainian supporters of the continuation of military aggression in the Donbass and said that today he will meet with the "main military manufacturer" of the United States. Who exactly Mr. Mr. Ukrainian President had in mind, he did not say. According to Poroshenko, this very "main military manufacturer" will help Ukraine to get, no less, American technology of electronic warfare.