I anticipate in advance the reaction of some of our readers and some personalities from the side that after the release of the next similar material become our readers. And nevertheless, it is somehow impossible to pass by.
What happens in the DNI and why so much negativity? And lurking, strangled by censorship and circumstances? If you do not shift the blame on some kind of "Russian curators" and other "ichtamnets", then the picture is such that one thing is clear: the Donetsk rulers themselves do a good job. And lead the republic anywhere, but not to the rank of "people's". Proof of? Excuse me
Well, if not quite a copy, but the document, in which so many times the branded wretch Borodai once again harms the Donetsk people. It is a pity that I did not find it with the signature, but that they sent it, they sent it.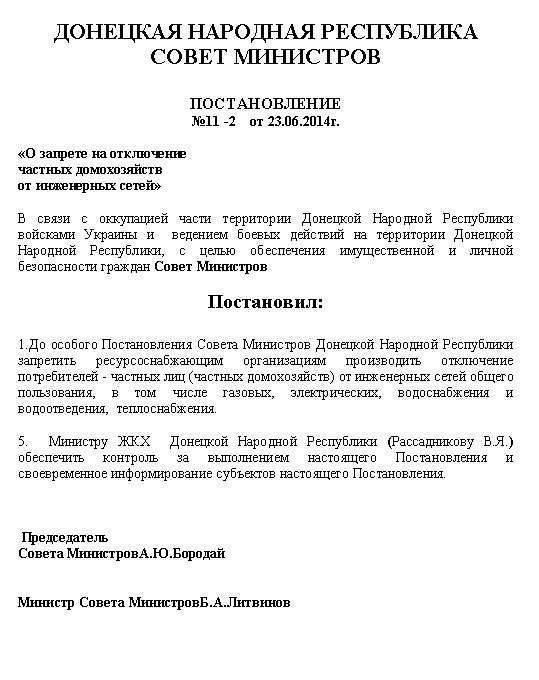 And here is a document in which Zakharchenko, who was behind the affairs of the republic, cancels this resolution and restores justice.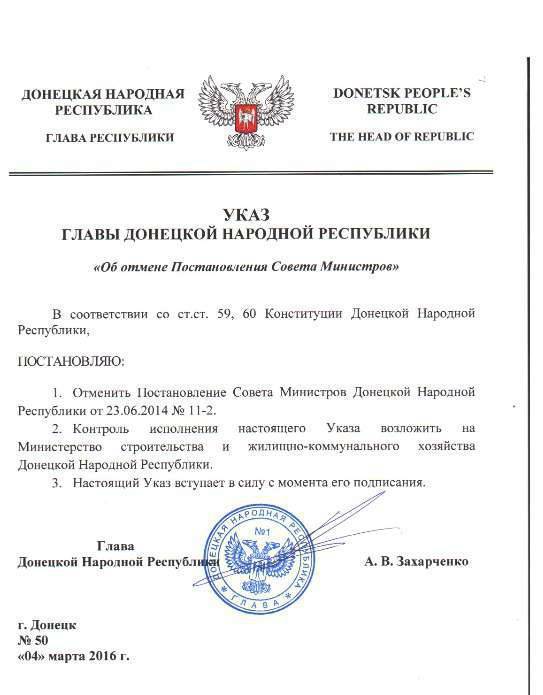 Strange, but for some reason, all my correspondents from there conjure not to touch Zakharchenko. For different reasons. I did not touch. But here, forgive me, as long as there is no evidence that Zakharchenko signed it with a gun attached to his temple, it's worth commenting on the assumption that the gun was missing.
Care about the inhabitants of the so-called People's Republic is evident. Probably, especially for the "not sold" Akhmetov, Kolomoisky and other nonhumans, it is worth recalling that with the security of both work and money in the republic is not very. And today we can say with confidence that half of the inhabitants survive, but they do not live at all. And the level of wages in 3-7 of thousands of our rubles is badly compatible with the very concept of living standards.
Yes, and gas with electricity is not from Ukraine for a long time. From Russia. And it is unlikely that we get angry letters about the demand for payment for the supplied energy carriers and the threat of disconnecting if something happens. By the way, check it out. And, if someone from our side decided that Putin's words that we can supply Donbass as humanitarian aid with energy can be spit on and we can earn a little extra money.
The idea of ​​selling people seemingly free Russian gas and the same electricity is a masterpiece. And promises not weak dividends. It will be interesting to find out who will collect payments, and most importantly - where this money will go later. Very interesting.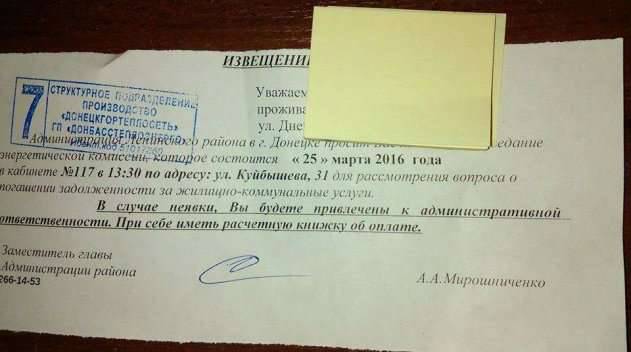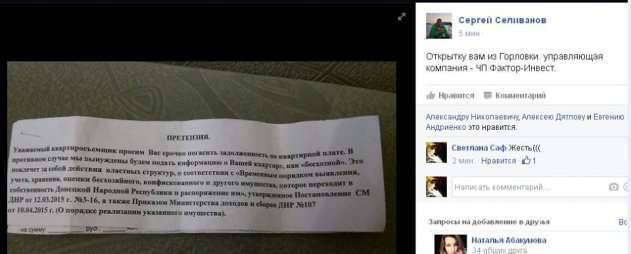 Similar "letters of happiness" are received in Ukraine. But forgive me, even theoretically, where is Ukraine, and where should the DNR be? And it turns out that in this respect almost twins. In the sense that for non-payment it is possible to lose housing both there and there.
Communal question finish, move on to the patriotic.
The fact that Mr. Zakharchenko and his cohorts will sooner or later devour Khodakovsky, I personally had no doubts from the very beginning. Yes, I just wrote about it. Gobbled up Well, in hindsight and quietly eliminated both the Security Council and its chairman, as a post. There are no problems with security in the republic - fine. In Russia, for example, the Security Council not only works, it also enjoys prestige.
Further. Dispersed the "Patriotic Forces of Donbass". For there is nothing to disturb the people with free shuttle buses, children's holidays and other movements that can somehow influence the balance of political forces. In the republic. Although I'm sorry, more and more like a monarchy or another totalitarian rezhikchik. And the methods, to be honest, are dirty.
But who prevented those who were engaged in charity? What are they out of? Moreover, under the departmental order of the Ministry of income and fees. Without any explanation, as can be seen from the document. Apparently, enough names Khodakovsky.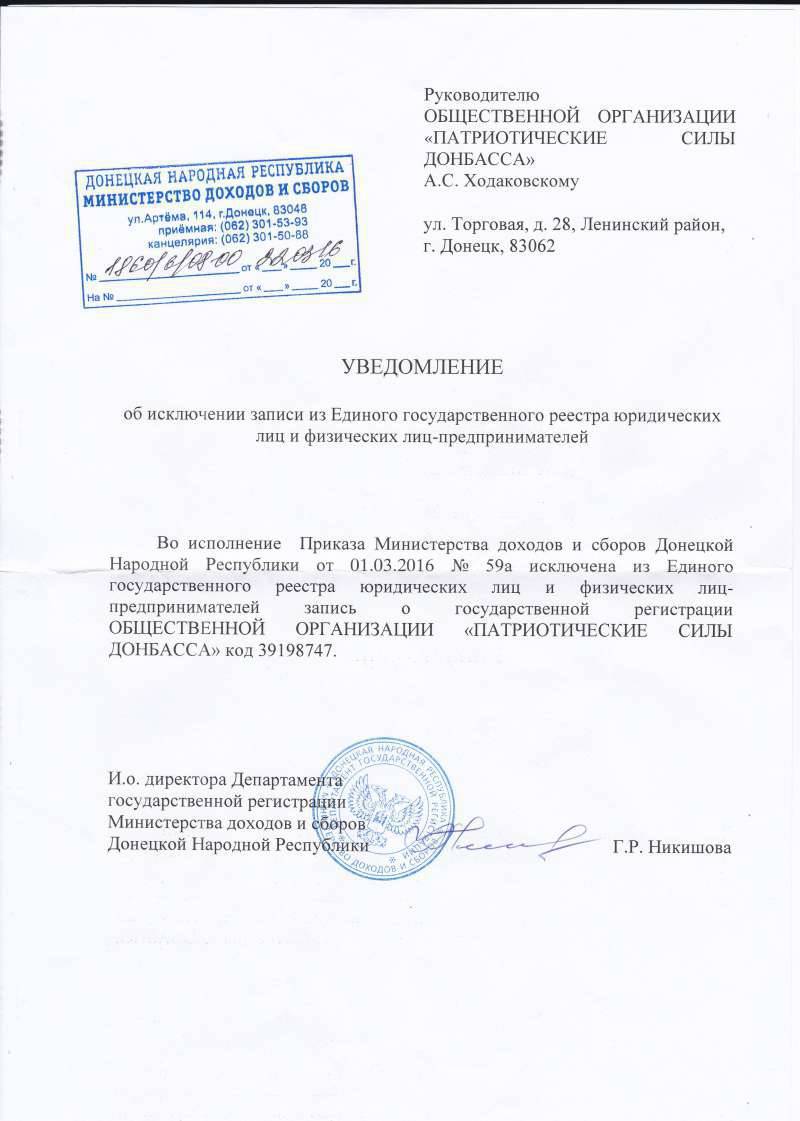 If we recall the Russian realities, when the RNU was dispersed from us, the Ministry of Justice was engaged in this. In the DNR enough solutions tax. Strange ...
So for that, they dispersed those who worked with the help of the wounded and disabled, who had lost limbs and health for the sake of the republic. Apparently, the republic itself is able to take care of all. Well, we'll see.
But people worked and really helped. And so it helped that they knew about it even in the LC. I was in one sanatorium under the town of Taldom in the Moscow region, who know what this institution is, he will understand, and who does not, was taken there for rehabilitation and waiting for the prosthetics of soldiers from LDNR. Prosthetic in Kolomna. So, I visited there twice. He brought fighters, since my car allowed me to do it more elegantly than the sanitary one. And quickly.
So, there, among legless people, often bedridden after operations, any person with
the news
from there is an event. Communicated as far as time allowed. And there I did not meet a single Orientalist. All were: "August", "Ghost", "Battalion of Alexander Nevsky", "Rusichi", "Bastion". From the "East" there was not a single one, I repeat. Even the strongholds with poorly concealed envy talked about how well this business was delivered to the "East".
Apparently enough. Now the authorities of the republic will take matters into their own hands and take care of the wounded, maimed, widows and children. Well, if this were the case. That's just hard to believe, because for some reason, the fashion for "domestic injuries" in the DPR from mines and bullets does not pass.
And really, why should someone be better because there is an organization that cares about its own? According to the mind if, you need to make sure that everyone is good. But we have the opposite option - let everyone be equally bad. What can I say, bravo ...
To summarize Khodakovsky from all posts and posts removed. Security Council dispersed. The political wing of the "Patriotic Forces of Donbass" together with benefactors was also banned. What else have you forgotten? Probably, it is necessary to begin work on the fact that the "East" from
stories
DNI clean. There was never such a unit, and the whole war was won by other divisions. By the principle of more loyal.
To be honest, I already regret that I didn't meet Oriental at that time. Today there would be more understanding. And information.
By the way, because the ministry of taxes and requisitions banned the "patriots of Donbass", they, the people from the organization, did not become less patriots from this. And they intend to continue their work. Respectful position.
What is happening in Donetsk is becoming more and more like a kind of farce that we see in our neighbors. Illogical and lawless. Like the same person script wrote.
Well, and the last. I don't know how the crime of Khodakovskiy with two free buses is by weight, but the fact that all of Donetsk's "guardians" are not dissected into expensive cars bought for their hard-earned cars is a fact. Maybe this is a secret for someone in Russia, but alas, everything is in the know in Donetsk.
In general, the people's republic is less and less visible in all this. And more and more there is a slightly different image. And I can not say that I like this image.
They don't like the fact that people with disabilities on crutches or, at best, on prostheses set for Russians 'money, have not received the status of a war veteran and corresponding benefits and pensions. Especially those who became disabled before the formation of the corps.
Do not like the fact that the fighters for honesty and other crap after the end of the working day, the roof and extort. Like Koval. Which, by the way, Zakharchenko fired from all posts. Do not think that because of the hype, no. The commission went to check. But when it turned out that the commission was traveling on another occasion, Koval was reinstated everywhere. Laughter, and only.
Accelerate ... and then what? And this is then just around the corner, we often talked about this. Spring is here. And the situation becomes tense every day. 50-60 clashes per day is normal. What's next? More precisely, who's next? Who will continue to close the republic with his organisms? Let's see, not long to wait.
I know one thing: those who have something to lose are the first to run. And the practice of 2014, it is very clearly shown. And the people who today do not strongly believe their leadership, who are only concerned about still snatching and squeezing, will not be very eager to put life and health on the altar of today's rulers. Time will tell all.