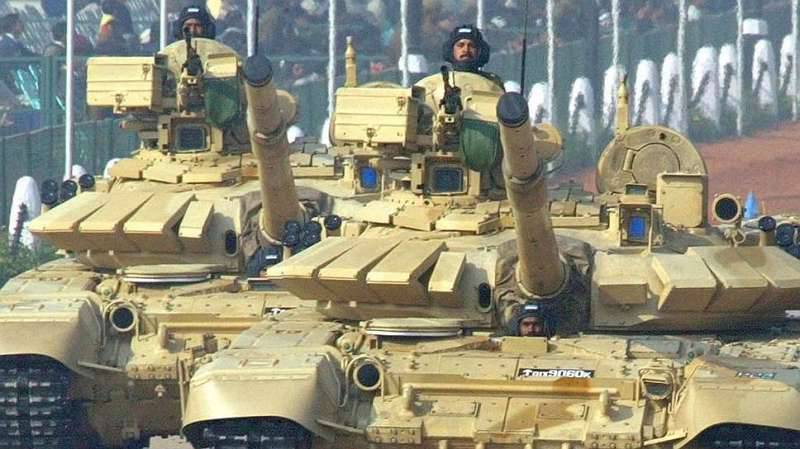 Vladimir Putin said yesterday that Russia sold in 2015
weapons
for $ 14,5 billion, and the order book reached a record level from 1992, $ 56 billion. The main deliveries fell to such traditional partners of Russia as India and Iraq. According to Kommersant's information, in 2016, special attention will also be paid to Algeria, which is ready to purchase Su-32 bombers and the Antey-2500 air defense system, as well as the implementation of contracts already concluded with Egypt and China.
The first meeting of the commission on military-technical cooperation in 2016 was held in Nizhny Novgorod, where Mr. Putin had a whole program scheduled (see page 3). In his opening remarks, the president said: arms exports in the 2015 year amounted to $ 14,5 billion, which allowed Russia to retain the second place in the world in terms of the volume of products supplied. "The capabilities of our equipment and weapons were demonstrated in a combat situation, in the course of the struggle against the terrorist threat," Vladimir Putin stressed. He added that the order book "for the first time since 1992 of the year" reached $ 56 billion (due to new contracts worth over $ 2015 billion signed in 26). Supplies of weapons and equipment were carried out in 58 countries of the world, however, India, Iraq, Vietnam, China and Algeria were named among the main partners of Russia in the field of military-technical cooperation.
According to Kommersant's sources in the military-technical cooperation sphere, it was these countries that generated the 2015 profit. For example, 12 sets were shipped to India for the assembly of Su-30MKI fighters, 23 Mi-17V-5 helicopters,
aviation
engines Al-31FP and RD-33, as well as the modernization of the diesel-electric submarine of project 877 Sindhukitri, and six Ka-31 helicopters, and other types of weapons and military equipment (all together - at least $ 4 billion). Equipment under contracts of 2013 was supplied to Iraq: Mi-35M, Mi-28NE and Mi-171SH helicopters, Pantsir-S1 anti-aircraft missile and cannon systems, TOS-1A heavy flamethrower systems,
Tanks
T-72B (over $ 1 billion). Vietnam received two diesel-electric submarines of Project 06361 Varshavyanka, four Su-30MK2 fighters and means of destruction for them (totaling about $ 1 billion). Six Mi-26T2 helicopters, a batch of Pantsir-C1 air defense missile systems, T-90CA tanks were shipped to Algeria, and they also began modernizing their infantry fighting vehicles to the BMP-2M variant (about $ 800 million). China this year was limited to only a batch of Ka-32 helicopters and D-30KP2 aircraft engines. In addition, Egypt signed a large package of contracts with Russia (at least $ 5 billion), including supplies of Mig-29M fighters, Buk-M2E and Antey-2500 air defense systems, as well as 46 Ka-52 helicopters: this year agreements will continue to be implemented.
The agreements with the CIS countries, mentioned by Vladimir Putin, also played their role: for example, a batch of T-90С tanks, infantry fighting vehicles BMP-3, Mi-17В-1 helicopters was transferred to Azerbaijan, and the contract for the supply of 18 units TOC-1А (not less than $ 600 million). From the CSTO countries, commercial deliveries went only to Belarus (four Yak-130 training and combat aircraft) and Kazakhstan (four Su-30CM fighters received its Air Force), but only the Kommersant interlocutors call only their fact "great success": small - about $ 500 million, - but still "real money, not deliveries free of charge".
Free of charge, Russian equipment from the presence of the Ministry of Defense of the Russian Federation was supplied to Belarus (four divisions of anti-aircraft missile systems C-300PS), Kazakhstan (five divisions of such systems) and Kyrgyzstan (ten BTR-70М armored personnel carriers).
According to Kommersant's sources, last year Rosoboronexport faced not only fierce competition in the market and increased customer requirements, but also a decline in revenues for traditional buyers, primarily because of the cheap oil. Nevertheless, this did not prevent Algeria from concluding a contract for the purchase of Mi-40HE helicopters around 28, send a request to Moscow to acquire a Su-32 front bomber squadron, as well as test the Su-35 fighter on its proving ground. In addition, according to Kommersant, negotiations are underway on the purchase of several Anthea-2500 divisions.
High hopes interlocutors "b" is associated in 2016, with China and India. For two years in a row, Beijing became the launch customer for Russian new products: in September, 2014 of the year he first bought four C-400 Triumph anti-aircraft missile systems ($ 1,9 billion), and in November 2015 of the year, was the first to sign a contract for the 24 Su-35 fighter ( about $ 2 billion). Delhi, in particular, is negotiating the purchase of two submarines of the 636 project and, as Deputy Director of the Federal Service for Military-Technical Cooperation Vladimir Drozhzhov acknowledged yesterday, about leasing the second nuclear submarine from the Russian Federation (Kommersant wrote about this on March 24). Negotiations with Saudi Arabia intensified: Riyadh is interested in C-400 systems and Iskander-E tactical missile systems. Kommersant sources do not harbor illusions, predicting "complex negotiations with an unobvious outcome."
The lifting of the embargo on the supply of the C-300 complex to Iran and the signing of the corresponding contract in 2015 allowed stabilizing relations between the two countries, but Tehran's desire to obtain weapons on credit and the sanctions of the UN Security Council prevent the conclusion of transactions.
According to Kommersant's information, yesterday's meeting was not without criticism. In particular, Vladimir Putin drew attention to the 2011 contract for purchasing two Mistral helicopter carriers from France, which was drafted on conditions that were extremely unfavorable for Russia (the French could terminate the contract based on the government's decision, and Moscow would receive no more than 20% of the billionth contract). The second question concerned technical problems with the implementation of contracts - in particular, for the supply of BTR-82А to Azerbaijan (see Kommersant from March 3).