Hello, with you "Culinary notes" on the information and analytical portal "Military Review". And today we will learn how to make cookies. Take a pound of flour, two chicken eggs, a glass of sugar. We pour the flour into enameled dishes ... stop and think ... why bake cookies at all when there is Uncle Joe's famous bakery, which in recent years has been engaged in regular production of culinary products with their subsequent distribution to those who, well, really, really want pamper yourself sweetie.
It's a shame that Uncle Joe's cooking shop distributes cookies strictly on schedule, and the schedule is tight, and all of the recipients who have been entered into it must meet certain criteria of the Chief Baker. It's a shame, annoying, but okay ... We will try to derive the formula of the average liver-recipient, in order to try this culinary product for free. The product, it must be said, is unique in that, for example, in 2014, many inexperienced admirers of those cookies of one country striving to build a developed culinary society were diagnosed with multiple desires to ride and incessant verbal diarrhea on the topic "hto not jump ..." In general, for an amateur these cookies, I must say straightforwardly ... But purely amateur culinary interest is above all! So, we are looking for a formula.
And one of the winners of the Women of Courage-2016 ("Courageous Woman") of the US Department of State (US Department of State) helps us determine the recipient's formula for this dessert from Uncle Jo - dessert, which even admirers replaces the appetizer, hot and salad .. - Zhanna Nemtsova.
Bakery website
reports that Zhanna Borisovna among 14 "courageous women" awarded the above-mentioned award "for exceptional courage and leadership in support of peace, justice, human rights and gender equality." The bakery of the old Joe says that since April 1 (what jokes can be!) Zhanna Borisovna Nemtsova, along with other "activists, journalists and social activists" who were awarded this prize, should "walk" around the United States as part of the "leadership support" program. ". The program includes tables laden with the burden of cookies in Kentucky, California, Minnesota, Alabama, Missouri, Michigan, North Carolina, and Pennsylvania. Chagrin - with such an abundance of flour and sweet, Jeanne can forget about a slim figure. But here at stake are figures of a completely different warehouse ...
So, having received some information from the official website of the Bakery, we proceed to the main thing - the definition of those basic positions that allow you to receive bakery products from antiquity Joe and his valuable cook - old woman Vika (Victoria).
To be among the cookie winners, you must first have a photo with the US ambassador (even if with the former).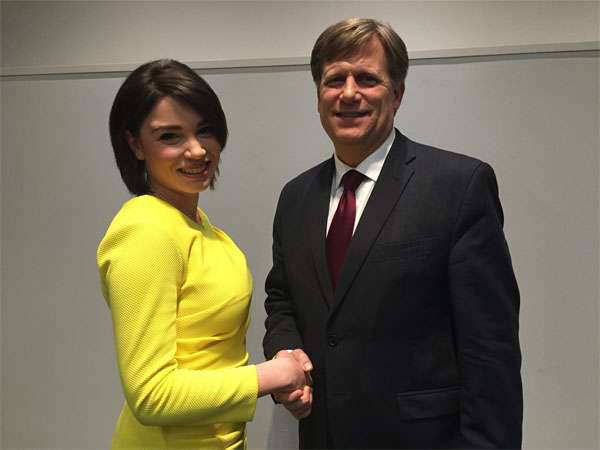 Although not. A photo with the ambassador is rather a consequence than a reason ...
Then another. It is necessary to have a photo with the flag of Ukraine in the days of Maidan (Maidan - certainly with a capital letter, for this word expresses centuries-old ... yes there are centuries-old - the millennial will of the Ukrainian people, whose ancestors dug and domesticated ... well, you know what and who ). Ukrainian banner in the hands - from tse dilo!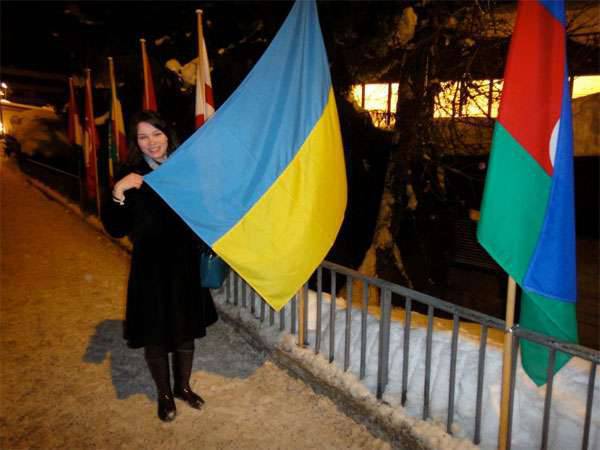 What else? Well, of course! It is necessary to have a very close kinship with a man who used to wander in the evening of long evenings in the company of beautiful ladies along Moscow bridges, with each column exposing the bloody Kremlin regime. Certainly - bloody, otherwise they will not give half a liver pack. And this man must surely fall victim to the "Putin's favorite bullet" against the background of Putin's "mansion", erroneously called the Moscow Kremlin. Someone now continues to doubt whether the bullet belongs to the bloody regime ??! Klyaty vatniki! .. This affiliation, even before the murder of Boris Efimovich, was set up by the democratic information portal "Zvezdet - no bags to roll" following the characteristic traces of the claws of those monsters and usurpers who charged the pillars ...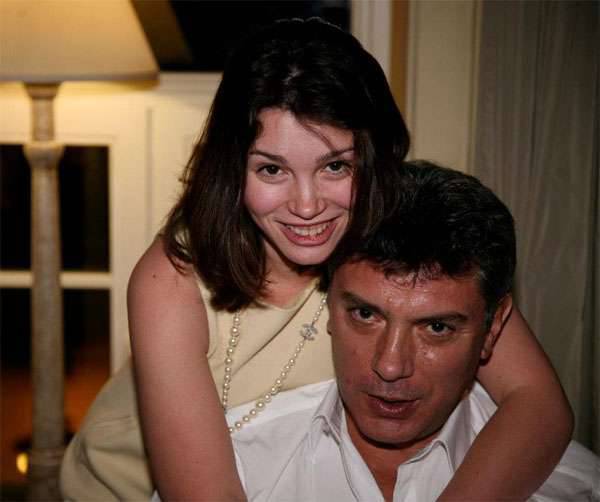 In general, the preliminary conclusions - Yevto-Blakytny - once, struck by the bullet of the regime father - the builder of democracy, once applied to the powers of the federal scale - two. Three - constant close relations with those who themselves otkushyval cookies at one time, these cookies are hooked and now experiencing a sort of breaking if old Joe due to a temporary shortage is forced to turn on the printing press and throw the gray-green candy wrappers to replenish the ingredients.
And there are also "four" - these are the upcoming elections in Russia, under which cookies are provided in a unique multi-layer wrapper made from additional glossy Russophobia. Under these or more distant elections, they say, you can get a whole basket of cookies, not to mention a jar of jam, - according to the program of leaders, the passage of which was already prepared by old Jo and culinary fairy Victoria ...
Returning to the possible tasting of cookies from Uncle Joe ... a picture emerges completely unpromising for you and me, dear friends. Well, judge for yourself - we do not "click" against the background of yellow-Blakytine banners. We do not have photos with American ambassadors in our personal archive. Meetings and sentimental conversations with them - even more so. And with the fathers who tragically died on the background of the Kremlin from a poisoned bullet with the poison of the Kremlin bloody gebni, too, to put it mildly, the tension.
Uh ... what kind of cookies are there. We, dear readers of the Culinary Notes, will not be included in either the Gosdepovskiy list of "courageous women" or the list of "feminine men" or the expanded metric of the award "do not care on the floor". Do not grumble "overseas snacks." Thank you, and do not.
Let this ladies and gentlemen introduce this "snack" to their cheek, who are ready to sell their honor and dignity (if any) for a basket of cookies and a jar of jam, and who believe that the concept of "Motherland" fits into the amount of the premium received from those who dream of your homeland once again turn into ruins.