The pamphlet of the writer Ilya Cristula about the inadequate reaction of Europeans to the Belgian attacks ...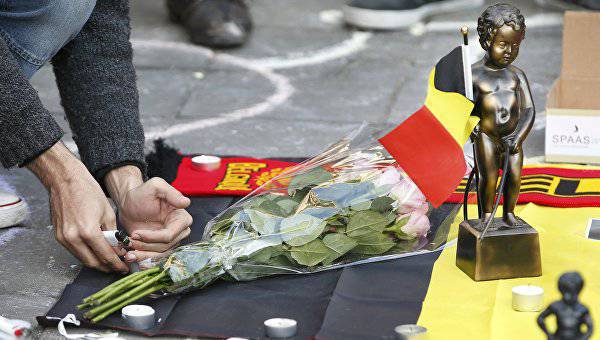 Within a few hours after the terrible morning explosions, hundreds of people gathered in the center of Brussels. They painted hearts on the asphalt of the main square of the Belgian capital with multicolored chalks, set candles and left words of support. "Stop the war!", "Terrorism - stop!", "The whole world is with you!" - residents and guests of Brussels wrote fearlessly in front of the old stock exchange. The event was also attended by the Prime Minister of Belgium, who also put a candle from Ikea on the asphalt. But he could instead go to the Muslim region of Molenbek for a holiday that goes there in the morning! Yes, to appear in one of the districts of the European city of Brussels in European clothes is not safe, but tolerant. Yes, and you can change clothes, the benefit of Muslim clothing is always with you. Just in case, all of a sudden already tomorrow to live according to Sharia. But the Prime Minister boldly went to the square with a candle ...
The head of the European Commission in general struck the whole European Commission with his courage by going to Twitter and writing there: "Today I am Belgian!". Not "Lebanese", not "Afghan", not even "Syrian", but "Belgian"! ..
The Eiffel Tower in Paris was painted in the colors of the Belgian flag ... And in Madrid something was painted. And in Vienna, and in Amsterdam, and in London, in those areas where there are no Arabs. No, it means nothing in London ... In whose colors will the Eiffel Tower be painted tomorrow? In German? In Italian?
And to the Belgian embassies are flowers and soft toys.
Oh, many more soft toys are needed ...
22 June 1941, the garrison of the Brest Fortress had to not resist the Germans. It was necessary to take crayons at a local school and write on the walls of the fortress: "No to war!" And "Fascists - stop!". And the military pilot Nikolai Gastello had to not ram the column of fascist technology, but draw a big heart in the sky with a burning plane.
And Churchill and Truman, instead of opening the second front, should simply say: "Today we are Russian!".
The Germans would come to their senses and go home.
And before that, the Russian princes had not to fight the Tatar-Mongols, but to tolerate them in their cities, feed them, pay them tribute and close their eyes to their crimes. And if you close your eyes to a crime does not work, then at least do not call the nationality of the criminal.
And everything would be different.
In the meantime - goodbye, Europe!
Salam aleikum, caliphate!
Although, maybe, I am mistaken, and the warriors of Allah, having seen these hearts and candles, now rush home in horror, so that they can graze cattle peacefully and dig ditches.