The crew is moved to the Admiral frigate, which is being built at the Severnaya Verf shipyard (St. Petersburg)
fleet
Kasatonov "(project 22350) is scheduled for November this year, reports
RIA News
message of the representative of the plant Olga Danilevskaya.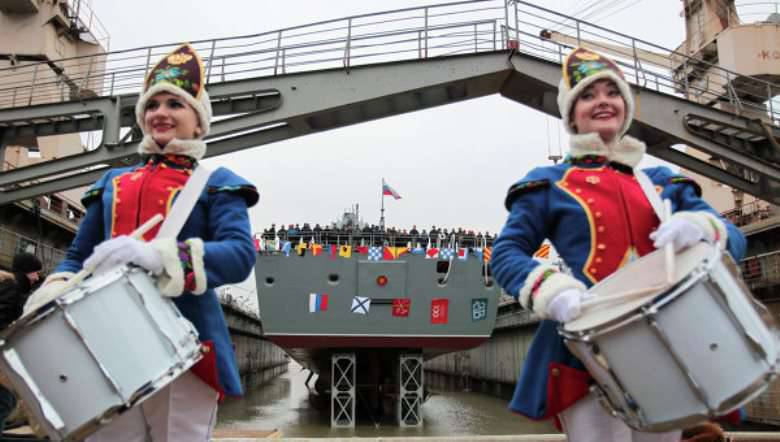 Launch of the frigate "Admiral of the fleet of Kasatons"
According to her, at the present time "completion work continues on the ship, the main strike complex, antennas and special equipment are being mounted."
In addition, work began on the "sewing and equipment of residential premises." "The crew's arrival is planned for November 2016 of the year," Danilevskaya said.
"The power plant systems and general ship systems with maintenance mechanisms have already been manufactured, installed and tested on the frigate, electrical work has been completed, power has been supplied to the main switchboard in the bow and stern power plants, the ship is being converted to standard lighting," she said.
Experts also conducted a leak test of fuel systems. "The volume of the tanks equipped on the ship will make it possible to cover distances in 4,5 thousands of miles without refueling," said Danilevskaya.
"The ship has been prepared to center the main engines afloat," she added.
Help Agency:
"Ships of the 22350 project have a displacement of 4,5 thousands of tons, 135 meters in length, 16 meters in width, travel speeds up to 29 knots, cruising range up to 4,5 thousands of miles, autonomy up to 30 days. Crew - 180-210 people. The armament A-192 "Armat" caliber 130 mm, launchers for 16 anti-ship Onyx or Caliber-NKE and the Polimen-Redut anti-aircraft missile system are in service.
A total of 8 ships of the 22350 project will be built.