At the Archimedes-2016 Innovation and Innovation Salon in Moscow, scientists from the Military Academy of Material and Technical Support (IA MTO) presented a road bridge made of polymer composite materials (ARM-K),
RIA News
a message from the head of the academy, Vladimir Ivanovsky. By virtue of its special properties, the product is called the "invisible bridge".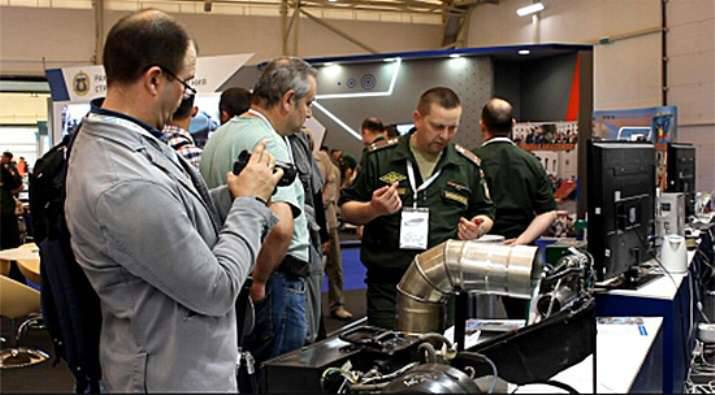 At the International Salon of Inventions and Innovative Technologies "Archimedes-2016".
"The project of a road collapsible bridge ARM-K, intended for the erection of new and restoration of destroyed bridges on highways in a short time, embodied the innovative developments of scientists VA MTO. Structural elements of the bridge, made of polymer composite materials, can significantly reduce the radar visibility of the crossing, thereby increasing the survivability of bridges on military highways, "said Ivanovsky.
According to him, "the use of innovative materials has reduced the total mass of the folding bridge, increased the load capacity and the span length, and also reduced the number of personnel and equipment for transporting and assembling the bridge."
"Also at the salon, officers of the IA MTO will present many other unique inventions and technical solutions. This is a collapsible small-field kitchen "five in one", designed for cooking hot food and boiling water for small units of military personnel in difficult climatic conditions, the emergency rescue system of the crew
tank
designed to save the lives of servicemen in the event of a war machine flooding, a universal rotating container tank designed for accelerated unloading of bulk cargo, and more, "said the head of the academy.
Ivanovsky noted that "over the past year, 66 research teams of the Academy carried out major research projects commissioned by the RF Ministry of Defense and enterprises of the Russian military-industrial complex, over 100 patents and decisions on granting patents for inventions were received, about 1,000 rationalization proposals were made.
Many "samples of promising equipment and equipment developed within the walls of the academy, are now successfully passing practical and military tests," he added.
Salon "Archimedes" is held in the Russian Federation with 1998 g and gathers on its platforms both Russian and foreign inventors.