The Syrian government army and the militias are ready to take to the ring an important settlement El-Karyataney, located south-west of previously liberated Palmyra. Today El-Karyatain continues to remain under the control of terrorist groups. Syrian News Agency
SANA
reports that the position of the militants hit the airplanes of the SAR Air Force.
To the east of El-Karyatayna, the positions of ISIS terrorists, as well as several armored vehicles, have been destroyed. This allowed the Syrian army units to gain a foothold to the east of the village and block the road for igilovtsev who could use it both for reinforcements and for flight.
Destroyed several dozen terrorists in the village of Al-Bseiri. This locality is often called the key to El-Karteynu.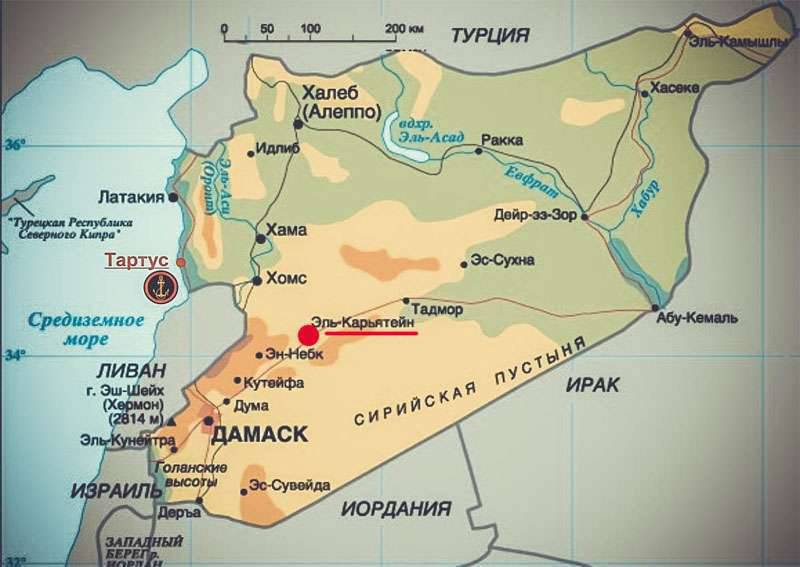 Attack attack planes and bombers of the Russian Aerospace Forces involved in Syria were connected to strikes against the positions of terrorists. A road connecting Iraqi province of Anbar with El Qariatin was subjected to rocket-bombing strikes. According to some reports, additional forces were being sent from the territory of Iraq to the igilovtsa who were locked up at El-Karyatayn. To the point of destination, these terrorist forces have not reached. On the night road, they were greeted with "gifts" by Russian military aircraft. In total, the aircraft of the VKS of the Russian Federation struck at least 25 strikes against the positions of terrorists in the city surrounded by the Syrian army.
The battles for the purpose of encircling El-Karjatain include the forces of the 67, 81 and 120 brigades of the Syrian army, several militia units. Today, the soldiers of the Syrian army, with air support, are attempting to seize the commanding height to the west of the city. Taking this height to control will allow ATS troops to take El Qarijatayn into a tight ring of fire and destroy the ISIS group, which by this minute occupies a populated area.