Passenger liner A320 airline Egypt Air, captured by unidentified people, landed in Cyprus at Larnaca airport, reports
RIA News
Reuters message.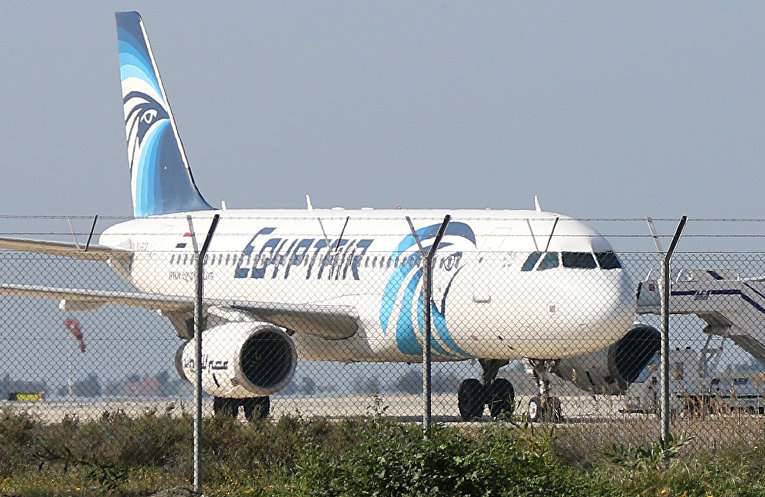 The Egyptian airline and the Ministry of Foreign Affairs of Cyprus have confirmed the seizure of the MS18 flight.
The plane went from Alexandria to Cairo, on board - 51 passenger and 7 crew members.
Communication with the crew disappeared about half an hour after takeoff. In Cairo, the liner was supposed to land at 8: 30 MSK.
"An unknown man who captured the plane threatened the commander and passengers, which would undermine the suicide belt if his demands were not met. The captain of the liner managed to inform dispatchers in Cairo that the plane was hijacked and would follow to Cyprus, "the message says.
According to preliminary information, there are no Russians on board A320.
Cyprus special services are negotiating with the invader. The offender demanded to withdraw from the airport police.
During the negotiations, it was possible to free almost all passengers. 4 aliens were left hostage and the entire crew. Meanwhile, there is an assumption that there may be more hostages on board - about 20 people.
The media conveyed the name of the car thief - this is the Egyptian Ibrahim Samaha. Negotiations with law enforcement officers, he leads through the pilot.
Also, it was reported that the offender "could have personal motives: his ex-wife is in Cyprus."
It is noted that earlier the hijacker demanded to fly to Turkey, but the aircraft commander refused, citing the lack of fuel.