The Ukrainian freight train, which, under the holiday fanfare, was escorted from Ilyichevsk (Odessa region) to China, and which moved 16 days before the border of Kazakhstan and the PRC, now cannot return. Soon already two months as the Ukrainian structure, "testing the new Silk way", is on the Chinese-Kazakhstan border.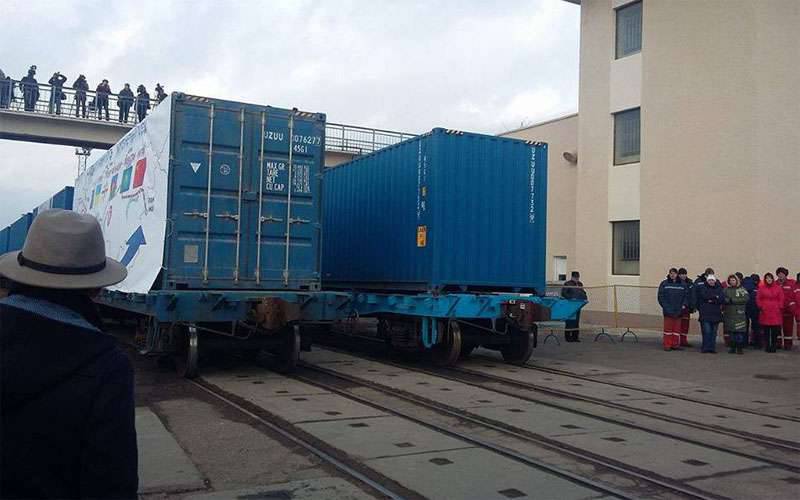 The reason that the "freight train" does not return to Ukraine is banal: so far there has not been a single company that would like to use the services of the Ukrainian train for the delivery of goods from China to Ukraine. It is worth recalling that in order to overcome the route without using the territory of Russia, the Ukrainian train is twice loaded onto sea ferries, since two seas "get up" on its way - the Black and the Caspian.
Ukrainian edition
"Economic truth"
quotes a statement from the representative of the logistics logistics center Zammler
The train is not loaded with goods - there are no customers for transportation, therefore, it never came out on the return route from China.

Earlier, the head of the company "Ukrzaliznytsia" Alexander Zavgorodniy declared that from the Chinese-Kazakh border the train on the "New Silk Road" will return March 17. Today is 28 March, but the train does not move.
Specialists at the Zammler logistics center point out that using a Ukrainian train to transport one standard 40-foot container would be almost 5,6 thousand dollars. This price, by the way, was originally called by representatives of the Ukrainian carrier. It is this price (plus very long delivery times) that scares away potential customers. This is understandable, because the cost of transporting the same container on roads through Russia is about 1,5-2 times (depending on the options of the company's services and the route) cheaper. Potential customers of cargo transportation services also consider the "sea" sections of routes as big risks, as stormy weather is not uncommon at this time.