Today 205 is the anniversary of the formation of the Internal Troops - one of the most numerous formations of the Russian police department, reports
RIA News
.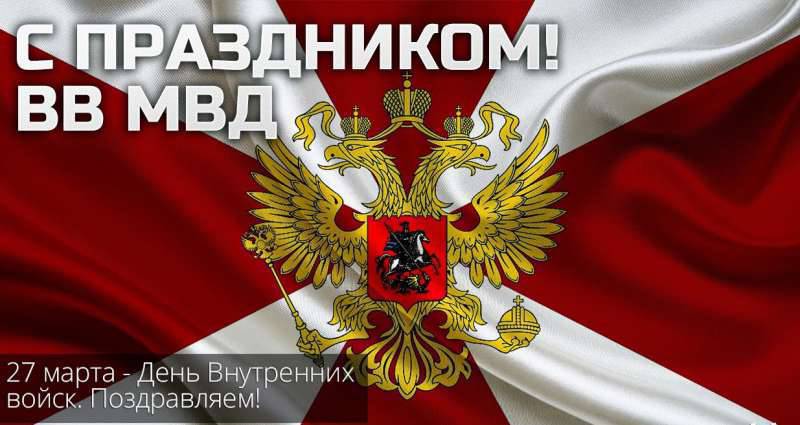 "The official date of birth of the internal troops is 27 March 1811, when by decree of Emperor Alexander I, the provincial teams in charge of" maintaining peace and tranquility in the state "were removed from the subordination of civilian authorities and transferred to the military department. Of these, military battalions of internal experience were formed, which later became one of the most important parts of the country's law enforcement agencies, "the agency said.
The tasks of the internal guard were "to assist the authorities in the execution of laws and sentences of the courts, to capture and exterminate the robbers, scattering the assemblies prohibited by law, maintaining order at fairs, trades, folk and church festivals, escorting criminals, the treasury, as well as carrying out rescue operations during fires, river floods ", etc.
The internal guard participated in all major battles against the aggressor who attacked Russia. Fought with Napoleon's troops in 1812 g, defended the interests of the state in the Crimea and the Caucasus. In the years of the Great Patriotic War, the NKVD troops defended Kiev, Odessa, Leningrad, Moscow and Stalingrad.
About 98, thousands of fighters died a brave death in battles with invaders, 18 troops of the MVD troops were awarded orders with the assignment of their own names.
"In the last Soviet and post-Soviet years, the fighters of the internal troops went through almost all the" hot spots "on the map of the former USSR. They were involved in the aftermath of the accident at the Chernobyl nuclear power plant, in rescue work after the earthquake in Armenia, after the flood in Krymsk, in extinguishing the largest landscape fires. Over 200, the servicemen became Heroes of the Soviet Union, and 108 became the Heroes of Russia, "says the publication.
At present, the units of the Internal Troops of the Ministry of Internal Affairs ensure public order in the country; in the field of nuclear energy, are involved in counterterrorism operations.
"The troops have high mobility, broad operational capabilities, high-class personnel and technical potential, and therefore are considered one of the most significant links in the system of the Ministry of Internal Affairs of Russia," the agency concludes.