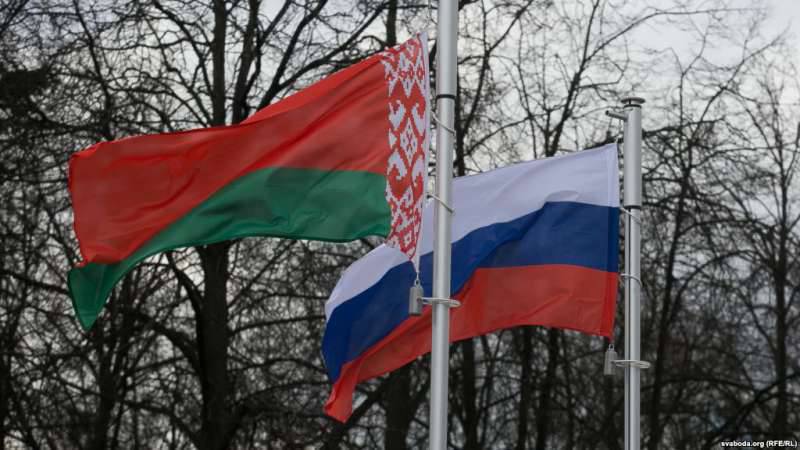 "Happiness is when they understand you." Popular wisdom.

"Who was Russian, will understand me without words" I did not like (emigrant).
Any problem needs some solution, sooner or later, one way or another. Sooner or later, but the tooth with tooth decay has to be treated (this is me from personal experience). Why I so often refer to the topic of Belarus - this country and its future are somehow indifferent to me. In general, I don't like it when people suffer senselessly: I remember eight endless discussions with Ukrainians over the past few years. In general, we warned them about the loss of the Russian market, and about the fall of the economy. They told us about the virtues of European integration. Then what happened happened. There is no longer a country Ukraine, but people there will be tormented for a very long time. And we are not beasts.
You see, what is the matter: Russian diplomacy is at a very high level and Russian politicians are very diplomatic. You will never hear any harsh statements about Minsk. But I, not being bound by the conventions of a diplomatic protocol, can speak more freely. So, the only chance for a more or less positive and painless development of Belarus
was
in phased integration with Russia. And in the field of politics, and in the field of economics. But Belarus, of course, an independent state, with which official Minsk did not fail to take advantage of the full program: the integration project was "frozen".
Here we can say about strategy and tactics: so, from a tactical point of view, Lukashenko certainly won, having received resources and retaining full sovereignty. But he did not have time to celebrate this outstanding political event, as the gloomy morning of tomorrow came: the economic crisis of 2008 of the year occurred and the attack of Georgia on Tskhinval occurred. The world has changed already then, in the year 2008 from the birth of Christ. Alas, world politics is not built around Belarus, no matter how it is not built around Georgia or Ukraine, whatever the leaders and people of these states may think. There is such a dangerous illusion that you don't have to work, you just have to sell yourself at a higher price, because without you there's no way. In many ways, this is what killed Ukraine, the Ukrainians were sure that everything: the EU, the USA, the Russian Federation, the PRC would compete for their wonderful country with the last of their strength, only substitute your dollars for dollars.
The reality was much more sad. But the illusion of "bagovatoraknost" persisted until the last moment. This is the permanent leader of Belarus who is tortured and tortured by the same obsessive nightmares: he understands the competition between the EU and Russia as a chance to make good money, it seems to him that literally everyone needs his country. The main thing is to take the right price. Alas, everything is not so good. Putin himself clearly demonstrated that Ukraine can smoothly switch to Latakia ... And the more bombs fell on terrorists, the less people remembered Ukraine. In general, we must admit that the "golden times" for Ukraine have passed forever. Nobody needs it now. No, of course, no one will give up political control, but the country as a whole and the people themselves, as it were, are superfluous.
Ukrainians simply didn't ask themselves a simple question: what will happen to them when their country disappears from editorials of Western newspapers? Is Europe interested in Belarus? Yes and no. On the one hand, the EU is engaged in a systematic struggle against Russia, and, for example, by collapsing the Ukrainian economy (integrated with the Russian Federation), it has achieved some success, weakening Russia. On the other hand, in itself, Belarus with its "old-Soviet" economy does not need it for nothing. It is too expensive to reform, and too long, and too difficult. Yes, and not necessary. Nobody will create a "second South Korea" here, it's too expensive. The task of the Europeans is simple and quite doable: "kill Belarus against the wall." To avoid such a country.
The thing is that from an economic point of view and from a cultural point of view, this country is still interesting for Russia. So, the task of the European commissioners is not to save and equip the "Euro-Belarus", but to destroy its economy and statehood. And here the most unpleasant and paradoxical (as, by the way, in Ukraine) is that we cannot compete with them in any way. We cannot promise: "punishments", "lace panties", a salary of two thousand euros and visa-free Schengen. We cannot, but they can, simply because they are not going to fulfill anything of the promise. This is their strength. We will not be able to "kill" their offer, because in their "tender envelope" there is air instead of real billions.
By the way, according to the results of the special operation, the Kremlin and Putin will be blamed for everything (that is, the collapse of the economy and the entry of Belarus into black Africa). People are surprisingly easy to manipulate: until now, the majority of Ukrainians believe that if it were not for Putin's "aggression," Ukraine would already be in the EU. And Brussels is not to blame for anything! And by the way, in some ways they are right: Ukraine by itself, the US / EU is not very interesting, especially Belarus. For them, these are just "platforms" for the game against Russia. But for the aborigines (for obvious reasons) they do not report this - so that they do not twitch. During the previous round, the site called Ukraine was destroyed. All, her fate no one cares. Before the site was destroyed Georgia.
Need new
playground
against Russia. For example, such as Belarus. To those who rush to object to me, I will ask one simple question: "Why
nowhere
not shot (this is your economic miracle)? Not in the Baltics, not in Georgia, not in Moldova? ". I understand that each person and each people is unique in its own way, but there are some general principles. Yugoslavia was plunged into interethnic conflict, bombed the country and destroyed the industry, and without any participation of Russia. How do you like an example? A civilized, rich and promising Iraq "multiplied by zero." The super-rich and socially-oriented Libyan Jamahiriya was simply trampled into the mud. Bad example?
Why, strictly speaking, in the Russian-speaking Belarus will be different? Where does this come from? Give me the reverse examples, I do not know those. So the active movement of Europeans towards Belarus and, oddly enough, the lifting of the sanctions of a normal Belarusian should have been frightening. Scare just to shiver, but for some reason it caused rising hopes for something good. Even being completely indifferent to the future of Russia, the Belarusians should be very scared out of a sense of self-preservation. Gaddafi was wrong? Like Milosevic, like Yanukovych? But will Lukashenka succeed? Where does such optimism come from?
They write that supposedly the Republic of Belarus is a type of neutral state (unlike "aggressive Russia"), which does not want to "grab" with anyone. This is Lukashenko's policy: wise and peaceful. At the same time, the presence of a number of nuclear Russia is not considered in any way: Belarus is reliably protected by the very "international law" that Herr Steinmeier likes to mention after February 22, 2014, of the year. There is a "revisionist and aggressive" Russia, whose policy the Belarusians reasonably condemn, and there is a Republic of Belarus that will not and will not fight with anyone. Because every state on this beautiful planet has an unconditional right to choose: if you want - you fight, you don't want - you don't fight.
Who do you say assad attacked in 2011 year? And his position was much more stable: before the crisis he was recognized
all
. Literally everything, and no one questioned his "legitimacy", then literally within a few months everything changed: they called him a dictator and began to overthrow him with the help of "ideological action films". Aggressive Russia, speak? What I particularly like is the "independent foreign policy position" of the country of Belarus. Independent of Russia. But since it is very difficult to form a truly independent position of small Belarus, the western tracing paper is taken as a basis. Approximately the same thing has been done for decades in "fraternal Ukraine": the foreign policy position was strictly pro-Western. Known
than
it's over.
I'm sorry, I don't believe in "fraternal" countries with a Western vision of the modern world. There is no way. Sooner or later it will be affected. As it affected the Serbs. Paradoxically: I have heard hundreds of times from the Belarusians the mention of the fact that we are two fraternal peoples, but the events in Ukraine once again called into question this bold hypothesis. You see, I talked a lot with English-speaking foreigners on the Internet about the very Ukraine and Donbass. So, that is characteristic: even after you explain everything in detail about Ukraine and the Russians in it, the position of the person does not change one iota. Why?
They don't like Russians
. And they are offering this "magical" solution of the problem on the move: "if the Russians don't like something there, then why don't they go to Russia?"
But, at least, none of these foreigners writhes from themselves "the great friend of all Russians." They clearly state that Russians are not cute to them and should "go home" and not prevent Ukraine from building democracy. Everything is clear, simple, understandable. Everything is much more complicated with Belarusians: on the one hand, they are Russia's closest, loyal and reliable allies, on the other hand, there was no official demarche from the official Minsk in response to the Odessa massacre and punitive operation in the Donbas. And the Belarusians for the most part did not rush to condemn the junta and support the militias. They do not want a "fratricidal war," that's how. And what do we do with the Ukrainian neo-Nazis?
The thesis of friendship implies the existence of not only a common historical past, but also the presence of common foreign policy views. Exactly. When Germany and France did not support
invasion
United States to Iraq in the year 2003, there was a big scandal and they were accused of all mortal sins. Although it seems: with a fright them to someone
attack
? However, the US reaction was extremely tough. In this case with Ukraine and Turchinov, Russia did not call to invade and overthrow anyone, it was just necessary to condemn the neo-Nazi coup and the massacres of Russians in Ukraine. Belarusians did not do it.
You know what the hitch is: the Lvov Nazi is not our brother, and it will never be to them, trying to "reconcile" us is useless. The "wise and peace-loving" position of Mr. Lukashenko in Russia was perceived (once again, by the way) as treacherous and two-handed. He did not need to "speak out against the Ukrainians," he simply had to condemn Nazism. But "the heir to the partisan traditions of the partisan region" refused to do so. This, by the way, is a characteristic ideological propaganda stamp of the West: there is no conflict between normal citizens and neo-Nazis, but between Russians and Ukrainians. The war between Russia and Ukraine. They are so profitable. Nazis, they stubbornly do not notice. Belarusians also refused to notice them categorically and also talk about the conflict between Russia and Ukraine.
Fratricidal war, speak? A person who "painted himself in the colors" of the 3 of the Reich is not a brother to us and never will be. Or is he a brother for Belarusians? I'd love to clarify this point: as Belarusians
today
belong to German Nazism and its
contemporary
followers? It is today, here and now. A matter of principle. And then maybe we hurried with oaths in friendship? The question is not superfluous precisely because it arose to its fullest after the Ukrainian "prostrations". The fact is that if neo-Nazis and Bandera were removed from the Ukrainian "equation", there would be almost no blood to spill.
The problem is that it is quite safe to condemn Hitler's beaten Nazis. But it's quite another thing to condemn modern Eastern European neo-Nazis, such a move might not like the current German politicians (with a thick checkbook). By the way, here you can ask a question not only to Belarusians, but also to many of my compatriots, who in the same way would not like to "grab" with modern Germany because of the support of this neo-Nazis. At the same time they "honestly" condemn Hitler - it is safe. I think a person can be called an anti-fascist only when he adheres to these beliefs in any situation. To kick the carcass of the dead Fuhrer on occasion is "about nothing". This can be Merkel and Steinmeier, but can anyone in their right mind say that Merkel or Steinmeier are anti-fascists? Are you ready for anti-fascism, which does not unite, but shares us with Germany (and even the whole of Europe)? The question is serious.
They were the detonators of all the killings and the subsequent destruction of the state of Ukraine: neo-Nazis. Moreover, armed neo-Nazis. And this is a very serious threat. And who, if not Belarusians, who have lost one third of the population during the Second World War, should understand this. Do not understand categorically. For them, there is a conflict between Russia and Ukraine. And they wisely choose the position of neutrality ... And sincerely hope for an end to the conflict between the fraternal peoples. Very noble, albeit slightly naive position. Imagine that in Germany 1933, someone did not accept the advent of Hitler to power, picked up
weapon
and began to shoot especially frisky Nazis, unleashing a civil (fratricidal!) war and preventing the war - World War II.
Would this be a crime? Of course. By the way, Hitler came to power by completely democratic methods: he did not burn tires and did not kill the police (the Fuhrer was an honest burgher, tried to abide by the laws, respected the state and Turchinov and Parubiy he would not give up!). But seriously, it was the neo-Nazi coup in Kiev that made the normal relations between Ukraine and Russia absolutely impossible. In general, it seems to me that with every year and every political crisis it is more and more difficult to talk about "fraternal" relations with Belarus. The fact is that friends understand each other perfectly. In our case, there are long and unpleasant disputes on every occasion. I could be wrong, but it seems to me that the war in South Ossetia, the putsch in Ukraine and the operation of the VKS against terrorists (which the Republic of Belarus did not support) "lowered" our relations to a new level. And there's nothing you can do.
No, of course, among the best friends there are serious disagreements, the trouble is that in relations between Russia and Belarus there is nothing left but these very "differences". Sad of course, but that is what it is. Of course, Belarus has the right to its own policy and its own vision of the world. This is so, and no one denies this, the trouble is that this policy and this vision of the world more and more diverge from Russian politics and the Russian vision of the world. It is impossible to say who is looking better here, but with the achievement of a certain "delta" in thinking, it becomes almost impossible to talk about friendship. As has already been said: friends understand each other from half a word, this is not observed in the relations of Moscow and Minsk long ago.
The thing is that the events in Ukraine really accelerated certain processes in Russia, but not in the sense of familiarizing with European values, but in the sense of national revival, the symbol of which was the St. George ribbon. Which in Belarus is not very welcome. You see, this is not a "delicacy" and not a whim, and this will not work. Alas, Russia hopelessly and irrevocably became "wadded" and "Colorado", while Belarusians did not understand and did not appreciate it. Categorically. By the way, in Russia it was also a personal tragedy for many people - former idols faded (not only Makarevich).
And to "persuade" us is useless, only time to lose. We are not going to integrate into Euro-integration, rather the reverse process has gone - it's been decided that Russia can not execute the decisions of the ECHR. For many Russians (especially in capitals), this is a personal tragedy. But the decision was made, the Rubicon was changed ... But the young Belarusians are looking more and more to the West ... Can we find a common denominator here? I doubt it. You see, Russia 2009 already seriously differed from Russia 2007, and Russia 2015 essentially differs from Russia 2013. Belarus is developing (or not developing) along its trajectory. And it is clear that Russia (a huge country, as one of the Belarusians called it here) cannot and will not build
its
politics around Belarus. So our "trajectories" of development diverge more and more. And to overcome this widening abyss with a children's phrase: "But we are brothers!", Alas, is no longer possible.
The whole trouble is precisely in the "separate development", as a result of which Belarusians do not like and fear "Russian oligarchic capitalism" (they are not afraid of German - it's civilized, not gangster, like in Russia), they don't approve of the Kremlin's militarization and aggressive foreign policy deal tolerant EU!), etc. And we can no longer, and we are not going to make a foreign policy "under Belarus". So that's it. I am afraid that the further, the worse we will understand each other. Even the best teacher sooner or later gets bored with explaining the basics of a favorite subject to very incomprehensible students, and here: in the last year in Russia there has been a sharp drop in interest not only in Ukraine, but also in Belarus. It is simply boring and not interesting to chew the same things about "Putin oligarchs," "Russian nationalists," and so on.
It becomes boring, absolutely boring, before yawning. If a person stubbornly does not understand you and for a long period of time with a suspicious air asks the same questions, then sooner or later communication loses its meaning. No one likes endlessly making excuses and explaining elementary things. It is not interesting. The last meeting on the "union state" demonstrated this very clearly: the father hung flags of Russia and Belarus in the hall and sat down in wait for a large dollar loan. We came, looked, shrugged and left. By the way, yes, just before the visit of the Russian delegation, the father suddenly conducted exercises of the Armed Forces of the Republic of Belarus near the border of Ukraine. What for?
Now
This is not at all what Russia needs. Not at the time somehow happened.
According to my modest estimates, Belarus should either "wake up", realize the criticality of the situation and start taking the right big steps in the right direction, or everything will be bad. Very bad. Independence, oddly enough, implies not only the right to do arrogant actions, but also the duty to answer for them.