23-24 March in Moscow met US Secretary of State Kerry and Foreign Minister Lavrov and Steinmeier. Somewhat unexpectedly for all. Kerry was the first to come to Moscow, then suddenly he wanted to fly to Steinmeier. The position of Lavrov is known: "It is always useful to talk". What did they talk about?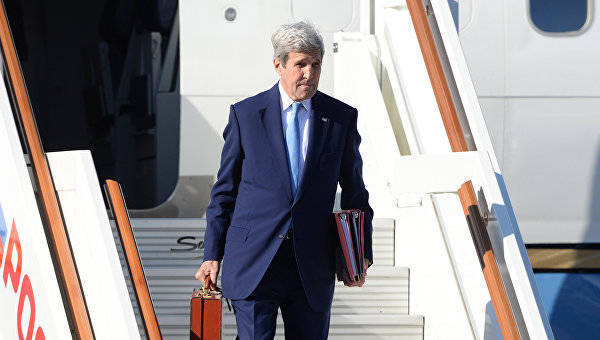 Kerry came with a guitar and some new ideas for Ukraine. Actually, Lavrov recently had a birthday, maybe this explains his friend Kerry's guitar? What Steinmeier brought as a gift remains a mystery. However, it is known that a trilateral ministerial meeting was held. Lavrov at the birthday party?
We note the fact that "two mighty powers," according to Kerry, and Germany met at the ministerial level in Moscow, and this meeting is similar to the replacement of the "Norman format," about which nothing suspicious has been heard for a long time. And there's no use for a long time.
After the Syrian operation of Russia, which plunged Obama into the quagmire promised to them by Moscow, and Merkel's migrant fall, Kerry is bigger than Obama today, and Steinmeier is bigger than Merkel. Visible to the naked eye changes in high political areas. Apparently, it was Kerry who "left" General Philip Breedlove, the commander of NATO in Europe, who saw Russia as a "tragic threat", and thus he himself was a threat because he was involved in Kerry's foreign policy diocese. The newly appointed US general for Europe has not said a word about Russia so far.
After the four-hour talks, no new ideas on Ukraine nevertheless came out, the United States and Russia reiterated the old idea that Minsk-2 had no alternative. Everyone suspects, of course, that there is bargaining over Ukraine, they are afraid of ukry that Kerry will "merge" them, but you will never hear such confessions from diplomats: the language has been given to them to conceal their thoughts.
Sitting next to Kerry was Victoria Nuland, the architect of a house-building economy worth 5 billion. We remember its Kaliningrad summit with Surkov, marked by a belligerent warning of the inevitable attack of the West on Russia. This time, she behaved quietly, because the commander-in-chief, Obama, canceled the war with Russia, after Syrian impressions, and at the same time leaked Ukraine, saying that there were no "key American interests" there.
Condoleezza Rice, the ex-US Secretary of State, can afford to be frank, and she directly said in Kiev to Svidomo ukram: everyone dissatisfied with the colonial regime can go to Liberia, and there they will realize how well they actually live.
Generally, formally, the Moscow meeting was to no avail, the ministers repeated the mantra that there was no alternative to "Minsk-2", Kerry made binding statements for the Western press about Bashar Assad and Savchenko, but Lavrov did not say anything about this.
Something essentially says
история
with the "Kerry Case", which Putin suddenly noticed, noting that Kerry did not trust him to carry it to his employees. "Apparently the money was brought in so that we could bargain better on key issues," the Russian president joked. However, this Putin's "joke" is a response to his accusations of corruption by the US Treasury Department, and a hint at who actually spreads corruption in the world. Kerry also laughed off, they say, the contents of the case will be my "secret with Putin," but the sediment from these jokes is bitter.
Immediately before Kerry's visit, Lavrov urged the US State Department to "stop anti-Russian propaganda." And if not stop?
This topic was obviously discussed, it is the main topic today, and therefore we did not hear anything about it at the end of the visit. The continuation of the US information war against Moscow, this definition of our General Staff, cannot but aggravate international relations and in general everything, because this is a real cover for the US and NATO military aggression, which Nuland spoke about in Kaliningrad.
In the event of the continued injection of anti-Russian hysteria in the West, Russia will have nothing left to do, how to return to the original policy on Ukraine after the February 22 coup in Kiev 2014 of the year, it will not be any worse. It will be possible to state the neo-Nazi nature of the Bandera regime created by the United States and the need to protect the Russian-speaking population of the South-East of Ukraine from neo-Nazis, the evidence of their excesses is already enough for the new Nuremberg trials over fascism.
After the demonstration speeches of the Russian Aerospace Forces in Syria, Russia's return to the original policy in Ukraine will be perceived in the world, and in the US, hopefully, with understanding.
... Very soon, June 23, in England, a referendum on exit from the European Union will be held. Donald Trump predicted that London will come out, but Obama calls on England to stay. England will come out, or will remain, on special privileged conditions, this does not cancel the deep division of the EU. It remains to be seen what is better for the European Union, because, after England, other participants may demand special status. What then to do with all these European partners in Germany? How to drink, Steinmeier flew to Moscow to consult on this issue with Russia and another mighty power ...