On the eve of Geneva ended another round of negotiations on the settlement of the conflict in Syria. Following the talks, a document was prepared that outlines measures to de-escalate the conflict. This document, some political scientists have already dubbed "Geneva Minsk" or "Minsk Geneva." In it, on behalf of the UN special envoy, Staffan de Mistura, the parties to the conflict are called upon to abandon the continuation of hostilities and transfer exclusively to the political field of interaction in order to work out steps to normalize the situation in the country.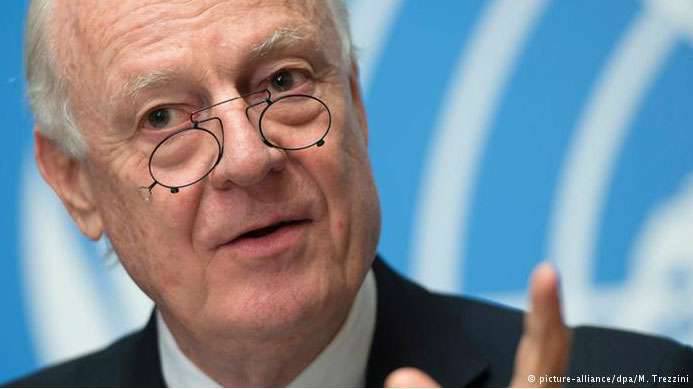 The document calls for the abandonment of any form of support for terrorist groups, including support for financing, as well as arming militant groups. It is somewhat strange that this item in the document is addressed to the Syrian parties to the conflict, because the external "players" provide financial and other support to terrorists. One of these "players" is Turkey, which, which is confirmed by numerous materials, buys oil stolen by igilovs, and at a very low price (around 12 dollars per barrel). Apparently, the call to stop the flirting with terrorists to third countries is only implied, and therefore it is hardly possible to call the document truly serious.
RIA News
reports that UN special envoy Staffan de Mistura "was generally satisfied with" the conduct of the next round of talks:
I believe that we were able to pass these two weeks without leaving the negotiations, without drama, without any delegitimation and, possibly, with a document that was not rejected by any of the parties, about the principles of a common understanding. This means that next time we will leave the principles and start a discussion on the political process.
If in the course of the negotiations something positive can be singled out, it is that we really managed to do without the demarches of the Syrian conflict, although, judging by further comments from the Geneva talks from the same Syrian "moderate opposition," she again does not intend to direct dialogue with official Damascus and continues to use very bellicose rhetoric.