The day before, US Secretary of State John Kerry, who arrived in Moscow, met with Russian Foreign Minister Sergei Lavrov and was received by Russian President Vladimir Putin. During the conversations, two main topics were discussed: issues of resolving the situation in Ukraine and the Syrian conflict. First, Kerry expressed his condolences to Russia in connection with the crash of a passenger airliner at the airport Rostov-on-Don.
John Kerry:
Mr. President, let me begin by saying that I would like to express my condolences on behalf of President Obama and the American people on the crash of the plane in Rostov-on-Don. (...)

I want to say that this Sunday marks a month since the beginning of the truce. And, by the way, the population of Syria, the population of the region as a result of these efforts literally could taste and smell, so to speak, those opportunities that are associated with this cease-fire. We are talking about a very significant reduction in the level of violence and an increase in humanitarian aid.

Mr. President, I know that you have certain considerations, certain ideas, and you have already taken a very serious decision concerning the withdrawal of a significant part of your troops from Syria. And we also have certain considerations, certain ideas on how to more effectively conduct negotiations in Geneva, and on other issues. So now, really, it is time to start serious work, this is really difficult work associated with the transition period.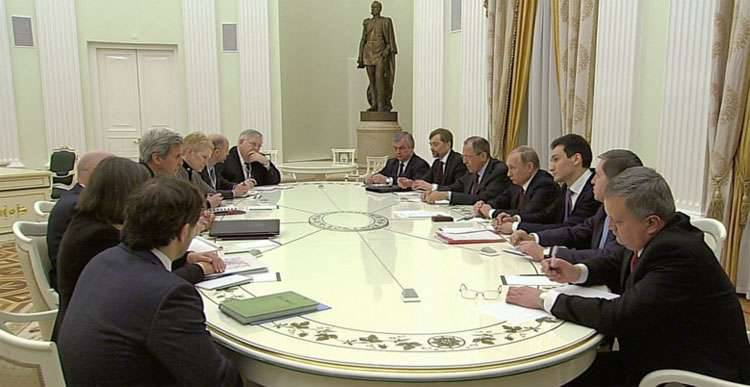 Vladimir Vladimirovich Putin
:
Dear Mr. Secretary of State! We understand that what we have been able to do in the Syrian sector could only be achieved thanks to the position of the top political leadership of the United States, the position of President Obama.

I really hope that your visit will allow us to bring together positions on issues of further settlement and on the Syrian issue, and, as you said, on Ukraine.
Following the meetings with Sergey Lavrov and Vladimir Putin, the US Secretary of State said that the United States "will continue to advocate for the firm defense of Ukrainian sovereignty, including the Crimea." According to Kerry, during a conversation in the Kremlin, the question was raised about holding elections in the Donbas. The state secretary said that "the modalities of holding these elections were discussed with the Russian leadership." What are the results of this discussion? - the question is still open.
Journalists asked Kerry whether the United States intends to lift sanctions on Russia. Kerry said that the sanctions will be lifted if "Russia withdraws its troops from the territory of Ukraine and fulfills all the conditions of the Minsk agreements." At the same time, Kerry did not say anything about when the American troops would be withdrawn from Ukraine (part of them is located at the Yavoriv training ground), and how the presence of these troops fits into the letter of the Minsk agreements.