Портал
Ukrainian News
reports that the President of Ukraine Poroshenko decided in a very strange way to note the players and the head coach of the national football team of the country. Poroshenko presented the players, the coach, as well as the president of the Football Federation of Ukraine
weapon
. The list of those whom Poroshenko decided to arm is as follows:
Footballers of Kiev Dynamo Oleg Gusev, Evgeny Khacheridi and Andrey Yarmolenko, Shakhtar Donetsk Donetsk Andrey Pyatov and Vyacheslav Shevchuk, Dnipropetrovsk Dnipro Ruslan Rotan and Artyom Fedetsky, as well as Evgeny Seleznev and Anatoly Timoshchuk.
A special trick of the situation is connected with the fact that the "arming" of football players and the coach of the Ukrainian national football team, as well as the FFU president, took place back in November. However, the presidential decree all this time remained virtually secret. Only journalistic activity led to the fact that the information about Poroshenko's delivery of weapons to football players as gifts became public.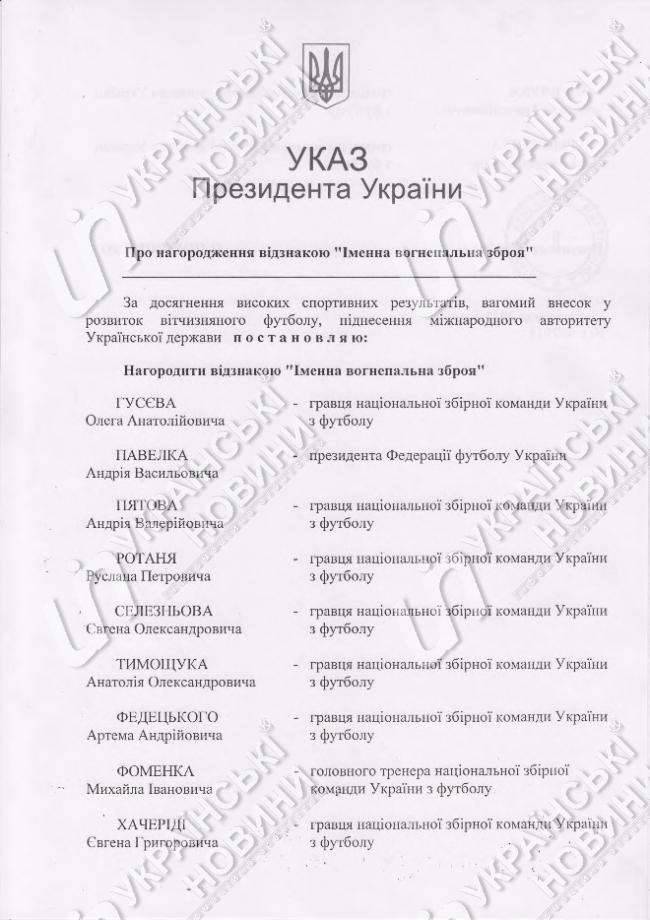 Information about the types and names of firearms is not available, as well as the corresponding decree on the portal of the President of Ukraine.
This is probably the first time
stories
world football, when team players for sporting success are awarded weapons. In connection with the act of the President of Ukraine, even the slogan "Oh sport, you are the world!" Begins to look somewhat doubtful.