Over the past day, the cease-fire regime was broken 5 times, the fire from the opposition forces on the positions of government forces was carried out from artillery and small arms
weapons
, says the bulletin of the Russian Center for the Reconciliation of the Parties in Syria, published on the website
Ministry of Defence
.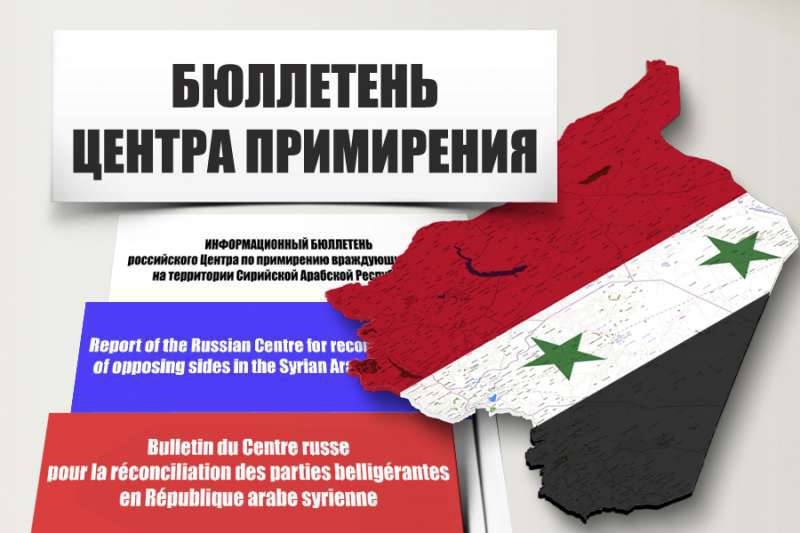 Information provided as of 23 March 2016 g:
«
General information on the progress of reconciliation of the conflicting parties
Representatives of the Russian Center for Reconciliation for the past day held 6 consultations and negotiations with representatives of the public, business and political circles of the provinces DAMASK, LATAKIA and DERA. They discussed issues of reconciliation and the provision of humanitarian assistance to the population.
A preliminary agreement was reached on reconciliation with the elders of the two settlements of the HAMA province. The total number of settlements with the heads of which agreements were reached on reconciliation - 51.
The number of armed groups that have declared their commitment to fulfill and accept the cessation of hostilities remains unchanged - 43.
Monitoring Compliance with the cessation of hostilities
The cessation of hostilities on the territory of the SAR was generally respected.
At the same time, 5 violations (LATACIA - 4 and HOMS - 1) were recorded per day.
In the LATAKIA province, armed formations of the Ahrar al-Sham group, which included themselves in the opposition, put up mortar fire at the SANDRAN village from the area of ​​the Shamruran village.
In addition, from the direction of the settlement of ELSHEH KHASAN EL RANI (LATAKIA province), from the standpoint of the "Syrian Free Army", shelling government troops near the village of Roisit Risho from the standpoint of the Syrian Free Army.
In the area of ​​the settlement of TAIR-MAALA in the HOMS province, an armed unit "Ahrar ash-Sham" fired from small arms with units of government troops.
The Russian armed forces and the Syrian air force against opposition armed groups that declared the cessation of hostilities and reported their position to the Russian or American reconciliation centers did not strike.
The course of humanitarian assistance to the population of the SAR
A working meeting was held between representatives of the operational group of the Russian Conciliation Center and the Ministry of Reconciliation of the Syrian Arab Republic. Discussed issues of humanitarian assistance to the population of the DAMASK province.
The formation of a humanitarian convoy for the residents of the BABIL settlement of the DAMASK province has begun.
Additional Information
The next negotiations took place in the mode of a telephone conference call between the leadership of the Russian and American reconciliation centers. The parties exchanged information on violations of the cessation of hostilities in Syria. Discussed the problematic issues of the delivery of international humanitarian convoys to the province of Damascus. There has been a significant reduction in the number of violations using heavy weapons. "