After reading the next message from our cockroach, for the first time I decided to make a certain answer. The point is not even that one cannot unconditionally agree with all the above, but that according to the principle of "who is guilty and what to do" one cannot immediately find a solution to the problem.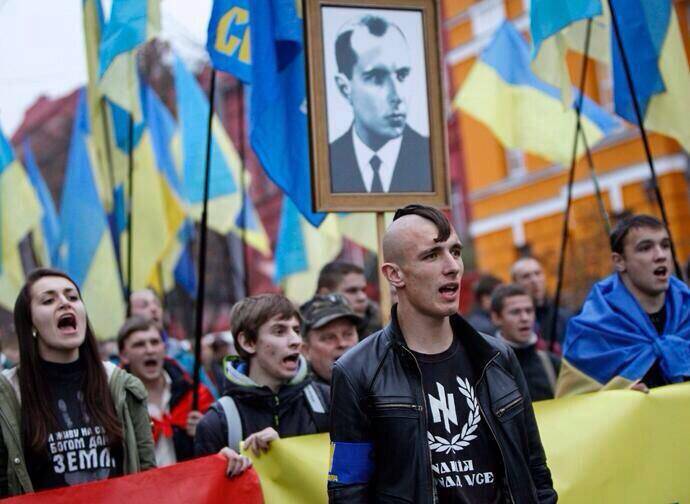 I will begin in the order set forth by the author. Chechnya The fact that there were representatives of the "most svidomykh" is known. I agree. The fact that not everyone was buried or caught was also. However, let me say that the Second Campaign is not Syria. Then it was only the most optimistic citizen who could talk about that in our army in particular and the country as a whole.
"To move" the Ukrainian authorities in terms of extradition at that time was simply pointless. It's not even the absence of an agreement on the extradition of criminals of any level, but the extent to which Ukraine would listen to such requirements in general. At that level Russia was not at that level, what could be hidden here.
Yes, and the power structures for catching, too, were not in their best form. Given the existence of a visa-free regime between the countries and the absence of a border as such, it is difficult for me to understand how it would be possible to catch those volunteers who rushed from Chechnya back to Ukraine. And if you remember what the human turnover was at the borders, then this matter does not seem at all feasible at that time.
Of course, if you look from the Ukrainian side, then definitely Russia is to blame for the fact that the Natsik from Ukraine fought in Russia. However, it was not Russia who brought them up, not Russia who had gathered on the way, not Russia, who met with flowers and snot of happiness, on their return. And as for me - our fault is only in the fact that some were able to return and use the fruits of their heroism.
As for the RNE and other fun formations in Russia ... Yes, it was. Yes, they rallied and marched. But I'm sorry, but where are they now? And how many of them? To say that they were tormented by the root is impossible. Still sitting on the burrows. But to compare it with how much noisy in the style of "banderade's order" today goes around Ukraine (and how openly) and how this is the case in Russia, to put it mildly, is incorrect.
Sorry for the comparison, but our brown and black nationalists are like cockroaches. They sit quietly in the cracks and do not crawl out into the light of day.
About polls. The survey, it should be noted, such a thing ... thin. Where to interview, among whom, how to ask questions.
Most recently, the Kiev International Institute of Sociology conducted a survey among citizens of Ukraine. The results of this survey will not please you. 63% of Ukrainians are sure that we are at war with Russia. Sure! 65% know for sure that there are Russian troops in Ukraine. And only 18% say that there is no war.

I cited figures only for you to understand: there is no insight among Ukrainians. There is a part that was pro-Russian from the very beginning, but the bulk of them are "fighting".
Good. I interviewed a thousand people in Kiev. Or even two. No longer interrogate in practice. Expensive. Usually in decent polls they write: "1027 people from different social categories were interviewed." And then the data of this survey are projected to the whole country. In other words, attributed to those who did not respond.
If you were interviewed in Kiev, and even in the Grushevsky area or on the Maidan square, then yes, I completely agree with myself that 650 people out of a thousand answered exactly that way. But for the same Kharkov I would not be so sure. Although everything can be. But in any case, the 1000 respondents out of a million are just 0,1%. And in Kiev, more than a million lives unequivocally.
So with the fact that 65% of Ukrainians are at war with Russia is doubtful.
The most vile thing is that the lack of unity of our nation "plays" against Russia. More precisely the absence of the Ukrainian nation, as such. We both were, and remained "patchwork". At least four colors. West, center, east, Tatars ...
What, and the church, too, we? Here is Russia what side? The fact that Ukraine is completely artificial education has long been known and understood. And the fact that it is mixed there very strongly is also known. But sorry, there was no such nation before the beginning of the last century - Ukrainians. Did not have!!! That's why every one threshes at you. But Russia has nothing to do with it. Even as the successor of the USSR, in which the Bolsheviks started to fathom this state.
In the end, in 23, one could have a quilt and redraw it. Opportunities were. And the time was. And money. Zababahali would Western Ukraine as a federal phenomenon, and all the rest as well. Who hindered? Russia again?
So forgive me, today this is precisely what Ukraine is doing.
About the national idea. In continuation.
Our national idea for today is that Russians are to blame for all our troubles. We are looking for an idea outside of Ukraine. We are looking for an enemy. When there is nothing that unites the people, the only way to save the state is to invent an external enemy.
Well, take the path of least resistance. Fine. Enemy found. Perfectly. But sorry, the enemy doesn't want to fight with you at all. In the maximum sense of the word "absolutely". And all economic jumps and antics with sanctions, embargo and blockades were beaten, beaten and will be beaten mainly in the Ukrainian pocket. Is not it so?
Well, we can not without helicopters and ships. Here we are, as we can. And we can ... Therefore, we have helicopters and launch ships into the water. Yes, hemorrhoids have been added, but nothing, it is surmountable and solvable. But we are not to blame for the fact that the Ukrainian government has made a wedge in this very plan.
On the other hand, in connection with these antics, the Ukrainian Armed Forces also lack a lot. More precisely, it is easier to see what is. But not about new
tanks
, neither planes, nor helicopters, and even more so, we are not talking about ships. Is Russia also to blame?
Well, what shall we do? The fact that something needs to be done is clear. There are those who believe that it is necessary to clean the brains through a military operation with the subsequent work of the Dzerzhinsky division. That is the 1946 variant of the year. But for this basically those who are on 100% are fighting for sure that he will not participate in this operation.
Brain processing informative? Duck and so work the media. From the heart work. But in the most Square with the same diligently struggling. So it's not a gorilla with a club, as in the first case, but woodpeckers. Reach the larvae sooner or later. It's a question of time. Which we, I note, is still missing. And the fact that some Ukrainians have come to understand, but have not yet taken shape, is, of course, good. But one should not hope so much that a kind wizard will come, trachetid bury, and everything will become beautiful all of a sudden.
Naprygali and namaydanili that "Ukraine - tse Europe"? Use. What is not allowed? But Russia has nothing to do with it. We did not push anyone under one place. They did not kick up, they were all honored.
Take now, and begin to clarify that the future of Ukraine is only with Russia? Yes, and reinforce it with an open gas pipe at such prices that the entire elite could collapse into evrami? Yes, and throw a dozen billion dollars to restore the destroyed?
Sorry, past stage. This is all already been. Downed. They bought, to put it bluntly, all of Ukraine on the vine, if only Sevastopol would not be lost. The result is known. Some have saved a lot in the future, and some have gone bankrupt.
To fill up with gifts and benefits in the future, so that the Ukrainian brains will see the light, and be able to see that it is advantageous to be in relationship and friendship with Russia, today hardly anyone in our government plans. Ukrainian rake is an expensive and painful thing.
From here only one conclusion: we must wait.
It is necessary to wait until every second comes to Ukraine that there was no way to Europe, no, and there will not be. In Europe, rogues are not needed, there are enough of their own. And it is better if before each first.
And you shouldn't expect Putin to arrive in a blue helicopter with a container of money, and everything will suddenly become as before. Ukraine is not the Crimea, but the Crimea has been Ukraine for two years now. And never will be part of it. And the Crimean scenario will not.
And what could be? How can you help everyone to be nice and pleasant?
When (I hope, when, and not if) the Ukrainian people will come to understand that Russia is not an enemy, but a friend, and then it will be possible to start doing something. Rebuild relationships, revive trade, the economy and everything else.
Yes, this will have to drastically change power. But - without Russian tanks on the streets of Kiev. Without our paratroopers in Poltava. They themselves must cope. Undoubtedly, we can help. And we can. But not as much as the main majority would like. With frank aggression. Figushki.
And all this time, of course, we are obliged to work on the heads (by contents) of the Ukrainians. Explain. Prove. To argue. And perhaps, then at the exit, we will get, at a minimum, a friendly Ukraine.
I agree with the Cockroach in one thing: yes, we lost the battle for the brains of the Ukrainians. But the lost battle is not a defeat in the campaign. Moreover, by and large we did not come to this battle again.
Well, you have to take revenge. And start from scratch. Again. Naturally, taking into account past mistakes on both sides. To avoid older and younger brothers. And there were just relatives.